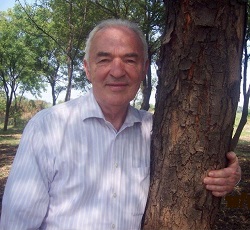 Klaus Ferlow, Honorary Master Herbalist (HMH), Dominion Herbal College, Herbal Advocate (HA), Canadian Herbalist's Association, author, innovator of herbal inclusive Ayurvedic formulas, lecturer, researcher, writer, founder of Ferlow Botanicals (1975), a 100% Canadian owned & operated family business, now retired His oldest son Peter is acting President, manufacturing/distributing herbal medicinal personal care products with no harmful ingredients to holistic practitioners/clinics and selected stores across Canada and parts of USA since 1993, and NEEM RESEARCH (2013).
He authored over 80 educational articles about health, healing, herbs, nutrition that have been published in English and online worldwide, in Hindi in India and Canada, also online since 1995.
Klaus founded NEEM RESEARCH in 2013 as the only Canadian neem researcher since 1994, promoting the benefits and healing power of the neem tree and published the book "Neem: Nature's Healing Gift to Humanity' in 2015, available from amazon in paperback and as e-book,is co-author of the book "7stepstodentalhealth," is one of the 14 core-founding members from Africa, Australia, Bangladesh, India, North America, Europe and The Middle East establishing in 2017 the WNO - World Neem Organisation, Mumbai, India.
He is a member of the Health Action Network Society, Ayurveda Association of Canada, National Health Federation, The Herb Society, International Herb Association, United Plant Savers.
Articles by
Klaus Ferlow
Book reviews by
Klaus Ferlow