Your Country

It is with great pleasure, indeed some amazement that we publish Positive Health PH Online January Issue 259 – published on the very same day as the UK Election.
At this moment of writing, nobody really has the faintest notion of the election result; the entire UK is reeling and engulfed in mourning at the recent terrorist killing of two young, talented, educated and idealistic young people working to help convicted prisoners turn around their lives and revoke terrorist, jihadi ideology through The Learning Together scheme.
During this election campaign, with vitriolic, highly charged and aggressive insults being parried across the entire media and even within communities and families, there has never been a more prescient time to reflect about Peace and Love, as eloquently expressed by Michael Vakil Kenton in his article Achieving Inner Harmony is Important for Health.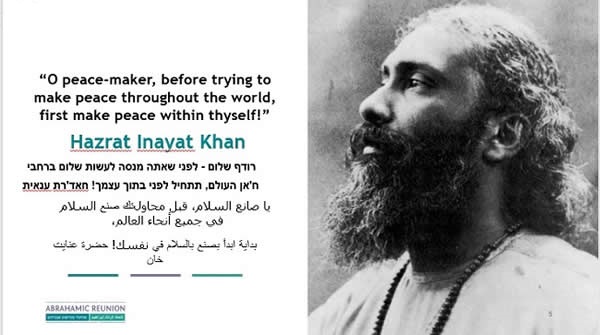 Hazrat Inayat Khan
Practical as well as inspiring editorial features in Issue 259 relating to mental, spiritual and emotional health include:
"It's the way that we handle grief that is the telling point in our lives. Grief has many stages the initial one can be shock, followed by lots of crying, disbelief, anger and even resentment. The most natural one is of course the initial shock, particularly if it is around loss of something/someone special. Within my homeopathic practice I always ask a new client if they have experienced any shocks or traumas throughout their lives, because invariably they will have, but the reason for my questioning is whether any of these shocks have left an unresolved mark on their emotional state as I have found that deep hurt or resentment can have a profound effect on their overall health."
Features in this issue provide clinical advice on a number of health issues, including:
Carlos ETB Monteiro in his highly referenced to the published literature article Does Lactic Acidosis Cause Coronary Artery Calcification? postulates and asks whether lactic acidosis is a cause of coronary artery calcification. This postulation is dedicated to Prof Dr Paul J Rosch, Chairman from The American Institute of Stress
"…We propose that an increase in lactic acid/lactate production is a more important and unappreciated cause of atherosclerosis and coronary artery calcification. We will also discuss the risk factors that influence both bone loss and atherosclerosis that leads to coronary calcification, such as age, diabetes, hypertension, tobacco smoking, chronic kidney disease, rheumatoid arthritis and air pollution. In addition, warfarin, statins, metformin and other drugs can influence lactic acidosis that then leads to osteoporosis and coronary calcification. There is also good evidence that acidosis may be responsible for calcification in the aortic valve, brain and other tissues."
In Dr Joseph Mercola's interview article The New Approach to Cancer Treatment, republished from articles.mercola.com, the approach taken by Naturopathic Doctor Nasha Winters is analyzed and highlighted.
"Winters requires five specific tests before she will conduct an initial consultation with a patient. They're markers to assess the health of the whole body and whether cancer is progressing, stable or regressing"
Dr Winters' book The Metabolic Approach To Cancer - Integrating Deep Nutrition, the Ketogenic Diet, and Nontoxic Bio-Individualized Therapies is reviewed on PH Online.
Editorial features about Bodywork, Fitness and Exercise include:
Letters to the Editor cover clinical developments across numerous fields, including Cancer, Fibromyalgia, Kidney Disease, exotic Species of Tick parasites and the sad death of Dr Velio Bocci, the Father of Ozone Therapy.
The Research Updates in Issue 259 include published research studies in acupressure, acupuncture, back pain, cancer, learning difficulties, macular degeneration, women's health and yoga
Whatever can I say after more than 25 years of publishing Positive Health PH Online that I haven't already reflected upon? The growth and burgeoning of Positive Health from a print magazine to a substantive, respected body of work – 4,000 articles, 4000 research updates, 2000 authors -  attests to the value, utility and veracity of natural, integrated approaches to healthcare. To expand this model to the wider, pharmaceutically dominated population may just take longer.
In the Positive Health community we mourn departed friends, family and loved ones; several authors include Dr Amir's sister, Richard Eaton, Anna-Jeoffroy Salmon, Kate Arnold and my own aged mother.
To all our Authors, Advertisers and Colleagues in the Natural Health World, we at Positive Health PH Online extend our heartfelt wishes to you and your loved ones in the hope you will have a happy, prosperous and healthy festive season and new year 2020.
Comments:
No Article Comments available
Post Your Comments: