Your Country

How Our Limiting Patterns & Beliefs are Formed
The subconscious programmes we form during the first seven years of our life shape the reality we go on to live. They are created from our early life experiences and the interpretations of those events that we make. These deep-rooted patterns and beliefs determine what we believe is possible for us. They impact the decisions and actions we take. Actions are always aligned with what we unconsciously believe to be true. Our beliefs dictate how our life unfolds. For example, if we believe we don't deserve success in a specific area, we will unconsciously take action to aligned with this belief to ensure it becomes a reality.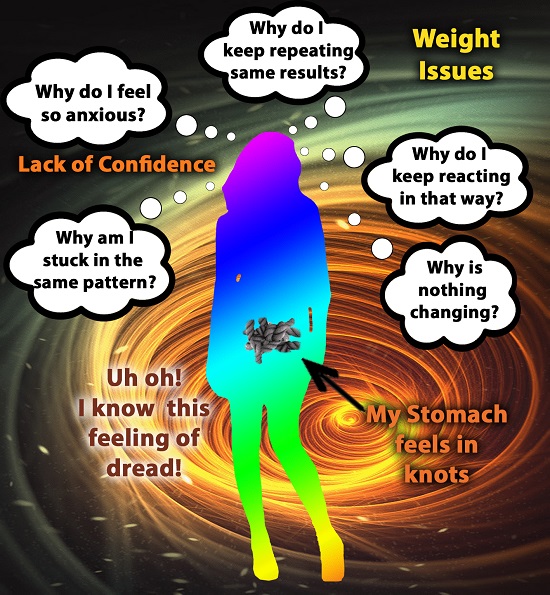 The programming is stored in the subconscious, so we may not even realize how it is limiting us. We are running programmes for every area of our life; love, partnerships, friendships, career, abundance. Some support us and some are limiting our potential. Do you want to know if you are running a successful programme or not in a specific area? Your life is showing you. If you do not have the results you want in any area of life, you can be sure the programme you are running is not a successful one. It is possible to change the programmes that we are operating. Programmes can be re-written. First, we need to become aware of our unique programmes. To identify we can look to the stories we are telling, the language we use, the results we are getting. Once we shine the light of awareness on a specific block, it starts to lose its grip over us. With the right tools these deep-rooted beliefs can be completely transformed. We can start to expand the way we think. We can change what we believe to be possible. A whole new way of operating can open up. Opportunities that once seemed impossible become a potential.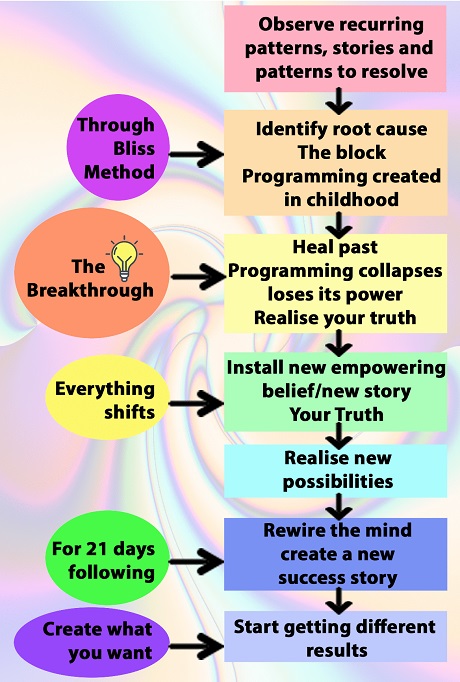 The Bliss Method of Transformation
This is a powerful, effective stand-alone breakthrough session to resolve persistent problems. Issues such as reoccurring limiting life patterns, repetitive behaviours and knee jerk responses, feeling stuck in a cycle of same results, fears, self-sabotage. The technique can achieve outstanding instant and lasting results. The process enables an individual to break free of the past and create new levels of success in any area. It identifies the patterns and beliefs that currently hold an individual stuck and releases blocks from the subconscious. The method could be described as a mind-detox, emotional rebalance, beliefs clearing and reset. It is a different approach to many other therapies as the results can often be seen instantly. These rapid transformational sessions are providing powerful breakthroughs. Limiting beliefs lose their power and collapse. The individual is no longer a victim of the programmes they were operating from. The subconscious programming is re-set. The subconscious mind aligns with the wants and desires of the conscious mind and the individual is free to create the life they love. They can rewrite the stories of the past and rewire the brain for success. It is a personal potential re-set. They reconnect with their power. They are unlimited. 
The Session
The method encompasses intuitive exploration, mind detox, emotional rebalance, beliefs clearing and re-set. During a 1.5 hr intensive session I am intuitively guided through an emotional anchor process to uncover the root cause of an issue. The healing is influenced by aspects of various methodologies including EFT and NLP. Following the session the brain is rewired for success as new healthy habits of mind are installed.
The Bliss Method Development
Since 2007 I have been highly dedicated to my own personal and spiritual development. This exploration was triggered as I was searching for a way to heal from the inside out. I undertook a journey of self-discovery. I urgently needed to resolve the inner emotional stress that was impacting my physical health.  Over the years my spiritual growth expanded. I deepened my understanding of our experience of life. I experienced Kundalini Awakening. I have been guided to heal my own deep-rooted personal patterns. Several problematic areas of my own life have been transformed by healing at the root. As my experience and understanding grew I would share my learnings with clients who also started to encounter transformational shifts and life changing breakthroughs. I fine-tuned the process and the Bliss sessions were developed.
Case Studies
Client 1
Profile: Male. Financier. Age 45
2 Sessions.
Issue
Client came with a goal of wanting to leave his current organization of over 20 years to set up his own consultancy but lacked the confidence to go for it. He lacked belief in his ability to be successful independently, fearful of leaving the stability of his current role and uncertain about what the future held.
Session 1
The current situation was explored and the unique block to be resolved identified. By the end of this session a breakthrough had already been established and the client left with awareness of where his lack of confidence most likely stemmed from.
Session 2
Bliss Breakthrough Session: Release the block. Through the method we identified and worked on the root cause of the confidence issue and released the subconscious block. 
Results
After 2 sessions the confidence block had been resolved. The client was in a more positive mindset with the self-belief to move forward. He now had the confidence required to create the tangible steps to get his new venture started. He felt less stress and more inspired about future possibilities.
Client 2
Profile: Female, Media Exec, 44 years old
1 Session.
Issue:
Wanted to establish a loving, exclusive, committed relationship. Client was currently in a pattern of getting into relationships with attached / unavailable men.
Bliss Breakthrough Session
The current relationship patterns were identified.
Release the block. Through the method the original root cause of the pattern was identified and worked on. The old belief collapsed and the subconscious block was cleared. The emotions were re-balanced and a new empowering belief installed.
Results
The client experienced a huge positive shift in mindset. She got the "Aha" moment as to why she was in this cycle and she witnessed the collapsing of the old belief. She experienced a paradigm shift in what she believes is now possible and is taking aligned positive action.
Comments:
No Article Comments available
Post Your Comments: