Your Country

As we approach publication of Positive Health PH Online Issue 256, Boris Johnson has been elected as the new leader of the Conservative Party and the new Prime Minister of the UK. If ever there was a need to bring this polarized, divided country together and somehow work out Brexit without further turmoil, this is the time.
I have been deeply saddened, indeed devastated by the death in June of two Positive Health PH Online authors – Richard Eaton LL.B (Hons) and Anna Jeoffroy-Salmon – both of whom I have held in high esteem over many years. Both were too young – in their sixties – and both died from cancer; their tribute obituaries appear in Letters to the Editor of Issue 256.
Personally I have also been deeply saddened by the very recent death (20 July), from old age, of my mother, aged 98.5 years. I live in the UK and my family lives in Montreal Canada. I had stayed in touch with my mother by phoning her. Her worsening hearing difficulties, despite hearing aids, made communication challenging; then when she fell, suffering nerve compression pain, she needed to go into hospital and passed away in July. The void left in my and my mother's life and that of the families of hers numerous children, grandchildren and great grandchildren is incalculable.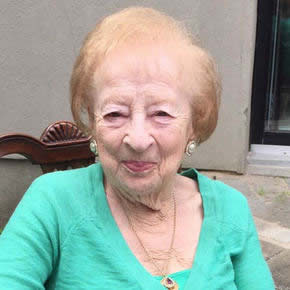 Evelyn Goodman née Mandelcorn
The Cover Story of Issue 256 - Curing Polio with Magnesium: The Tip of the Iceberg? Commentary by Thomas E Levy MD JD tells the remarkable and compelling Case Reports of the treatment of Polio by Dr Auguste Pierre Neveu starting in 1943.
"The first case of polio treated by Dr Neveu was a four-year-old boy in September of 1943. Fairly rapid onset. The child was crying, would not eat, and he was unable to stand on his left leg. Dr Neveu mixed 5 grams of magnesium chloride in 250 cc of water. 80 cc doses were given orally at 1 pm and again at 4 pm. At the time of the second dose, the state of leg paralysis was considered to be 'complete'. Another dose was given 3 hours later. The next morning both the paralysis and the fever that had been present were resolved. There was no return of symptoms. This represented a complete cure with less than 24 hours of receiving magnesium chloride treatment."
Reading the above clinical research from the 1940s took me back to the time I had been researching and writing my Vitamin C book in the early 1990s. Here was my moan in 2001, Editorial Issue 60;
"…while I was researching the literature for Vitamin C – The Master Nutrient, I came across the despairing cries of doctors who, having discovered even as far back as the 1930s that heart disease can actually be reversed by vitamin C, were bemoaning the fact that this vital information hadn't been integrated into clinical practice, indeed emergency rooms."
Thomas Levy describes oxidative stress and toxicity of a diseased cell and how therapeutic treatment with vitamin C and magnesium can be highly effective:
"For many infections, it seems likely that either vitamin C or magnesium can be highly effective as monotherapies, since they both accomplish the desired goal of decreasing increased intracellular oxidative stress, but by different mechanisms. Vitamin C, as the premier antioxidant in the body, directly lowers intracellular oxidative stress the more it can be effectively concentrated inside the toxin-damaged cells. Magnesium, even though it is not a directly-acting antioxidant like vitamin C, promptly brings down elevated cytoplasmic calcium levels inside sick cells, which in turn promptly lowers intracellular oxidative stress as well."
Other editorial features in this issue include several articles detailing aspects relating to Mental and Emotional Health issues: Letting Go: New Leap of Faith, Are you Suffering from High-Functioning Anxiety, Stress at Work – Myths, Signs, Causes, Effects and Tips to Beat, and Bulimia Nervosa. Influencing With Integrity When Your Child 'Has Been Sick For Too Long' is Nancy Blake's advice of how to win friends in the political educational and social arena.
"You have a child with ME/CFS.  She has now been judged to have 'been sick for too long', and you are involved with the education system, the medical system, and possibly with social services. This article provides you with ethical ways of influencing everyone involved to do what will be best for your child."
Articles which deal with clinical, immune, allergic and digestive conditions with an Integrative Health perspective include Royal Jelly Healing Formula – Adaptogenic Anti-Ageing Immune and Energy Enhancing Properties, Treat IBS, Bloating and Other Digestive Issues in a Natural Way and Are you Sick from Mould?
Articles describing application of Nutrition, Hormones and Technology to Women's Health and Rehabilitation and Tech Wear include The Importance of Nutrition in Improving Mental Health and Rehabilitation Outcomes, Hormones 101: What's Happening with Hormones and The 12 Best Apps for Tracking Your Health in 2019.
Bodywork features which traverse a multitude of applications and situations include: The Changing Face of Complementary Therapies in the UK, Why you should Forget a Low-Carb Diet when you're Training Regularly, Yoga Therapy for Perimenopause / Menopause, Yoga and Injury Recovery and Benefits of Cold Water Swimming & The Wim Hof Method.
Additionally are the Letters to the Editor and Research Updates of this issue.
Comments:
No Article Comments available
Post Your Comments: