Your Country

If you are looking for a great, affordable and easy hobby to pick up, make it skipping! While it might seem like an activity exclusively for children, many fitness enthusiasts have latched on to the benefits associated with jumping rope. Skipping is a full body workout after all!
If you are looking for an easy way to get your heartbeat up, boost your coordination, and increase your concentration, then pick up a rope and get skipping!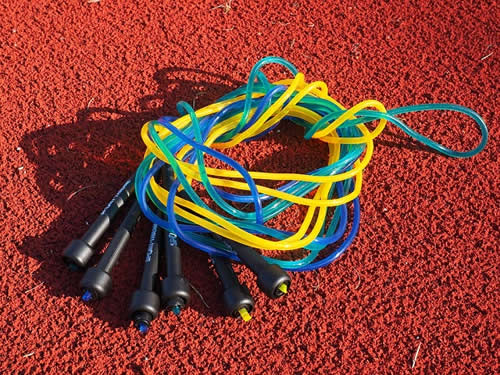 Courtesy Pixabay.com
The Cheap, Simple Way to Get Fit
Nowadays, keeping fit can be a costly task. Exclusive gym memberships and fitness training programs are serious financial investments. In 2017, the UK's average monthly spend on gym memberships was £43.36, which is a reasonable monthly commitment from our nation of gym-goers. This isn't realistic for everyone though and skipping could be the perfect solution to this! Skipping ropes don't tend to cost a lot, making them a savvy investment for anyone looking to get fit by an affordable means.
Putting some time aside however often you can to skip might feel more doable than committing to a gym membership, so you could be more likely to fit workouts in – from the comfort of your own home. Nowadays, many people have become accustomed to the routine of working 9-5 and exercising after work might feel like a chore. However, you can get fit by picking up a skipping rope without too much hassle – clear a space in your living room and skip while you watch your favourite evening soap. Skipping can be easily incorporated into your weekly routine, so make it a habit!
While some people will prefer to take to the pavements and enjoy a run as a less costly form of exercise, skipping has some interesting advantages in terms of how it affects your body over time. For example, skipping causes less uncomfortable jolting on your joints in comparison to running, lessening the risk of injuries or strains. Skipping can also keep your mind more engaged than running, and many cardio fans often find that their mind is prone to wander when they are limited to a treadmill.
We are all familiar with the benefits of regular exercise, and by taking up this low-cost hobby, your general sense of health will be boosted. From improving heart rate and blood pressure to combatting osteoporosis by building bone density, skipping is a great, simple way to get fit.
Sharpen your Concentration Skills
Looking for an activity that will improve your physical and mental abilities? Skipping is known to help develop concentration levels and making it over the rope upon each swing can put your brain to the test. Cardiovascular activities are known to help boost your focus as you strive to develop a rhythm for the movement. As you skip, you will be channeling a lot of concentration towards your feet, and over time this movement becomes subconscious – showing how your focus develops as you progress!
Boost Coordination 
Coordination is a vital process, involved in the majority of our everyday movements, and it is an important ability for people of all ages. Boxers will often be associated with skipping, and by jumping rope before taking to the ring, they are essentially training their level of coordination. When you skip, your brain will be constantly aware of what your feet are doing, making skipping a great example of a cyclic activity.
Developing coordination is vital especially in children, and as skipping involves multiple muscle groups, it enhances their ability to understand how their bodies move. While it can be difficult to get into the routine of the movements required for skipping, the challenge of mastering the rhythm and timing builds confidence in kids over time. Even on a rainy day, your little ones could be boosting their coordination skills. Dig your children's raincoats out of the cupboard and encourage them to jump rope, they'll have hours of fun and develop their own understanding of how their bodies move at the same time!
Reduces Fat and Burns Calories  
As we've already discussed, skipping is a great way to get fit! It is an activity that puts your cardiovascular ability to the test, and in doing so you'll also burn lots of calories with each rope session! The average person could burn anywhere between 200 and 300 calories in a 15-minute skipping workout, and jumping rope is also a great fat burning activity.
Skipping can be incorporated into any kind of workout, and if you enjoy interval training, then you could certainly benefit from adding a skipping round into the mix! Any kind of circuit training will boost your heart rate, so why not add a skipping fueled cardio segment into your usual weighted workouts? You'll keep your body working over short, intense periods and the overall fat burn is unrivalled by many other physical activities! You'll improve your cardiovascular fitness, leg strength, stamina, bone strength and agility, so skipping is certainly worthy of being classed as a full body workout.
Mindful Skipping
With increased concentration comes mindfulness – the understanding that we have of ourselves and of the surrounding world. According to NHS England, around 5% of the UK's population are affected by a generalised anxiety disorder, and a study published in The Lancet Psychiatry Journal carried out an observation of 1.2 million people in the US, and participants reported their activity levels for a month while also rating their wellbeing. Those who had exercised had an average of 1.5 fewer 'bad days' per month than those who didn't exercise. The repetitive nature of skipping can help to keep your mind occupied, as well as prompting the release of 'feel-good' endorphins – giving you a natural workout boost.
Ready to get going? Find a good quality skipping rope that suits your child's height and let the fun begin!
Sources and References
https://www.bbc.co.uk/news/business-44766250
https://caloriesburnedhq.com/calories-burned-jumping-rope/
https://www.nhs.uk/conditions/generalised-anxiety-disorder/
https://www.nhs.uk/conditions/stress-anxiety-depression/mental-benefits-of-exercise/
Chekroud, SR et al. Association between physical exercise and mental health in 1·2 million individuals in the USA between 2011 and 2015: a cross-sectional study. The Lancet Psychiatry. Volume 5. Issue 9. 2018.
Comments:
No Article Comments available
Post Your Comments: