Your Country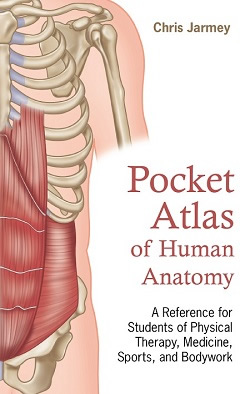 What a gem this little book is for students of bodywork. It focuses on the musculoskeletal system and is illustrated throughout with the easy-to-understand illustrations (by Amanda Williams) that are a hallmark of Lotus Publishing.
Half of the book covers broad information and important concepts about the functioning of bones, joints and muscles. This information is presented in a clear, orderly way so that it makes sense to the beginner. It uses precise descriptions to familiarize the reader with the standard medical/anatomical terminology. Whenever new terms are introduced, they are explained. The detailed index at the back of the book also supports students in cross-referencing the terminology.
The other half of the book describes and illustrates the main bones and joints, and covers  the nerves and each of the important muscles and their attachments and actions. There's also a short section on the Fascia and the Anatomy Trains concepts developed by Tom Myers.
It's not a book for students to come to before they've been introduced to the territory by a teacher. But once they have that grounding, its systematic coverage will help them consolidate (and expand) their knowledge and come to grips with the relevant terminology.
It makes a very useful revision source in preparation for exams. And its portability (as a pocket book) will make it an excellent dip-into resource throughout the day.
Further Information
Available from Lotus Publishing and Amazon
Reviewer

Publisher

Lotus Publishing

Year

2018

Format

Paperback

Price

£12.99

Isbn

978 1 905367 85 6