Your Country

Roses Coming Into Bloom, Cut Grass On A Sunny Afternoon
The Smell Of Clean Laundry On The Line...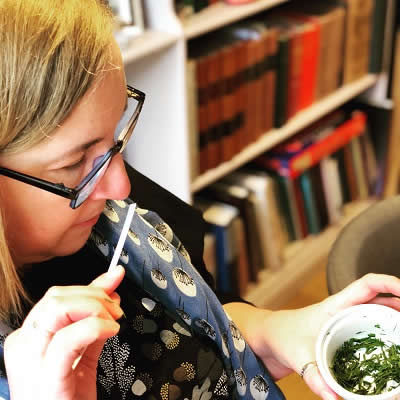 These are just some of the smells that people who have lost their sense of smell will be missing this spring. As you work in the garden this spring, or prepare a delicious meal with aromatic herbs and spices, spare a thought for people who no longer have a sense of smell. This invisible condition affects approximately 5% of the population here in the UK.
Smell loss can affect people of all ages and for many different reasons: an upper respiratory illness, a head injury, sinus disease, chemotherapy and as a side effect of some medications. When smell loss has no obvious cause, it is called idiopathic. Some people are born without a sense of smell and this is known as congenital anosmia. Gradual smell loss is also part of the normal ageing experience. Noticeable absence of smell is also an important biomarker for some neurodegenerative diseases.
Definitions
Anosmia - a complete lack of smell;
Hyposmia - a reduced smell;
Parosmia - a distortion of smells, most often perceived as foul;
Phantosmia - Smell hallucinations. When a smell is experienced with no source.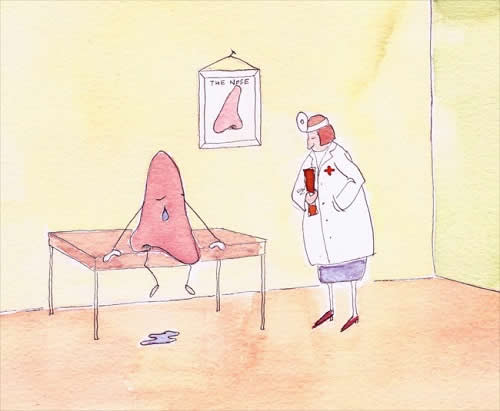 Smell loss is an invisible disability that can have a profound effect on people's lives. Without smell, quality of life can be affected. Sufferers can feel anxious about the dangers of being unable to smell gas or smoke,  isolated due to a loss of intimacy with close family members, and feel diminished social ties. Depression is a common feature of acquired smell loss. It can also affect a person's ability to experience flavour, which can alter their relationship with food and lead to weight cycling. It is the combination of smell and taste--salty, sweet, sour, bitter and umami--which provides flavour. Without flavour, food quickly becomes a chore. Where parosmia is experienced, distorted and often foul smells of common foods like coffee, chocolate  and meat can make cooking and preparing food for a family a dispiriting challenge.
Research to support those affected remains limited but is growing. AbScent is a UK charity that provides support. Chrissi Kelly, Founder of AbScent, lost her sense of smell in 2012 after a sinus infection. After spending many years interacting with the anosmia community on Facebook, she founded a charity in 2019 to provide "the relief of suffering for those with smell disorders through the provision on support, education, and practical advice". AbScent currently has 1700 members in its closed Facebook group, and many more members of the online anosmia community interact with the website.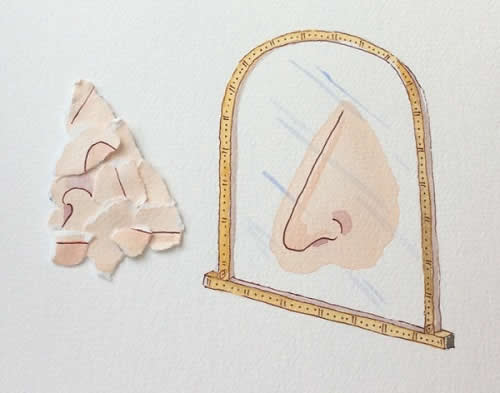 Hear what AbScent members say:
Steve Grainger
"During the dreadful first year of living with this frightening and dispiriting illness I visited many doctors including three ENT specialists both in the UK and in Canada yet received no helpful advice whatsoever. I was offered no treatment options, and I was basically given little or no hope of recovery .  I was left depressed, frustrated and without hope of ever leading a normal life again. Finding AbScent after a year of despair has changed all that."
Kat Haugh
"Losing my sense of smell has caused me to feel a profound, deep, inexplicable sadness. For me, it's a continual bereavement process. I grieve the loss of my smell all of the time: when I enter my childhood home, when I hug my Nana, when I sit by the fireplace, when I spray sunscreen on my skin, the list goes on and on. Being able to smell the familiar smell of clean sheets or a scented candle is just so beautiful and I miss it terribly."
A.M. Roberts
"Every day I feel a disconnection from my surroundings, as if there are wires dangling off my circuit board.  The food cooking in the kitchen, the fire in the fireplace, the wet dog – all absent of smells.  There is this lurking sense of unease.  I am constantly surprised and disappointed when my favorite chocolate or that perfect piece of pie has no flavor.  The bouquet of life is everywhere and I cannot detect it."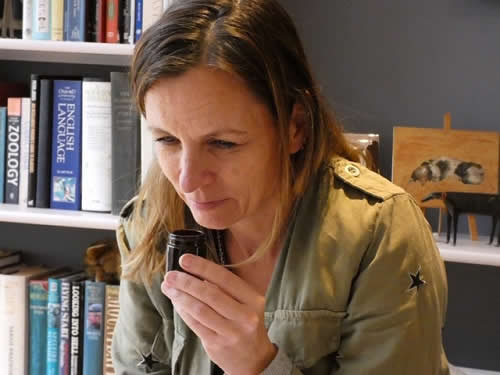 Smell Training
Some people with acquired smell loss can be helped with a supportive technique called smell training. The Smell Training Protocol, as devised by AbScent, is a central part of the charity's work. The concept is relatively new, with the first scientific research on smell training appearing in 2009.[1] Since then there have been over 13 further pieces of research in this area. Quite simply, smell training involves using essential oils twice daily, smelling each one for 20-30 seconds in a mindfulness exercise. Like physiotherapy, it must be done regularly – twice daily for a minimum of four months. Contrary to what many assume, that the "work" of smell training is done between the essential oil and the nostril, the higher parts of the brain must also be engaged. Memories of experiences and the emotions associated with the smells need to go into smell training as well.
Further Information
People suffering from smell loss can visit www.abscent.org for support and advice. AbScent has also launched the Sense of Smell Project to improve understanding of anosmia among sufferers and the medical community https://abscent.org/about-us/sense-smell-project.
References
1. Hummel T1, Rissom K, Reden J, Hähner A, Weidenbecher M, Hüttenbrink KB. Effects of olfactory training in patients with olfactory loss. Laryngoscope. 119(3):496-9. doi: 10.1002/lary.20101. Mar 2009. https://www.ncbi.nlm.nih.gov/pubmed/19235739
Comments:
No Article Comments available
Post Your Comments: