Your Country

Originally published The Nasopharynx
https://thesymmetryforum.com/viewtopic.php?f=178&t=379&sid=81d30bef9e767000e7d4f2dcd2a3a83a
The nasopharynx represents the most superior portion of the pharynx, bounded superiorly by the skull base and inferiorly by the soft palate. The nasopharynx connects the nasal cavity to the oropharynx and contains the Eustachian tube openings and adenoids.
Our Concern is the Proper Functioning of the Eustachian Tube
This is amenable to harm from:
Infections
Improper drainage because of poor swallowing patterns,
The excessive use of toothpaste and mouthwashes cause resistant organisms to fulminate. The main ones are the development of Staphylococcus Aureus and Pseudomonas Aeruginosa dominant biofilm infections which prevent any healing of the throat if a new viral infection manifests itself.
If you or your child wakes up with bad breath then you know you suffer from such an infection. One can only imagine how serious secondary viral or bacterial infections under these circumstances can become if one gets infected with Covid-19.
To explain this subject, it might be cogent to mention an actual case. A patient once turned up with swelling on her neck. On palpation, it felt like a lymph node swelling. I looked up my diagram and it implicated infection in the nasopharyngeal tube. She also felt deaf on the affected side, had a very infected throat, and was suffering from a very high fever. She had thick slimy saliva that coughing was unable to dislodge indicative of heavy use of toothpaste which often gives rise to resistant organisms which fulminate. Her gingiva was very swollen and easily bled again confirming the use of toothpaste.
Her gingival condition had been discussed and treated on many previous occasions. Despite warning her about the toothpaste she continued to use it while trying to otherwise clean her mouth immaculately.
Because of her high fever, I spent a few minutes clearing her gingivae and referred her to the local hospital for intravenous antibiotic treatment. She was told that she had a branchial cyst on the neck and needed surgical attention but no immediate treatment despite her high fever.
During the night she became very unwell and was taken by ambulance to a major teaching hospital in London where she was given intravenous antibiotic treatment and again informed that she had a branchial cyst which needed surgical removal.
I knew the family well and took along a German medical doctor friend with me to see her in hospital. He agreed with me that it was indeed a lymph node swelling.
After a couple of days with IV antibiotics, the cyst shrank a little and her fever also subsided, and she was discharged to return in a month for the removal of the cyst.
After this, she went back to Sweden where everything flared up again. She had not stopped the toothpaste.
Again, she was hospitalized and told that she needed surgery to remove the branchial cyst. I reasoned with her that her throat is not going to recover with the removal of the supposed cyst until she stops the toothpaste and uses saltwater instead.
She finally paid attention and gradually her gingivae, her throat, and the Eustachian tube also recovered. The lymph node also disappeared. She was also given Myofunctional therapy to improve her swallowing pattern.
Branchial cysts do not disappear. A branchial cyst is a lump that develops in the neck or just below the collarbone. Branchial cysts form during the development of the embryo. They occur when tissues in the neck and collarbone area (branchial cleft) fail to develop normally.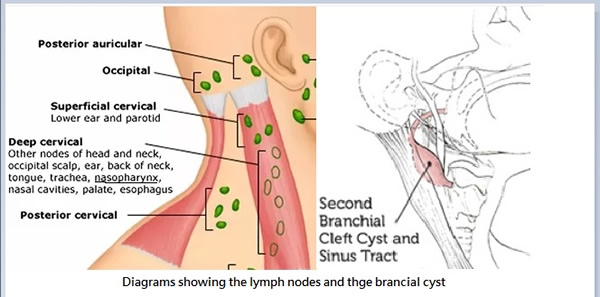 https://thesymmetryforum.com/viewtopic.php?f=178&t=379&sid=81d30bef9e767000e7d4f2dcd2a3a83a
The presence of partial deafness and a severe throat infection and fever would differentiate it from a lymph node enlargement.
PS Taking a stand against the existing paradigm of dental and medical care has turned out to be very costly. In spite of that, I must continue my journey to bring relief to thousands across the globe. My website has highlighted the practices of those who knowingly or unknowingly perpetuate illness. This is obviously not acceptable to the power structure in control of our health. To continue to produce evidentiary articles on my website and this forum - which have enlightened thousands of patients and dentists all around the world, to keep my staff employed and my offices viable, we request a little help
You may donate through a window that comes up at Mr M. Amir. (Please note I am in the process of revising that website.)
Please remember there are at least 48 illnesses where millions of patients can be helped through dental interventions.
The improvement or benefits identified in the testimonials and articles on this site are based on individual experiences which are dependent upon the patient's unique health condition, jaw condition, occlusal position, medical history, and other individualised factors, and should not be considered representative of all treatment outcomes.
Comments:
No Article Comments available
Post Your Comments: