Your Country

The Challenge
Currently there are an estimated 100,000 complementary medicine practitioners in the UK alone – so how do you find your way through the maze of qualifications and titles to a therapist who is in a position to deliver relevant, effective treatment when you need it? Or, as a therapist, how do you know which training or association will give you a credible training and qualification?
The BCMA's (British Complementary Medicine Association) most frequently asked question by the public is "how can I find a qualified, competent practitioner who is near me?" Let us first take this question from a patients perspective: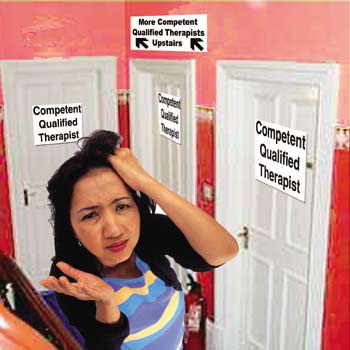 It is not yet possible to give an easy, straightforward answer to this question; I have set out below the steps you should take to ensure you get the therapist and therapy that is right for you.
* Firstly, you should know your expectation from that treatment:
* Charisma, healing hands, a white coat, a good reputation – does that appeal to you?
* Cleanliness, integrity, and good intentions – is this what you need?
* Safe and effective?
* Qualified, registered and regulated say the government.
But with 100,000 UK practitioners to choose from, how do you know?
An appropriate therapy and a well-trained therapist is a good starting point, but most people go by word-of-mouth, reputation, or, when desperate, (as if often the case ) via the yellow pages. However, you may be looking for time to relax and revitalize, time to think or talk, to be a 'human being' instead of a 'human doing' .
The Complementary Stampede
Many people have historically only attended the doctor when already ill, but now, many are seeking the professional expertise of a therapist when they are merely 'not as well as they would like to be'; when they feel 'dis-eased' and before they are 'diseased.' Complementary medicine practitioners are seeing people who want to address their health questions before they become medical issues. They seek out a system and therapist that reflects their belief systems which often goes way beyond the parameters of a standard medical consultation. In my practice, I commonly had patients coming to me saying "I'm not ill (I've had all the tests), I'm just not truly well". This is not an unrealistic holy grail – it is just a different expectation of a different and more self-aware generation and era.
Alternatively, you may be one of the many thousands of people voting with their feet away from doctors and hospitals, (58% of the UK populace) because of fear of side effects from toxic drugs, or reluctance to have invasive surgery. You may simply want to avoid a prescriptive approach; where you see the doctor as a stressed, hurried individual with only limited chemical options and fixed approaches to offer you. Just by merely walking into the door of a complementary medicine practitioner, you have opened the door to a more empowered relationship with a friend/adviser who discusses the (often many more) options with you. No longer a victim of circumstance with a 'do or die' scenario; you now have a range of tools in your toolbag with which to address your health questions and problems.
We all know that we should invest time, effort and sometimes money into gaining and maintaining our good health, but the necessity for this sometimes only comes into focus when we need a quick health 'fix'. So of course, being stuck on the predictable treadmill of using a 'pill for every ill' (the western model) may be our all-too-often reactive methodology.
Proactive is the way of course, but how do you ensure that you don't get caught in the alternative trap of visiting a therapist once weekly for a spoonful of dreams and a costly exercise in empathy? We all acknowledge that 'natural' doesn't necessarily mean safe and 'ancient' doesn't necessarily mean effective!
Let's face it; a too 'subtle' response to symptoms is not what you need, and the conflict is that holistic practitioners want to address the cause – not just the symptoms – ' balance' the individual, not merely address the disease.
So here lies the rub: most allopathic doctors base their judgement of complementary medicine on proof of outcome – effectiveness, research, and results.
However, you may be looking to increase your energy and sense of wellbeing – to work on your self-esteem or manage your lifestyle to achieve a happier, healthier you. This is not normally what you would expect to visit your doctor with; it is not his or her normal remit, and yet wellness – mental, physical or spiritual, is now on people's wish-list of 'wants to achieve'.
Benefits of Complementary Medicine
The reasons for the popularity of complementary medicine are well documented, but it is well to revisit them:
1. No response to conventional treatment;
2. Long NHS waiting lists;
3. Belief in efficacy;
4. Fewer adverse effects;
5. Loss of faith in orthodox treatments;
6. Less invasive (i.e. surgery/medication);
7. Fear of side effects from drugs;
8. Find it beneficial.
To return to the main point – how to choose? Well, let's take back pain (with no underlying pathology):
1. If you were digging in the garden yesterday it seems most likely that this acute pain is as a result of uncommon exercise, and a massage and hot pad from a massage practitioner may be appropriate;
2. Back pain with menstruation: a range of herbal and proprietary preparations are available to address this. From the health food shop to the herbalist – many can advise and treat you. Still, the choice you have is endless;
3. Back pain for no apparent reason; osteopath, chiropractor, massage, healer, acupuncture, Bowen, Reiki – all are options.
The Qualifications Maze
If we take as a (rightly assumed) base line that 99.9% of practitioners practise with best intentions and integrity; that they have studied long and practice diligently, it would also be fair to say that most of them would tell you they are sure to be able to help you. Taught not to proffer the word 'cure', it nevertheless naturally raises our expectations (when we need help the most) – if someone says they can help us. The question is; how much, and how soon? Well, of course; as any self-respecting practitioner will tell you, you must not just focus on the alleviation of symptoms; the body is part of a synergistic whole, and your symptoms will improve in the fullness of time when your whole body is truly well.
It is almost impossible to cut through this grey area with concise and definitive guidelines as to whom to choose. However, in order to make an informed choice based on qualifications, one must look to the letters after the practitioners name.
Although some practitioners use their talents or gifts without formal training or qualifications, the majority of them have attended training courses ranging from one weekend to four years. This huge disparity of length and depth of training is not due to the different type of therapy i.e. a standard one weekend for massage or three years degree level for acupuncture; one can still 'learn acupuncture' in a weekend, or continue professional development in any therapy for many years.
The BCMA has set some basic guidelines that a complementary medicine practitioner should have; other professional associations have similar guidelines:
1. Relevant training and experience;
2. Insurance;
3. A professional code of conduct;
4. Clear, published disciplinary procedures;
5. A professional and caring manner.
And the treatment should be:
1. Safe (the Hippocratic oath states "at least do no harm....." );
2. Effective;
3. Improve quality of life.
The Regulation Conundrum
All BCMA practitioners, schools and associations abide by strict codes of ethics, and professionalism. A directory/hand book of ALL the complementary medicine qualifications (that we have found ) from all associations has recently been published (see Further Information).
If the business of complementary medicine is to remain healthy, and our industry is to have credibility and longevity, we need to urgently address the issue of our own regulation. Our industry's growth has in recent years been exponential, but in order to live beyond the popularity we have now, and not to become a victim of our own success, we must harness our strengths – the authenticity, credibility and effectiveness of our treatment modalities, and set industry standards and benchmarks.
So, taking this issue from the perspective of a therapist wanting to register with an appropriate governing body we need to assess the current political landscape.
The 'Big Five' therapies (Acupuncture, Herbalism, Homeopathy, Osteopathy and Chiropractic) have been working towards self-regulation for some years.
They have jumped through many hoops to achieve autonomy in regulating their own professions, and recently the osteopaths and chiropractors have achieved the ultimate aim – that of Statutory Regulation. This means that they have spent many (20) years and millions of pounds getting acceptance from the government to oversee their own professions. However, the outcome of this expensive process is the requirement for all practitioners who have been in practice for many years to re-register and revalidate their original training, to pay for this process, and to pay yearly to maintain that registration. One can understand the need for this process, but one can also see why many osteopaths are approaching the BCMA and other complementary umbrella organizations to register due to a resentment of the amounts of money required to continue practising.
The Complementary Medicine Sector sometimes seems to present as a disparate group of unregulated practitioners and associations.
The BMCA and other complementary umbrella organizations were set up initially and specifically to bring together the disparate groups and to encourage cohesion in order to form Lead Bodies (single therapy regulating organisations). Indeed, differences of opinion between therapy groups have led to a continuation of the status quo despite much effort by the few on behalf of the many. However, despite having left such a task for too long, many such as BCMA are already overseeing Complementary Medicine responsibly and effectively.
Firstly, a register of all those practising Complementary Medicine (to whatever standard) should be an imperative. Patient safety and accountability is an essential. An awareness that many therapists practise two or more therapies is what has traditionally blurred the edges of statistics.
Many therapists do not want – and are not prepared to – end up paying several registering fees (one fee for each lead body) simply because they practise several therapies.
Where I was once a staunch advocate of exclusivity to preserve standards and best practice, in my opinion there is now an imperative to account for all those who consider themselves to be a 'therapist' and an initial inclusive policy is the only way to account for all. After registration of all therapists, then a tier system of qualifications would be put in place.
A very clear message would then be given to the public about who was and who wasn't a Complementary Medicine practitioner. The NHS and the patient alike would be able to make a decision on who to refer to or visit with confidence. Transparency and accountability are an essential primary objective – not the vague generalisations we now live with.
To form a 'Lead Body' (a single therapy regulating body) is the preferred way to go, I wholeheartedly agree, but the reality is that the majority of complementary medicine practitioners have trained in many disciplines. We have to accept that even if – as a best case scenario – in 10 years time, a Lead Body was formed for each of the individual therapies, the bottom line would be that each therapist would have to register for each therapy that they practise, and pay for each of those therapies to the relevant lead body. The worst case scenario is that there will be as many dissident groups forming outside the agreed guidelines set by each Lead body, and that the outcome to all our years of work towards this goal will be undermined by those who practise more than one therapy and simply refuse to pay perhaps £450 minimum for each of their skills or disciplines.
We continue to work conscientiously to the 'Lead Body' ideal but I am aware that the intentions may not match the outcome. Some therapy groups are still jealously guarding their achievements and progress, further reinforcing the territorial behaviour and culture.
What is needed is cohesion and pluralism – especially taking into account the fact that most complementary practitioners practise more than one therapy.
Despite the fact that the Complementary Medicine Sector has begun to realize and work towards registration and regulation, the bottom line is that there are estimated to be 100,000 practitioners in the public domain and only about half of them are registered. In short, because there is no immediate threat to their continuation, there is no imperative to change.
Whilst the BCMA and some Lead Bodies have taken their professionalism seriously and work tirelessly to produce standards of good practice, there continues to be a considerable body of 'therapists' who may be under or unqualified.
Whilst we continue to sit behind closed doors and look inwards to the workings of our elitist organisations, concerned only for our Best Practice, Safety, etc we may be undermined by the reality of High Street 'Quality Seconds' treatments being delivered to an unsuspecting and sometimes unquestioning public.
The BCMA are on the executive committee of the parliamentary Advisory Group for Complementary Medicine; they, along with other professional associations, are communicating and collaborating with the government in order to look after the political forefront of complementary medicine while the majority of therapists get on with their business and their patients. With communication andmanagement of the political landscape from a realistic rather than idealistic perspective, I believe that together, we and the government can achieve all that we want for our practices and our patients – a cohesive, constructive council for complementary medicine which represents the needs and oversees the regulation of each of the lead bodies within our industry as a whole.
We have learned that we are not one another's competitors, we are colleagues, and with this spirit of positivity – focussing on solutions rather than historical problems, a new way has been found to take all of our therapies forward in a constructive way.
Further Information
To get a copy of the Directory of Complementary Medicine Practitioners – titles and training, please send an SAE (A4 size) to BCMA Head office, Kensington House, Imperial Square, Cheltenham,GL50, 1QZ, enclosing £5.99 postal order or cheque. For further information about the BCMA – to register as a qualified practitioner, school, clinic or Association please email: info@bcma.co.uk, or Tel: 0845 345 5977; Fax: 0845 345 5978.
Information re UK Associations
For a fairly comprehensive list of UK Associations covering most therapies, readers are referred to Positive Health's internet site at foot of any page.

Comments:
No Article Comments available
Post Your Comments: