Your Country

Does the 'cure' for ME/CFS lie in a three-days training programme based on the principles of NLP (Neuro-Linguistic Programming), Hypnotherapy, Osteopathy and Life Coaching?

ME sufferers have fought for many years to have their illness recognized as a physical condition, and after much campaigning, CFS and ME was classified by the World Health Organization as a neurological disorder. In 2004, the Department of Health announced £8.5 million of ring-fenced funding for new specialist services to deal with ME/CFS. Research continues at King's College London and St George's London. At present, the medical profession agrees that there is no 'cure' for the illness which affects up to 250,000 people in the UK. The prescription given by the medical profession in general concentrates on Cognitive Behavioural Therapy and 'pacing'; both approaches offering to help sufferers 'manage' their illness rather than 'cure' them of this mystery illness.

However, a training programme, based on the concepts of Osteopathy, NLP and Hypnotherapy is having positive results at a clinic in North London. The Phil Parker Lightning Process (LP) was developed by Osteopath Phil Parker seven years ago after many years of working with ME and CFS sufferers.

Parker says: "The Phil Parker Lightning Process is the result of my research over the last decade into why, when problems occur in people's lives, some of them hit a wall and get stuck and others seem to be able to deal with the difficulties in a different way and move forward."

T Ramsey in his book Myalgic Encephalomyelitis and Postviral Fatigue States: The Saga of Royal Free disease (London, 1st ed. 1986, 2nd ed. 1988) classes the disease as not just affecting the neurological system, but one impacting many other vital systems as well:
1.    A multi-system disease, primarily neurological with variable involvement of liver, cardiac and skeletal muscle, lymphoid and endocrine organs;
2.    Neurological disturbance – an unpredictable state of central nervous system exhaustion following mental or physical exertion which may be delayed and require several days for recovery; an unique neuro-endocrine profile which differs from depression in that the hypothalamic/pituitary/ adrenal response to stress is deficient; dysfunction of the autonomic and sensory nervous systems; cognitive problems;
3.    Musculo-skeletal dysfunction in a proportion of patients (related to sensory disturbance or to the late metabolic and auto immune effects of infection);
4.    A characteristically chronic relapsing course.

Phil Parker accepts Ramsey's classification of the illness and explains: "Our approach focuses on how to improve neurological function, focusing especially on the disturbances within the Central Nervous System (CNS) and Autonomic Nervous System (ANS). The ANS is a bit like the maintenance department of a large building – it is the part of the nervous system involved with controlling fairly boring but essential functions that are normally outside of our control, such as sweating, speed of heart beat, blood pressure, speed of digestion, response to stress, etc.

Our approach also considers the concurrent effects on the skeletal muscle, immunological and endocrinal systems, to name but three. As Ramsey states, "Indeed, the particular invading microbial agent is probably not the most important factor. Recent work suggests that the key to the problem is likely to be found in the abnormal immunological response of the patient to the organism."

Research carried out by Vegard Bruun Wyller MD PhD at the Division of Paediatrics, Rikshospitalet University Hospital, Norway, has revealed some interesting results regarding enhanced nervous activity in the sympathetic part of the ANS in CFS /ME sufferers.

Bruun Wyller MD PhD says: "Recent research on CFS pathophysiology has revealed alterations of cardiovascular regulation and thermoregulation, characterized by enhanced sympathetic nervous activity and increased secretion of epinephrine. These findings indicate a state of permanent distress response – sustained arousal – in CFS patients. My own research has not specifically addressed the Lightning Process. Rather, I have been interested in basic mechanisms related to the autonomic nervous system and stress responses. Based upon our findings, we have formulated a theory of sustained arousal in CFS, which seems to correspond quite neatly to the theoretical considerations underlying the Lightning Process."

Bruun Wyller's research acknowledged that Haemodynamic abnormalities have previously been documented in chronic fatigue syndrome (CFS), indicating functional disturbances of the autonomic nervous system responsible for cardiovascular regulation. The aim of Bruun Wyller's study was to investigate autonomic heart rate control during mild orthostatic stress in adolescents with CFS.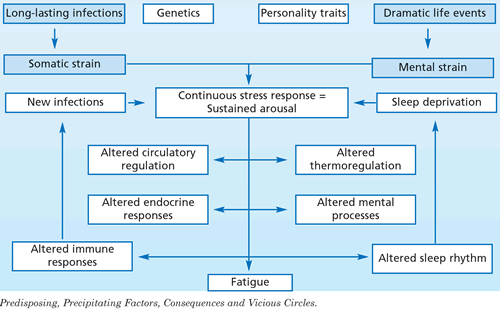 A total of 14 CFS patients and 56 healthy controls, having equal distribution of age and gender, underwent lower body negative pressure (LBNP) of -20 mmHg. The RR interval (RRI) was recorded continuously, and spectral power densities were computed in the low-frequency (LF) band (0.04-0.15 Hz) and the high-frequency (HF) band (0.15-0.50 Hz) from segments of 120-second length, using an autoregressive algorithm. In addition, the time-domain indices SDNN, pNN50, and r-MSSD were computed.
Results: At rest, CFS had lower RRI than controls (P < 0.05), but indices of variability were similar in the two groups. During LBNP, compared to controls, CFS patients had lower normalized and absolute HF power and r-MSSD (P < 0.05), and higher RRI (P < 0.001), normalized LF power and LF/HF (P < 0.05).

Bruun Wyller concluded: "During mild orthostatic stress, adolescents with CFS appear to have enhanced vagal withdrawal, leading to a sympathetic predominance of heart rate control compared to controls. Possible underlying mechanisms include hypovolemia and abnormalities of reflex mechanisms."

The Phil Parker Lightning Process (LP) has had positive results by looking closely at the physiological stress response. However, this approach has not been without controversy from within the ME community. Parker says: "The ANS and especially the sympathetic branch of that system (SNS), has a key role in response to Stress – and this is where much of the misunderstandings about the LP occur. Stress is a much misunderstood term – the medical definition of it is quite different to the way it is used in everyday language.

"Stress is defined medically as anything that disturbs normal function – including, burns, infection, poisoning, and is in no way limited to emotional stress. Our work considers which stressors the body is suffering from and how best to resolve them. Again, this is not limited to considering emotional stress, as people often mis-conclude from our mention of the SNS and stress."

The LP hypothesizes that the reason no common neurological pathological (i.e. lesions, infectious agents, etc) findings can be found in all cases of ME is two-fold:
1.    There is a dysregulation of the CNS and sympathetic nervous system;
2.    And is primarily caused by the physical effects of having the illness which, as Ramsey, Bruun Wyller and others have already documented, can start from a multitude of possible events, as disparate as undergoing surgery to a viral infection.

Parker says that many in the ME community have taken issue with their approach due to lack of scientific data. He hopes that the findings of a current survey, undertaken by Professor Findley at Old Church hospital Essex, combined with Bruun Wyller's research in Norway, will go some way to assuaging the concerns that LP considers emotional stress to be the key factor in development or maintenance of ME.

Parker says: "We consider ME to be a genuine neurological disorder. The opposite perspective, which is often peddled about the LP, is a gross inaccuracy, and only does harm to the perception of people with ME, people who have recovered from ME using the process and the Process itself."

He has worked with hundreds of ME sufferers this year alone and has an enviable 85% success rate. He says: "The only difference of opinion should be how best to approach such a condition: stimulating better health and restoring neurological balance through use of drugs, or stimulating it through a non-pharmaceutical approach such as ours. The question then is not one of which is the correct approach, or which one fits with our model of the world, but which is the most effective. If a wonder drug was produced, that after taking it for three days seemed to restore neurological function in people with ME, would there be suspicion, or excitement about it?"


The Case of Alistair Gibson
Alastair Gibson, 43, from Bournemouth, left for his honeymoon in Mauritius with his new wife Marie in June 1999. Little did he know that he would return from 'paradise' suffering the severe and debilitating condition ME.

He says: "On St Patrick's Day 2000, I was diagnosed as having Chronic Fatigue Syndrome (CFS), also known as ME, at the Royal Free Hospital, with the main symptoms being fatigue, muscle pain, brain fog and feeling overwhelmed. Strangely, I was happy that day, for surely in today's advanced medical times what can be named can be cured. Why not this?"

But, Alastair's life was about to go into freefall. He was made redundant and his body continued to fail. He says: "'I had even given up going to my local shops a mere 100 metres away because I found it too exhausting." Alastair got a carer for 12 hours a week and he says: "I treated myself to an electric scooter."

Like many other sufferers, Alastair believed the medical profession when they said there was no known cure for the illness. However, in February 2006, while listening to Radio 2's Jeremy Vine show, Alastair heard a feature about the 'Phil Parker Lightning Process,' which suggested that sufferers could rid themselves of the illness in as little as three days.

He says: "I tracked down people before and after they had taken part and I was determined to give it a go. We decided to make our holiday trip out of going on the Lightning Process training programme, so called because it is so quick – about 12 hours."

Alastair arrived at the training centre in Wales on the first day; exhausted. But he says: "My life changed that first afternoon. I went home and did my homework, and was able to walk up a hill for the first time in six years. The next day I woke up a new man; I had refreshed sleep and woke up at 6am with energy and wanting to run. I got up and walked and walked, for some reason singing Tina Turner's Simply the Best! A lead weight had come off me; I felt alive and energetic. The three days got better and better and I have never looked back since. I never used my electric scooter again and my carer had a month's notice."

Three years on Alastair says: "I have shrugged off ME and am just me again. I am not bitter about the illness because I was very fortunate to find another side to myself and have time with myself. It made me realize that we do live in very exciting times; we can take control and get second chances in life."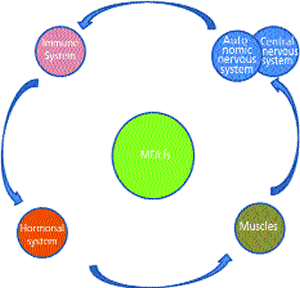 As Dr Bruun Wyller suggests in his thesis on cfs, Heterogeneity of Causal Factors Leading to a
Final Common Pathway there are many ways to get me which all lead to the same physiological state of dysfunction. Therefore an effective approach which allows for the righting of this dysfunctional physiological state will resolve the issues independent of the orginal cause.
How Was The Lightning Process Developed?
The story of the creation of the Lightning Process began with failure. Parker says: "I had studied with some of the best personal development trainers in the world, read the most cutting edge books, become a highly respected authority in the world of change, and yet there were still some clients who I felt I should be able to help because of my advanced skills and depth of experience, but for whom nothing seemed to work."

Many of these were ME patients and I began to dread treating them. It is frustrating as a practitioner to fail your patients. And for me, taking them on and not providing results was a failure."

Parker took his worries to other professionals, and he says: "This did not surprise them; dozens of other professionals had tried and failed – they had become resigned to ME sufferers being a hopeless case. This in many cases also extended to patients suffering problems such as low self-esteem, self-doubt and even self-hatred, anxiety and depression,"

Parker knew that while he could help many people resolve their issues, there was a hard-core element that wasn't able to resolve theirs. Parker says: "I kept wondering, 'What was the difference?' and if we could identify this difference, could we retrain those people stuck in their own personal hell, to get unstuck."


Understanding the Mind/Body Link
The research undertaken by Phil Parker looked at how the brain and body become trapped in a number of damaging unconscious responses, which blight health and stunt lives. Applying a powerful combination of techniques uniquely developed using the philosophies and research of NLP, Osteopathy, Self Hypnosis and Life Coaching, Parker began to achieve significant results with clients by training them to successfully replace old unhelpful responses and start to regain their health, their sense of self and their future.


How Does It Work?
Using the LP's technique of combining particular body movements and postures with a set of precisely targeted questions. many people have got their health back into balance, quickly and successfully, recovering from real illnesses that had troubled them for years.

The Process is specifically tailored to an individual's needs and abilities, and the trainee is supported and assisted by an experienced trainer throughout the seminar and afterwards as required.

The three-days training programme teaches, step by step, how to influence key body systems such as the immunological, neurological and musculo-skeletal system. Ex-England Rugby player Austin Healey has spoken of the joy he felt after his wife resolved five years of her debilitating fight with the illness which literally lays sufferers' lives to waste. Austin says: "We'd been searching for five years to find a cure for my wife Louise's ME. We found the Lightning Process delivered that cure. Louise is now completely recovered and our future is brilliant again."


Further Information
Please contact Phil Parker on lightningprocess@philparker.org; www.lightningprocess.com
Comments:
Joyce Holt said..

Hello - could you tell me is this the same clinic in Wales or are you connected or familiar with the clinic run by R. Amir Norris that offers the Energy Excellance course or even if it is the same theory that they work with. I am finding it very confusing and hard to decide which therapy and theories are the correct ones to follow to try to get well from ME.

---

mary said..

a friend in England did the lightening process with amir Norris and recommended him and the process as she had a dramatic improvement from M E

---

Liz said..

My son (28) is suffering with depression. He has had some counselling and is on anti-depressants but he needs some further treatment.
Would the Lightning Process be appropriate treatment for this condition?

---
Post Your Comments: