Your Country

Alzheimer's is a disease which currently affects 42% of the UK population, either through personal suffering, or though their loved ones. It is an illness that is largely misunderstood by those without personal or professional experience of it, and can be thought of as 'just memory loss'. In actual fact, Alzheimer's is a life-changing disease which affects all aspects of the sufferers' day to day lives, as well as the people close to them.

In the UK alone there are currently 800,000 people living with dementia, with numbers set to rise to 940,110 by 2021 and 1735,087 by 2051. Dementia costs around £23 billion a year, which is more expensive than the treatment of heart disease, strokes and cancer, it is hoped that more attention will be paid to research into finding better treatments for the disease.

So what can be done? As yet, there is no cure for it, there are simply different apparent methods of post-poning the effects and slowing down the degenerative process.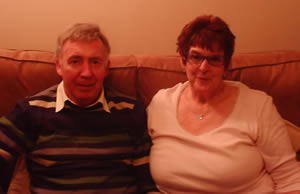 Terry and Christine Rowley

My granddad Terry Rowley 68, from Staffordshire was diagnosed with Alzheimer's disease in May 2007 after undergoing a series of tests and having to spend time in a psychiatric hospital. The time he spent in the hospital before his diagnosis was very difficult for him and his family, because unlike with other illnesses, Alzheimer's takes away sufferers' ability to think rationally. Terry did not fully understand why he was in the hospital with other people who had mental disorders, and at times he was very frustrated at not being allowed to go home.

After a trying few weeks and after undergoing weeks of tests, Terry was prescribed Aricept, a drug used to help slow down the progression of Alzheimer's disease. Terry has lived back at home ever since. He is constantly cared for by his wife of over 20 years Christine 62, who won a local carers award last year for the love and support she continues to show. She was nominated for the award by her step daughter, Terry's eldest daughter Sharon, who also plays a large part in Terry's life.

Terry is still taking Aricept, and while the drug claims to help with the plaque forming on the sufferers' brain, it can only delay the inevitable effects. It is difficult to measure how effective the drug has been, until the sufferer stops taking them. However, this became apparent when Terry took part in a drugs trial in last year. He was among a handful of people who were included, and was the only person from Stoke-on-Trent to participate in a Phase III trial. He seemed to experience negative effects while on the trial, indicating that he may have been one of those taking part who was given a drug rather than a placebo, and that the drug would need some work before it was ready for use.

Ideally, a treatment that is sought by so many living with Alzheimer's is Ebixa. Ebixa is seen as a step up from Aricept in the way that it works. Put simply, while Aricept tries to slow down the process of plaque forming on the brain, Ebixa attacks the plaque that has already formed. It has not yet been fully licensed for use in the UK.

As part of a couple, there are many day-to-day tasks that are often split between the two people. When one half of the couple is struck down by a disease such as Alzheimer's, those tasks can no longer be equally shared, and more pressure falls on the other half of the couple as well as the family as a whole. When Terry could not drive anymore, it became Christine's responsibility as the sole driver as Terry can no longer drive; just a few months ago after fastening Terry into the car and walking around to the driver's side, he had released the handbrake in confusion over his seatbelt holder.

As well as continuing to use the Aricept prescribed, Christine and the rest of the family are open to other methods of relieving the effects of this devastating illness. Because the levels of aluminium in the brain of an Alzheimer's sufferer are significantly higher than they should be, it is a good idea to try and counter balance this with foods which are high in potassium. This can be found in a number of basic food and drink such as meat, fish, potatoes and most fruit and vegetables. Christine has tried on several occasions to introduce different foods into Terry's diet, but has found no significant change.

It can be very upsetting to deal with the different aspects of the illness, as the sufferer sometimes forgets the names of those closest to them, or maybe even the fact they are married or have children. These are the times when it is vital to remember that it is the illness talking, not your loved one. Having to explain to someone where they live, who they are married to and even the names of their friends and family is perhaps one of the most heartbreaking things for a family to endure.

At times, Terry has questioned his relation to Christine and there even came a time when he dialled 999 to ask about the welfare of one of his daughters as he had not seen her for a while.

Familiarity is usually the key when dealing with Alzheimer's; if the surroundings and people are the same then they can develop some sense of routine - a word that is crucial to the day-to-day life of someone living as a sufferer or a carer. However, sometimes it can also be good to have a short break, as Christine and Terry found out when they went to a holiday respite centre in Southport last month. They went as part of a scheme offered by the Alzheimer's society, and spent the week being looked after by professionals. As well as giving them both a change of scenery, it offered lots of activities for them to take part in as well as day trips, and was fully equipped with qualified carers to deal with Alzheimer's sufferers, taking some of the pressure off Christine.

It is often said that with Alzheimer's there are 'good days' and 'bad days' and it is true up to a point. However, the good days are not as good as they once would have been, and unfortunately once Alzhiemer's takes over, the person you once knew becomes a shadow of their former selves.

Another problem that can arise when spending time with someone suffering from Alzhiemer's is that they can very quickly become paranoid, for example if someone laughs they might think it is directed at them, causing them to become irate. This can make it hard to socialize as normal without making them feel uncomfortable, and it is important to keep their feelings in mind at all times.

While dealing with Alzheimer's is no walk in the park, it is something that must be done and it does have light moments. For all of the difficult times and the sadness faced there are times when the person suffering from Alzheimer's will show a flash of their personality as it used to be. These are the times that Terry's family have cherished and will continue to cherish throughout his illness. Perhaps in a conversation about one of his favourite television shows or when talking about football he will let out a little quip, a quick witted comment and remind everyone that his sense of humour remains very much intact, if a little distorted at times. Sharing a joke with a loved one is always a special moment, but in these circumstances; it is made even more precious.

Alzheimer's and dementia affect so many people and so many families, so why is the awareness so low? Everyone seems to be aware of and willing to donate money to other charities; Alzheimer's falls off the radar somewhere along the way. If more money was raised, there might just be enough awareness and money raised to give this illness the attention it so desperately requires. Any families who have dealt with or are dealing with Alzheimer's will know that it is not just an illness; it becomes a way of life.
Comments:
No Article Comments available
Post Your Comments: