Your Country

Add as bookmark
Understanding the Human Foot – An Illustrated Guide to Form and Function for Practitioners
by James Earls MSc with Contribution from Lucy Wintle
listed in bodywork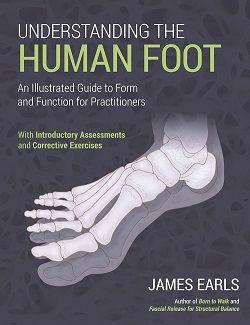 This is handbook is for practitioners to get to grips, literally and metaphorically with a rather neglected and abused part of our anatomy, the foot. We stand walk and run on our feet. They are superbly designed to do so. We do this in a way that is unique among primates. Earls takes us through the anatomy of the human foot in a way that emphasises function. He compares our foot with our nearest animal relatives and demonstrates how modifications in the positioning of the great toe and the shape and size of the foot allow us to function in our unique ecological niche. The foot is superbly designed for walking, running, skipping and jumping.
He pays homage to Morton (1884-1960) whose inspiring encyclopaedic knowledge of the foot built on appreciation of comparative anatomy. He cites Morton as one of his two heroes, the other one being the foot! He then takes us through the anatomy of the bones of the foot, the soft tissues and the extrinsic and intrinsic musculature. As he does this by showing how these structures work in harmony to achieve functionality. In doing this he does not lose sight of how the foot works with the rest of the body. In describing foot movements from the initial heel strike to the toe off in walking and running he emphasises cooperation between structures. How bones muscles and tendons work to create and restrain movement, and this is done in such a way as to conserve and recycle energy.
The latter part of the book covers the practical aspects of assessing and managing issues arising with this part of our anatomy. In the chapter entitled 'The Functional Assessment of the Foot' he outlines some simple protocols to test for shock absorption, range of motion, forming an 'aligned rigid lever' and propulsion and force output. Lucy Wintle, a movement expert's chapter on foot exercises and mobilizers describes some relatively simple exercises to improve function in the foot.
The final chapter talks about shoes. This is a subject I am interested in having spent most of my early years barefoot and having adopted minimalist shoes in the last few years. Shoes do cushion and protect at the expense of reducing muscle strength and proprioception. Worse than that, ill-fitting shoes may contribute to foot damage which in later years can reduce mobility significantly as well as causing discomfort and pain. Earls discusses these issues and while footwear can be as much a matter of fashion and comfort as health a good understanding of these issues will allow better choices to be made.
The first eight chapters conclude with a summary. I found it useful to read the summary first, much as one would read an abstract. Perhaps these could have been placed at the beginning of each chapter. This is a complex subject made interesting and easy to read. It is well illustrated with excellent, colourful, photographs, graphics and diagrams. The anatomy is present as he (and I) would like to have been taught, in the context of the whole.
From an osteopathic point of view this work complements our teaching and practice. Osteopaths emphasise the structure-function relationships as set out here.
I also see writings such as this as being part of the transition between paradigms. Betwixt the outdated but still dominant reductionist model and the emerging holistic view.
This book will be of interest to bodyworker and those who study anatomy alike both as a textbook or a useful reference tool.
Further Information
Available from Lotus Publishing  Amazon.co.uk  and Amazon.com
Reviewer

Publisher

Lotus Publishing

Year

2021

Format

Paperback

Price

£21.99/ $29.95

Isbn

978 1 913088 26 2