Your Country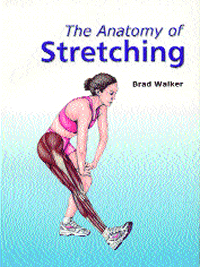 Stretching ought to play an important role in every individual's daily exercise routine, whether they are a professional athlete or merely an average person striving to maintain a healthy level of fitness and strength. As anyone who has ever suffered an injury – sports or otherwise – realizes, stretching may play a central role in rehabilitation and recovery to full health, flexibility and fitness.

This impressive, helpful and useful title is an American A4 format size of about 200 pages; each page with clearly labelled diagrams and pivotal information for each stretch.

This book is divided into 16 Chapters, the first five of which clearly yet succinctly explain Physiology and Flexibility and The Benefits of Stretching, Types of Stretching, Rules for Safe Stretching and How to Stretch Properly. These chapters cover topics including flexibility, muscle anatomy, different types of stretches, i.e. static, passive, active PNF, isometric and the various types of dynamic stretches.

Chapters 6 – 16 cover stretches for the entire body, including Neck and Shoulder, Arms and Chest, Stomach, Back and Sides, Hips and Buttocks, Quadriceps, Hamstrings, Adductors, Abductors, Calves, Shins, Ankles and Feet.

Each page illustrates a single stretch, with clearly labelled drawings of a person carrying out the particular stretch, with cut-out anatomical muscle visualizations, as can be seen on the cover shot. The illustrations are clearly labelled, with each muscle identified. Text beneath the drawing describes the Technique, Muscles being stretched, Sports which benefit from the stretch, Sports injury where this stretch may be useful, common problems and additional information for doing the stretch properly and any complementary stretches.

There is a Glossary of Medical Terms, Appendix Summaries of stretches for individual sports and sports injuries, Bibliography and Postscript which reiterates what Brad Walker identifies as the greatest misconception regarding warm up and stretching. The key is that Stretching is a Critical PART of the warm up, but stretching is NOT the warm up.

Brad Walker is a prominent Australian sports trainer with more than twenty years' experience and postgraduate accreditations in athletics, swimming and triathlon coaching. One major strength of this book is the breadth of coverage: for example there are 13 illustrated stretches for the Hamstrings, including sitting, standing and lying positions. The author's long experience with athletics and stretches shine through his clear instructions and descriptions.

Everybody ought to incorporate stretching into their daily exercise and fitness routine, which if carried out over many years, will help to extend their flexibility, as well as their health, strength and fitness.

This book can be ordered from the Positive Health bookstore. Please click the Bookshop image at the top of the column to your right, then click on Bodywork.
Reviewer

Publisher

Lotus Publishing and North Atlantic Books.

Year

2007

Format

Paperback

Price

14.99

Isbn

978-1-905367-03-0