Your Country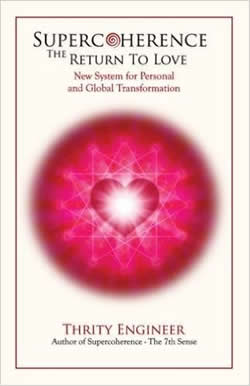 Super coherence is a book that allows you to expand your awareness of what's real and what's not. In this book you learn how the author's knowledge became available to her and her senses; she was discovering new technologies that were to change how she operated in the realm of energy dynamics. We discover the processes that enabled the author to manage her knowledge in a way that gives us insight into how she created the processes that made her want to discover more. All in all, it's a fascinating biography as well as a new learning journey into the unknown mystical nature of the energetic Universe.
In chapter two we understand how she comes to that insight by listening to her stories and perceptions about how energy really works. The idea that we are coherent beings is a great reminder that we can become more impressed with our own ability to create coherence within our divine being.  She translates energy information into understandable items of creation that allow her to disseminate the prognosis of ideas that were not before recognized.
In chapter three we find out about the elements that create this coherence and how the science behind her learning creates memory within the vital organs, mind and brain. In this sense we give an enlightened perspective of how energy is formed and can be changed by the mere presence of a coherent force and applications of its principles.
In chapter four we find out the creative process that allows individuals to give themselves a chance to experiment with these energy forces and how they impact on relationships that have been enriched as a result of the understandings for my coherent point of view.
In chapter five we understand the reasons why life gives us challenges that we can either seek to ignore or change in the direction of our choices. We are shown we have the ability to make choices from the point of awareness in order to gain an aspect of light consciousness.
In chapter six we are given the opportunity to understand the elements that make choices more easy to understand and how energy works to provide us with everything we need. Light and love are the key elements that keep us alive and we have to know how to use them in order to bring our being into balance.
In chapter seven we understand the process of learning how to use the techniques to enlighten our perspective and give us new choices. In chapter eight we find out the ways in which we can manifest our own coherence using the tools and the enlightened love of the Mother Mary image and the Goddess perspective of what she stands for.
In chapter nine we make a move towards using the tools and finding the dynamics between relationships and how we respond to past and the patterns that give us codes of a lighter note as well as codes of our derailment and off on the actual life progression.
The book goes on to describe the powerful transformational applications of the method and concludes with a summary that encapsulates the essence of her message so that you can understand the process, its meaning and how it can transform your life for the better.
Further Information
Available from the Author and from Amazon
http://supercoherencereturntolove.com/
www.amazon.co.uk/Supercoherence-Return-Love-Thrity-Engineer/dp/1910708003
www.amazon.com/Supercoherence-Return-Love-Thrity-Engineer/dp/1910708003
Reviewer

Publisher

Super C Publishing

Year

2015

Format

Paperback

Price

£12.99

Isbn

-10: 1910708003