Your Country

Add as bookmark
Overdo$ed America: The Broken Promise of American Medicine
by by Dr John Abramson MD
listed in drugs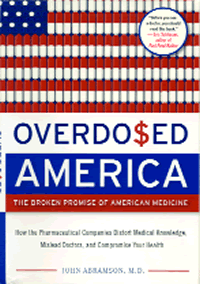 This book should be read by anyone in danger of using the American and UK health care system. It describes the misleading information derived fromclinical trials that are covertly funded by the drug and medical appliance companies, and the way in which medical education of doctors relies on drug industry-based information and salesmanship. It casts doubt on some clinical trials which are reported in respected medical journals read by doctors to keep up-to-date.
Dr John Abramson MD worked as a family doctor in Massachusetts and is on the faculty of primary care at Harvard Medical School. He has analysed some of the clinical trials related to expensive new drugs. He describes the hidden snags of Viox, Celebrex, HRT, statins and newer antidepressants, also drugs for diabetes, osteoporosis, blood pressure and much else.
The American health care system is funded by insurance for which (most) people pay expensively. This gives them the 'right' to demand the latest expensive drug from their family doctor, which Dr Abramson points out, undermines the doctor/patient relationship if the new drug is unsuitable. In America, the drug firms are allowed to advertise directly to the public on TV. "Ask your doctor to prescribe our latest costly little wonder…" is the general prime time message.
Most clinical trials compare a cohort of people using a new drug with a similar (matched) group using a placebo pill as controls. Dr Abramson explains lucidly to the non-statistically minded how these results can be made to look better by statistical slanting, or by "neglecting the obvious" when it suits the big battalions. Some trials done on younger people have been applied to those over 65 or 70 years of age (cholesterol and statins) which is guesswork. Sadly much 'science' is not.
Dr Abramson points out that it is almost impossible to get people to change their diet, lifestyle and smoking habits in the face of a TV advertised wonder drug which "will fix it…" Drug trials do not usually compare a group taking a cardiovascular or diabetes drug with a cohort doing exercise, smoking cessation and healthy diet. These are options from which companies can not profit and may show up their drug in a bad light. Incidentally, clinical trials in which drugs fail are not published, although the information may escape later.
All this reliance on expensive pharmaceuticals and appliances makes the cost of American medicine astronomically expensive, ($500 billion a year apparently) but the results are not brilliant by any scheme of measurement.
Clearly, the art of medicine is being hijacked by commercial expediency; many of the regulators are also subsidised by commerce for their research and the boundaries are being blurred.
"The drug companies have no more responsibility to oversee the public's health than the fast food industry has to oversee its diet."
A fascinating and thought-provoking read.
Reviewer

Publisher

HarperCollins

Year

2004

Format

Hardback

Price

0

Isbn

0-06-056852-6.