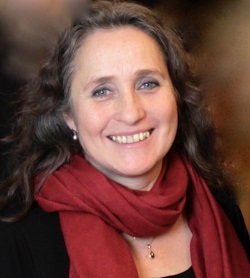 Kirsten Hartvig  ND MNIMH MRN DipPhyt is a registered Naturopath, Medical Herbalist, Nutritionist, vegan, and the author of 14 books on natural health. Her main interest lies in plant-based education and conservation, and in helping people to take charge of their own health by showing ways to connect with nature and natural forces, food and medicine. She runs the Heartwood Herbal Medicine Study Centre at Emerson College in Sussex (comprising an ever-expanding herb garden and library), teaches materia medica on the Heartwood Herbal Education  professional course, and runs the YouTube Channel 'Herb Hunters'. She is also director of the Biodynamic Botanic Garden at Emerson College, a collaboration between the Emerson College Trust and the NIMH Education Fund with support from Botanic Gardens Conservation International (BGCI) and ArbNet. Kirsten is a member of the National Institute of Medical Herbalists (NIMH), the General Council and Register of Naturopaths (GCRN) in the UK, EuroCam in Brussels, and SRAB, the Danish government CAM-council in Copenhagen.
She was born in Denmark but came to the UK in 1986 to study herbal medicine and naturopathy at the School of Herbal Medicine and the British College of Naturopathy and Osteopathy. She has taught nutrition and dietetics at the European School of Osteopathy in Maidstone, and wrote a nutrition course for the Scottish School of Herbal Medicine. In 1996 she set up a naturopathic retreat in the French Pyrenees together with her husband, Dr Nic Rowley. Together they wrote several books about their experiences, notably You Are What You Eat, Ten Days to Better Health, Energy Juices, Energy Foods, and The Detox Box. Kirsten has also written or co-written The Healthy Diet Calorie Counter, The Big Book of Quick and Healthy Recipes, The Complete Guide to Nutritional Health, Eat for Immunity, Healing Berries, and Healing Spices (all available from amazon.co.uk.  Kirsten may be contacted via Mob: 07477 220707; kirstenhartvig@mac.com    www.kirstenhartvig.com  Listen to the Herbal Medicine Show on UK Health Radio.
Articles by
Kirsten Hartvig
Listed in herbal medicine

In a world that is awash with taste-alike processed foods and synthetic flavourings, the many reasons for using real spices have all but disappeared, together with the cultures for ...

The Biodynamic Botanic Garden at Emerson College

Listed in herbal medicine

He had a huge influence on writing style for over a thousand years, and it is known that he spent many happy hours in libraries; but how he knew about the joys of gardening, I have ...

Listed in herbal medicine

Modern medical herbalists use gentle herbal medicines with positive effects and few side effects. They either make their own preparations or use trade suppliers with established rep...
Book reviews by
Kirsten Hartvig