Your Country

Feeling energized, toned and becoming more flexible are just three of the health benefits associated with yoga – but the advantages go far beyond physical, according to a Yorkshire yogi.
Amy Crumpton, expert in mindset, positivity and neuro-linguistic programming, has been doing daily yoga for nearly two years. She got into it after she started to become achy and stiff after spending long days in one position at her desk.
Amy, owner of Social Cactus Coaching, said: "We live in a world that is always connected, especially running our own businesses, there's always someone wanting to ask a question, an email to answer or some deadline to meet.  
"Because of this, we usually have a million things running through our minds, but when we step on that mat, we are fully present and can clear our minds for the 20-30 minutes during the practice, and it's blissful."
Amy started watching and using yoga flows on YouTube and soon noticed her aches and pains vanished, while she was also starting to tone up.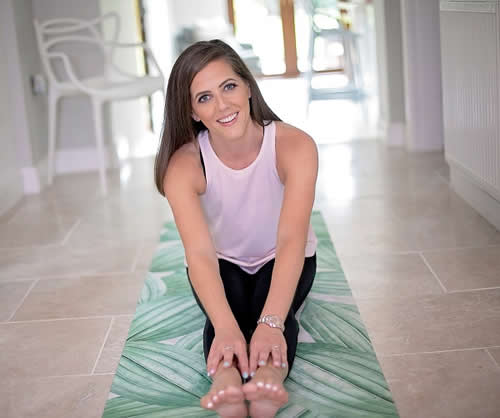 A Catalyst for Change
However, it wasn't just physical changes that Amy experienced. Through practising yoga, Amy also started to consider her diet more closely, her mindset changed and she felt more relaxed after a session on the mat.
She said: "You may find your body doesn't want to scream at you anymore for putting it under unnecessary strain, and may notice your mind is calmer and less 'noisy'.
"We make better dietary choices, and feel more relaxed and at peace with ourselves and with what's happening in the world.
"It's impossible to leave the yoga mat feeling stressed, anxious or angry - no matter what is happening in the day, stepping on the mat for a yoga flow leaves it all in the past."
Mental Health
Through practising yoga, Amy has learned how to manifest her stress reaction into a calming technique. The 35-year-old entrepreneur has found that these techniques that she learned on the yoga mat now help her with her busy career.
Amy said: "When we are practising yoga, we learn to relax our facial muscles and breathe deeply, slowly and with control, which in turn calms our minds. We can retrain our brains and allow our automatic stress reaction to change to one of a calming technique, instead of it elevating cortisol.
"You can then use this practice in day-to-day life, whether it is in high pressure work situations or in other stressful situations."
Yoga poses create physical stress and discomfort which results in our bodies creating a habitual physiological stress response. This can result in increased heart rate, anxious feelings, increased breathing rate and tense muscles.
"Our body then learns to cope with these responses more easily so when we do encounter them off the yoga mat, we are better able to overcome them," explains Amy.
"I practise yoga at the end of my working day for at least 20 minutes and it allows me to completely de-stress and reflect. There is nothing else which beats it as a mind-boosting exercise."
Studies have shown that "yogic practices enhance muscular strength and body flexibility, promote and improve respiratory and cardiovascular function, promote recovery from and treatment of addiction, reduce stress, anxiety, depression, and chronic pain, improve sleep patterns, and enhance overall well-being and quality of life."
The Benefits are for Everyone
Another benefit of yoga is there is no age limit to it. You can easily find yoga sessions involving a range of movements, of differing difficulties and of varying length to suit your ability.
The NHS says that yoga is popular with people with arthritis as it promotes flexibility and strength in a gentle way. It can also reduce pain and mobility problems for people with knee osteoarthritis.
Amy said: "Yoga is a low-risk exercise for injuries, as it focuses on mobility and stretching, rather than high impact. It strengthens your lower body, particularly your knees and ankles, so it can also help prevent falls by improving your overall strength."
How to Find your Inner Yogi
Many people struggle to find the time to exercise with increasing work and family pressures, but it is easy to start yoga and incorporate it into your daily routine.
Amy said: "I have dabbled with yoga in the past and I initially couldn't see the benefits of spending time on yoga over a 'proper workout', and I thought I wasn't flexible enough to do it.
"When I started practicing yoga again, I had a different outlook to it and began to understand that the physical practice of yoga is only one element of practising yoga. I now spend 20 minutes out of my day on yoga and the benefits are insurmountable – and it is only 20 minutes!
"All you need is a bit of floor space and a mat. Yoga flows on YouTube or joining online classes with a teacher are the perfect way to practise at home and make it accessible after working all day.
"It may not be as calorie burning as HIIT or other aerobic exercises, but there is no right or wrong with it. You can go at your own pace, and you will quickly notice drastic physical changes in your body and your flexibility if you practise regularly. There is no more rewarding feeling than being able to touch your toes for the first time."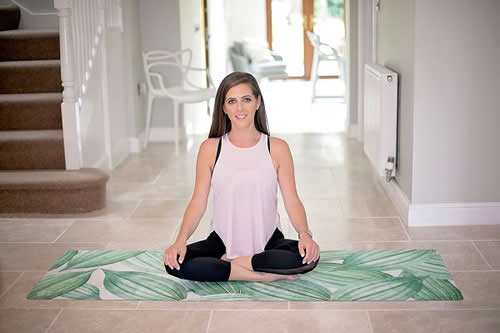 Getting started with Yoga
Get comfortable. Find yourself a safe space, wear loose, comfortable clothing and use a mat. If you are with other people, make sure they are trusted so you can literally let it all hang out with them.
Remove all expectations. Start from the beginning, ease yourself into it, and don't worry about what other people can and can't do. Listen to your body and work with its limitations.
Be aware of your breathing. This is the most important part of Yoga, and starting and finishing with an awareness of your breath will help you to enter a relaxed state.
Find a class (either in real life or on YouTube) which will show you the basic yoga poses, allowing you to build familiarity and confidence.
Try to commit a little time every day to your Yoga practice. Start with 5 minutes then work your way up.
Comments:
No Article Comments available
Post Your Comments: