Your Country


Rachel Krentzman, had a thriving Yoga and Physical Therapy practice in a light filled studio located in the lovely Bird Rock section of La Jolla California. Rachel had met every goal she'd ever set for herself, yet now she felt out of joint. Something needed to change, but what, and how? Then a door opened: She began working with Creative Development Advisor, Marc Zegans and set forth on a journey that would bring her life, business and yoga practice into balance. For the first time, she was able to put work and profession in true alignment with her authentic self.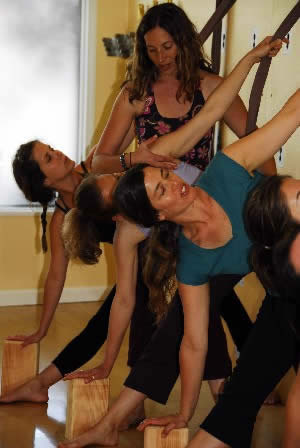 Rachel Krenzman teaching

When Rachel and Marc began working together, she felt overloaded and often overwhelmed. She had lost the sense of vital possibility with which she and her partner had opened their studio, Embody Yoga. Rachel approached Marc hoping that he could help her find ways to grow her current business, while freeing her schedule from burdensome commitments. Rachel believed that if she could control her schedule, she would be able to pursue longer-term creative projects, including a book and a series of instructional videos. She wanted also to spend more time with her growing children, and to have the freedom to swim and surf in San Diego's coastal waters.

Zegans works with artists, teachers and healers like Rachel, and with people in creative businesses who must forge unique paths in crafting the lives they wish to lead. Often people arrive at Marc's door when they feel tied up in knots; other times when they see creative opportunity but don't quite know how to define and pursue their vision. They appear also when they feel creative ferment, the brewing desire to make meaning in life, yet simply draw blanks as to how to proceed. Often the people who come to Marc feel the desire to create, but this desire has not yet found form. Marc helps the people he works with untie the knots, make manifest their desires and develop the practices that allow them to bring work, creative expression and daily life into vibrant balance. Rachel is one such person. She notes, "As a yoga teacher I know that life is about balance, and that the way I was living felt inauthentic to the person I was. The whole point of my business was to teach people balance and yet I was off-kilter."

This 'off-kilter' feeing actually increased as Rachel began to work with Marc. She had originally wanted Marc to help her grow the current business and help her devise a marketing strategy, but as they began defining the steps to meet these goals, something didn't feel right. Rachel began to feel more stressed than before, and after talking with her business partner she realized that she and her partner had different goals. That's when Rachel and Marc began to work in earnest. Says Rachel, "There's a very distinct and unique difference to the way Marc works as a Creative Development Advisor and other consultants. He has business knowledge but also has an understanding of the importance of combining business goals with personal goals; he took into account the whole picture of my life and what I wanted."

Working with Marc, Rachel learned to take her time and work at her own pace, and to respect her rhythms. Rachel began to sit with her feelings and with her questions until she came to authentic conclusions and to choices that resonated strongly. By listening closely to her heart, she came to the surprising and life changing decision that she no longer wished to run the studio. This was a huge shift for Rachel and after speaking with Marc, she realized that she could not meet her deepest needs simply by improving her current business.

Having decided that she needed to close her existing studio and to begin again, Rachel, with Marc's guidance, began to think about where she wanted to be in five years. She and Marc worked carefully to help Rachel to discover and to articulate her personal goals and to explore how she could combine them successfully with her new business goals.

Rachel decided that she wanted to open a small studio, closer to her home and to her children, in the neighbourhood where most of her clients lived. She wanted to limit her hours and to concentrate her attention on building her physical therapy practice, conducting 'Happy Back' Yoga workshops, and doing teacher trainings. She would continue to teach, but only one class a week at an outside studio, and weekend workshops on anatomy and happy back yoga.  She felt that by concentrating her attention and limiting her hours, she would better serve her clients, reduce her stress and have time for family and for creative projects, while actually increasing her income.

There were very practical implications to Rachel leaving the studio, and she and Marc worked together to devise a methodical strategy so that there were no surprises along the way. Marc systematically helped and advised Rachel on how to close the business in La Jolla, breaking the process down into achievable steps. He advised her on how to negotiate the end of her lease and to conclude her relationship with her former partner, an experience Rachel says she ultimately found very positive. The transition was smooth and well received by both her partner and her clients. Rachel found a smaller studio in an office in a building a short walk from her house; her expenses dropped by 80%, and business more than doubled.

Notes Rachel, "once I'd made the decision to leave the yoga studio, life felt more exciting and relaxing. Everything felt like it really flowed, nothing was a struggle. It was really easy. I didn't feel scared or overwhelmed at all, even though I was making such huge changes. I was so happy and excited and felt so good about the changes I was making that I was able to communicate this to everyone, and as a result I was met with a huge amount of good will.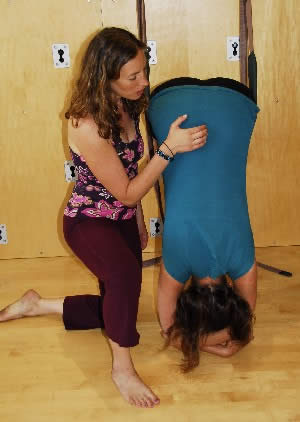 Rachel teaching 1 on 1


"I've got a waiting list now and I'm making a lot more money. I had a storefront studio before, now I'm tucked away in an office block, no one knows I'm here, but my physical therapy practice has exploded. I'm no longer teaching nights or weekends, my stress level has dropped dramatically and I have more energy and time for my kids."

With her practice better defined and her hours more manageable, Rachel has found time for creative projects that had long been on hold.  She recently shot her first instructional DVD, Yoga for a Happy Back, and is preparing it for release this fall.  She has expanded her teaching, offering workshops and teacher training, and is developing continuing education courses for physical therapists.  Along with this comes writing.  Rachel has always wanted to write a book for the yoga community, and she is taking the first step in that direction by writing a manual for her continuing education students and short articles for publication that will become the framework for her book.   

For Rachel, life in balance also means surfing regularly.  Every Friday she heads out to La Jolla shores and reconnects with herself and with nature as she paddles out, waits for the perfect wave, paddles hard to catch it, pops up, and rides to shore.   This is sacred time for Rachel, and by building a life that makes surfing a given part of her weekly routine, rather than a scramble to get to the beach she brings harmony to her various parts, and presence to herself that carries over onto the mat with her growing body of students.   

As she has worked through this process, Rachel's horizons have expanded.  She is now thinking about where she wants to be several years from now and is actively planning eighteen months ahead.   Rather than being at war with her schedule, she has learned, as Marc puts it,  "to use her calendar as her friend," carefully sculpting the year ahead so that she will be free to follow her heart and to accomplish that which means the most to her.

Rachel continues, "Everything really is just coming to me now, it all feels possible; I'm not scared or worried about anything any more. Working with Marc has made such a huge difference. He wasn't just applying a one size fits all formula to my situation, and that made a difference; it's changed my life. The thought of going from there to here without him would have been overwhelming. It would have been impossible to know how to achieve what I have accomplished in such a short time. He has shown me that possibilities are endless and I can create anything I want: my business has grown; I am working less hours, making more money and happier than ever before. I can see now that I'm going to get to where I want to go, I can feel it in my bones. I'm creating a career now that truly supports my life, the life I want to live".

Further Information
Rachel Krentzman www.embodyyogatherapy.com  
Marc Zegans www.mycreativedevelopment.com  


Comments:
No Article Comments available
Post Your Comments: