Your Country

Abstract

Complementary practitioners are increasingly choosing to specialize in a particular clinical field, in keeping with a greater acceptance of complementary therapies within mainstream healthcare. This article reports the results of a survey undertaken by the author to determine whether complementary practitioners who treat pregnant women are adequately trained to understand the risk factors involved in caring for this client group. Therapists attending a complementary medicine exhibition in 2007 were asked whether they treated pregnant women in their practice and, if so, the duration of any training they had received. They were also asked about record keeping in respect of pregnant clients and their mechanisms for liaising with the women's conventional maternity caregivers. The results were surprising and the issues raised are explored here. The increasing professionalization of complementary medicine highlights the need for adequate and appropriate continuing professional development – in this case, in relation to maternity care - in order that therapists are able to take their rightful place in the healthcare arena alongside conventional maternity caregivers.
In a later article, Denise Tiran will discuss some of the complications that can occur during pregnancy and childbirth and how therapists can recognize and deal with them.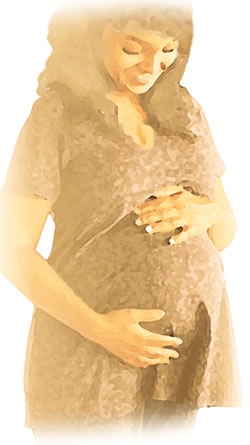 Introduction

It is estimated that between 55% and 70% of women now use complementary therapies (CTs) and natural remedies in the pre-conception, antenatal, intrapartum and postnatal periods, often without informing their midwife or obstetrician (Holst et al 2009). Due to this demand, many complementary therapists choose to specialize in providing treatments for pregnant women, whilst others have female clients who become pregnant during a course of treatment, and still others treat couples who are having difficulty conceiving.
Undoubtedly, CTs offer contemporary ways of helping women before and during pregnancy, either for general relaxation and relief of stress, anxiety and fear or to treat physiological discomforts such as backache, nausea and constipation. Women benefit from the time and personal attention which are fundamental to the practice of CTs, especially since there is a national shortage of midwives which leaves women often feeling unsupported. In labour CTs come into their own, offering nurturing ways to ease pain and facilitate progress towards a normal birth, which is particularly valuable given the escalating Caesarean section rates to almost 30%. There is also an increasing body of evidence to support the effectiveness of CTs to treat antenatal complications such as backache, converting breech presentation to head first and – where appropriate – to initiate labour contractions (Gaudet et al 2008; Li
et al
2009; Licciardone
et al
2009).
However, the National Institute for Clinical Excellence (NICE) has recommended in its guidelines on routine care of the healthy pregnant woman  (National Collaborating Centre 2008) that women should be actively discouraged from using CTs during pregnancy since, they claim, there is insufficient evidence on either safety or efficacy, especially in relation to foetal effects. Their recommendation is singularly unhelpful, given that women will use CTs clandestinely, posing the potential for interactions with conventional medicines and for unforeseen consequences from inappropriately used therapies. 
Conversely, in some respects, the rising rates of intervention such as Caesareans and inductions of labour have worked in favour of CTs, as several national strategy documents now advocate the use of "non pharmacological" (their words) or manual therapies such as massage, reflexology and aromatherapy for women during labour and childbirth (Dept of Health 2007; King's Fund 2008). There has also been a trend in recent years to develop midwife-led birthing centres alongside mainstream maternity units for women with normal pregnancies who do not require medical care during labour. The establishment of these birthing centres has led to the incorporation into midwifery practice of a range of natural therapies and remedies to help women, although these are most commonly implemented by the midwives rather than by complementary therapists working alongside conventional maternity care professionals (Dhany 2008; Lythgoe and Metcalfe 2008).  
Maternity Care and the Therapist

Expectant mothers are amongst the most frequent users of complementary therapies, to aid relaxation, to prepare for birth and to help them to cope with the physiological symptoms of pregnancy for which prescribed medication is unwise except in specific circumstances. However, it is of concern that many therapists take it upon themselves to treat pregnant women without adequate education to prepare them to do so safely. Many therapists are enthusiastic about treating pregnant women, yet they fail to recognize the parameters within which they should work. It is professionally satisfying to treat clients who are not ill, and the demand for CTs from pregnant women has resulted in a lucrative market for many therapists.
Legally, the only professionals who may take sole responsibility for the care of pregnant and childbearing women, except in an emergency, are midwives, who are responsible for caring for women with normal pregnancies and births, or doctors, who specialize in dealing with obstetric complications. This rule originates from the 1951 Midwives' Act and is designed to protect mothers and babies from inadequate care. By inference, therefore, all therapies must be complementary, not alternative, to conventional maternity care, and therapists should consider ways of developing communication links with local midwives and obstetricians. There is also a requirement, under the Civil Liabilities Act for those providing maternity care to retain all case records for 25 years, since any claims for negligence resulting in birth-related injuries can be brought to court by the affected person during this time. Although this is not a legal requirement which applies to those who are not midwives or doctors, therapists would be wise to retain for the full 25 year period the records of pregnant women whom they have treated.
Obviously there are many practitioners whose sense of professional responsibility leads them to choose actively to decline to treat female clients during pregnancy, or to perform only the very gentlest of relaxation treatments until they have undertaken further study to assist them in working with pregnant women. It is wise to "do less" and to seek appropriate advice from a suitably qualified colleague before treating clients whose health is compromised in any way. Whilst pregnant women are essentially well, the demands on their bodies and the fact of treating two clients (mother and baby) require a deeper understanding of pregnancy physiology, anatomy and possible complications than many practitioners may hitherto have acquired, and further reading or attendance at relevant courses can assist in gaining this knowledge.
Although the majority of CTs training courses include a nominal introduction to treating pregnant women, this generally focuses on aspects of direct relevance to the specific therapy being studied, rather than the practitioner's role within the conventional maternity services. Additionally there is little or no preparation for recognising deviations from normal pregnancy physiology, dealing with obstetric emergencies which can develop rapidly, or any real understanding of the safety issues pertinent to the use of each therapy in pregnancy, labour and the early postnatal period. Therapists need to know whether or not it is appropriate to treat pregnant women who report apparently minor complications, which may herald something far more sinister, for example, a headache in late pregnancy preceding an eclamptic fit, which is potentially fatal to mother and baby. They should also know what to do if a woman goes into labour in their consulting room, not merely relying on a call to the emergency services, since the mother who progresses rapidly enough to be unable to get to her chosen place of birth is likely to deliver the baby before the arrival of the paramedics or midwife.
The Survey
A short informal survey was conducted at a national complementary therapies exhibition and conference (2007). Participants were asked five questions in a verbal questionnaire, including which of four named therapies they practised: aromatherapy, reflexology, massage and shiatsu. Some respondents used other therapies in addition to these but those who identified homeopathy, acupuncture or osteopathy as their sole therapy were not included in the survey. They were then asked how often they treated pregnant women in their practice and how many hours of specialist training they had received on caring for pregnant clients. The length of time for which records of antenatal treatment were retained was requested, as was the method of communication between themselves and the woman's midwife and/or obstetrician. Some interesting conversations arose out of the interaction once the participants had answered the set questions.
Therapies Practised:
Aromatherapy; Reflexology; Massage; Shiatsu
Frequency of treating pregnant women:
Not at all – excluded from further questioning; Occasionally; Frequently; Specialize in pregnancy treatments
Hours of specific training on caring for pregnant women:
None since qualifying; Less than 6 hours; Between 6 and 12 hours; More than 12 hours
Length of time records of pregnant clients are retained:
Don't keep records; Up to one year; Between 1 and 5 years; Between 5 and 10 years; More than 10 years
Method of liaising with woman's midwife and/or doctor:
Only liaise if necessary; Send standard letter / Send individualized letter; Phone midwife or Dr; Give woman copy of records; Meet with midwife or Dr.
Results

Eighty eight people were invited to participate; ten declined immediately but a further fifteen therapists who initially agreed, felt they should not proceed with the questionnaire as they "did not" treat pregnant women, although they agreed that they might be unaware of a female client's pregnancy in the early stages. Of the original 88, sixty three therapists agreed to answer a short verbal questionnaire about their involvement with pregnant clients.
Therapies Practised by Participants
The majority of respondents practised aromatherapy, usually with massage and/or reflexology; only six used shiatsu. A few stated that they also incorporated therapies such as nutrition, Bach flower remedies, Indian head massage, reiki and healing into their work, but for the purposes of the survey these were not recorded.
Treatment of Pregnant Women

29 respondents claimed to treat pregnant women "occasionally", 18 did so "frequently", four specialized in antenatal treatments and seven did not consciously treat pregnant women at all and were therefore excluded from answering further questions, leaving 56 to answer the full survey. 
Hours of Specialist Training

19 of the 56 participants had undertaken over 12 hours' of post-qualifying study on caring for pregnant clients, which usually consisted of a brief introduction to pregnancy anatomy and, but seemed to focus on the acquisition of new "pregnancy-specific" techniques to use in their treatments. Courses rarely included details on normal maternity care, liaising with the NHS and the legal and professional issues relating to treating pregnant clients. 15 respondents had received no specialist training since qualifying, including one therapist who admitted to specializing in pregnancy treatments and one who treated pregnant women "frequently"; 13 had received less than six hours' post-registration training and nine had studied for between six and twelve hours.
Record Keeping
19 respondents retained case notes for between one and five years, while two kept them for less than a year, although both of these had only been in practice for a short time. 17 kept records for between five and ten years and 17 for more than ten years. Of considerable concern was the fact that three therapists did not maintain records at all, for any clients, including two who treated antenatal clients "occasionally" (massage) and one who "frequently" treated expectant mothers and who practised all four of the therapies included in the survey. 
Communication with Midwife and/or Doctor
23 therapists did not liaise with conventional maternity professionals unless they had a problem; 10 sent a standard letter and six sent an individualized letter to the GP but did not liaise  with the midwife; 13 telephoned the midwife or obstetrician; three gave a copy of their notes to the mother to keep with her maternity records and one would arrange to meet with the midwife/doctor "if necessary". None of the respondents, including those who gave the woman her own copy, seemed aware that it is standard practice for women to carry their own maternity notes until a month after the birth.
Discussion
The results of this survey were interesting and pose some important questions for the complementary therapy professions.  The therapies practised by those questioned were chosen as being amongst the most popular therapies represented at the exhibition and the most commonly used by pregnant women.  These are classified as "supportive" therapies in the House of Lords report (2000), i.e. in group 2. Those classified in group 1 were not included in the survey since Acupuncture, Herbal Medicine and Homeopathy have well-defined training programmes and professional criteria for clinical practice, and Osteopathy and Chiropractic are now statutorily regulated, with all the attendant requirements of a profession supplementary to medicine. Group 3 therapies and those which are unclassified were not debated during this survey, although it would be interesting to extend the investigation at a later date to include these practitioners.
Most respondents informally confirmed that the majority of their clients were women, but many did not account for the fact that any woman of childbearing age could potentially be pregnant when attending for CT treatment. There seemed to be an implicit belief that women would inform the therapist if they thought they might be pregnant, and while most asked about pregnancy at the initial history-taking visit, no attempt was made by the majority to question this before each appointment, or to link it to the date of the last menstrual period.
Almost 75% of respondents treated pregnant women "occasionally" or "frequently" and did so mainly as a result of existing clients becoming pregnant, although many declined to treat them in the first trimester. Most of these practitioners provided only general relaxation therapy rather than treatment of specific complaints during pregnancy, and the majority appeared to take a cautious approach, perhaps because they lacked the confidence or knowledge to do more. Whilst approximately 50% of these had received some training since qualifying on caring for pregnant clients, most were unaware, on further informal questioning, of the safe use of essential oils (Aromatherapists), contraindicated acupressure points (Massage therapists) or reflexology techniques which might be counter-productive or dangerous (Reflexologists). Very few Aromatherapists had been able to find a course on treating pregnant clients, and many Reflexologists attended popular courses but which they considered lacking in depth and scientific rigour. Many of the Massage therapists had been taught specialist treatments for pregnancy, while the Shiatsu practitioners had most commonly attended a particular course provided by one very reputable and specialist training organization. Almost none of those who had received post-registration training on pregnancy had covered issues related to using the therapy in childbirth or after delivery (except on the specialist shiatsu course), nor did they appreciate the role of the midwife and the legal issues related to maternity care.
The four practitioners who "specialized" in treating pregnant clients had actively chosen to do so as a result of having initially had several expectant mothers requesting appointments and then finding that they enjoyed this type of work.  Two of these had received specialist training or had undertaken considerable personal study on the subject. Two admitted to believing that, because pregnancy is a normal physiological life event in which women are essentially healthy, there was no necessity for further training.
The issue of record keeping was interesting, because most respondents were aware that insurance companies required general case notes to be retained for up to seven years. It would seem that those companies which provide indemnity insurance cover for therapists to treat pregnant women do not consider it essential for records to be kept for the duration of time in which a claim for negligence can be brought to court (25 years). This is perhaps because most therapists treat pregnant, as opposed to labouring, women, and because therapists are required to liaise with the conventional maternity team (midwife or doctor) in the event of any concerns, although therapists must also accept the personal accountability that is inherent in their practice. However, there is a growing trend for some therapists to act as doulas (lay birth supporters), and to accompany women during labour and birth, providing complementary therapies as appropriate. Insurance cover for midwives working in independent practice is extremely costly and difficult to access, because of the risk factors associated with labour, although current debate on statutory requirements for all healthcare practitioners to have indemnity insurance cover may affect this. Complementary practitioners are able to obtain personal insurance cover for treating pregnant and newly-birthed mothers, but there seems little available for those wishing to support women during birth, and this may be something which insurance companies should explore. (Therapists are able to obtain insurance cover through the Federation of Antenatal Educators, FEDANT, on 
www.fedant.org
).
The fact that three therapists maintained no records at all in their practice is astounding, particularly as two claimed to provide 'clinical' therapies for their clients, and all three of them consciously offered CTs for pregnant women. One therapist used all four of the therapies covered in the survey, so it is highly unlikely that she would have failed to cover the necessity for comprehensive and contemporaneous record keeping in at least one of the courses attended. Obviously this is a broad issue which goes beyond the use of CTs in pregnancy, but since this represented approximately 18% of the 56 practitioners questioned, it suggests that there are many more therapists in practice who also fail to maintain adequate records on their clients. It is also potentially professionally suicidal, given the fact that the vast majority of cases taken to court for negligence are maternity-related.
(As an aside, on another legal issue which arose during informal discussions with the therapists, many of the 56 questioned were unaware of the need for Criminal Records Bureau (CRB) disclosure when working with vulnerable clients, including pregnant women and children).
Most respondents had a responsible attitude regarding communication with conventional maternity care personnel, although they were often unclear who to contact, and did not understand that the midwife should normally be the first 'port of call'. Similarly, they did not know how to contact the midwife or doctor, and the variation in practices – letters, email, telephone or face-to-face contact – was probably related to their misunderstanding of the NHS system. Unfortunately, deeper informal questioning of respondents revealed that they were unsure precisely what constituted an issue about which they should inform – the midwife or doctor. Further, knowledge about the deviations from the norm which should precipitate contact with the conventional maternity care team, was woefully inadequate. For example, practitioners did not understand the significance of a frontal headache in late pregnancy (risk of severe pre-eclampsia possibly leading to fits), or were unable to define a differential diagnosis for a woman with lateral lower backache in late pregnancy (physiological musculoskeletal pain, onset of labour, urinary tract infection). None of the respondents even anticipated that a pregnant woman might actually go into rapid labour in their consulting room, and had no idea of how to deliver a baby.
Conclusion
This was a small informal survey conducted amongst a group of practitioners who were motivated enough to attend a complementary therapies exhibition and seminar programme. The results were interesting but not particularly unexpected at that time, but it would be useful to repeat the survey to update the results and perhaps to consider other issues such as CRB checks, types of courses attended – and available – and ongoing CPD issues. In the very short time since this survey was conducted, there seems to have been a definite move, amongst many professional complementary practitioners, to ensure that their professional development portfolios reflect their interests, advance their practice and facilitate their integration into the conventional healthcare services.
In maternity care in particular, the move towards lay birth supporters (doulas) and the enthusiasm amongst expectant mothers for CTs to help them through pregnancy, labour and in the early days after the birth has led to the development of a defined clinical specialism for therapists keen to treat this client group. Evidence of therapists' indemnity insurance cover and CRB checks is required to permit them to work within the NHS maternity services, and those who are adequately and appropriately trained to specialize in maternity CTs will find this easier to obtain than those who treat pregnant women only infrequently and who have not undertaken specialist training.
The principle, of course, applies to other clinical fields such as cancer care or care of the elderly, and it is hoped that readers who do not wish to treat pregnant women will consider some of the issues in the context of their own work.
Recommendations for 'Best Practice'


Individual Therapists
Need for adequate specialist training and CPD on pregnancy and birth anatomy, physiology, maternity care, roles and responsibilities or therapist, midwife, doctor, how to deal with complications and emergencies
Therapists should recognize that pregnancy and childbirth is a specialist clinical field which requires additional training and supervision.
Training Institutions
Pre-registration courses should cover pregnancy, childbirth, infertility etc in line with core curricula.
Post-basic training should be delivered by tutors with dual knowledge – therapy-specific and maternity care, or as a team involving midwives (not doctors).
Training should focus less on "special pregnancy techniques" and more on deepening students' understanding of how their therapy can be applied to and impacts on pregnancy and labour physiology, and on the role and responsibilities of therapists treating pregnant and childbearing mothers.
Insurance Companies
Need to investigate current incidence of therapists treating pregnant women, and consider including a requirement to maintain records for 25 years.
May need to consider whether or not to offer insurance cover for those working with women during childbirth.
References

Dept of Health. Maternity Matters: Choice, access and continuity of care in a safe service DoH London. 2007.
Dhany A. Essential oils and massage in intrapartum care
The Practising Midwife
11(5):
34-9. 2008.
Gaudet LM, Dyzak R, Aung SK, Smith GN. Effectiveness of acupuncture for the initiation of labour at term: a pilot randomized controlled trial
J Obstet Gynaecol Can
.
30(12):
1118-23. 2008.
Holst L, Wright D, Haavik S, Nordeng H. The use and the user of herbal remedies during pregnancy
J Altern Complement Med
.
15(7):
787-92. 2009.
House of Lords Select  Committee  report on Complementary and alternative medicine  HMSO London. 2000.
King's Fund. Safe Births Everybody's Business An independent enquiry into the safety of maternity services in England King's Fund London. 2008.
Li X, Hu J, Wang X, Zhang H, Liu J. Moxibustion and other acupuncture point stimulation methods to treat breech presentation: a systematic review of clinical trials
J Chin Med
27(4):
4 2009.
Licciardone JC, Buchanan S, Hensel KL, King HH, Fulda KG, Stoll ST. Osteopathic manipulative treatment of back pain and related symptoms during pregnancy: a randomized controlled trial
Am J Obstet Gynecol
. Sep 19 2009.
Lythgoe J & Metcalfe A. Birth of a midwifery acupuncture service
The Practising Midwife
11(5):
25-9. 2008.
National Collaborating Centre 2008 Routine care of the healthy pregnant woman Clinical guideline March 2008 Last viewed online at 
www.nice.org.uk/nicemedia/pdf/CG62FullGuidelineCorrectedJune2008
  October  2009.
Further Information

Expectancy provides professionally and academically accredited education for complementary practitioners on the safe use of complementary therapies in pregnancy and childbirth. 
www.expectancy.co.uk
Comments:
No Article Comments available
Post Your Comments: