Your Country

From the Stereotypical Image...
The image of a beauty therapist of old brings back memories of pretty young girls, who were not particularly intelligent, chatting about their love lives, while painting your nails or waxing your legs. They were considered as people in dead-end jobs, with nothing better to do or to offer - it was just filling in time until they got married, had children and stayed at home. To say they were a profession that went by pretty unnoticed is an understatement. In fact, these women were not considered to be therapists, just simple beauticians.
In the 1960s, many cosmetic houses began to introduce the selling of products via therapists and these beauticians became glorified sales girls. They also had the added incentive of earning commission on the sales of these products. Products were driven by sales and not by knowledge; it became more lucrative for them to sell products, while owners of salons saw their potential in earning extra income. So a beautician's role was as a glorified sales girl or she would sometimes be called upon to carry out simple pampering sessions, as opposed to offering clients the therapy they needed. Considering that during their therapy training these beauticians would actually have acquired extensive knowledge of anatomy, physiology and practical therapies, it seemed a waste that it was not being implemented at a therapy level.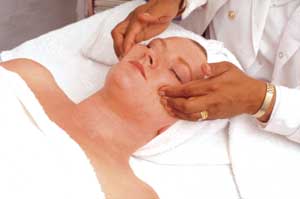 I realized just how stereotyped and insufficient beauticians and their work had become while researching a thesis which was required as part of the intensive CIDESCO training. As I scoured both beauty and medical books to understand how therapy could create changes in the skin, a light of awareness went off inside my head. The amount of knowledge at beauty therapists' fingertips was amazing - they could do so much more than the basic manicure, pedicure, waxing, body massage and facials. They didn't seem to realize this, then.
...to the Knowledgeable Therapist
Searching for more knowledge and an understanding of how therapy could create changes in a person's well-being that could be maintained, by the client as well as the therapist, I realized how many more areas could be explored: acupuncture, acupressure, magnet therapy, aromatherapy, Ayurveda, lymphatic drainage, laser therapy. By expanding education beyond the basic, therapies could be tailor made for each client. They need not just be given whatever was available. It was a new, exciting and rewarding way of treating clients, but for me it seemed it was the most effective and the only way to treat them.
Things began to change, and by obtaining this varied knowledge and staying under the beauty umbrella meant we could see a client's imbalances as opposed to illnesses. It was realized that people were more willing to help themselves via skin and diet when they knew why they were doing it. Clients initially came to a therapist to correct beauty problems, but incorporating therapy with knowledge made clients feel they had control of their own well-being and the information they needed to maintain it. They not only looked good but felt good too - and feeling good comes from a strong immune system, healthy circulation and a relaxed frame of mind. Thus my philosophy - 'Beauty on the outside...begins on the inside' - was borne.
Nowadays, we as therapists do not want to replace doctors or claim that we are doctors; we want to be able to complement their work, naturally. We work with the most healing tools in the world - our hands. What we can give from our hands can connect into a person's mind, body and spirit. We also have the time to listen to clients and give them an opportunity to unload their stresses and give them therapy to relieve them.
I am so pleased that, some 25 years on, my message is beginning to filter through. We can see the emergence of new knowledgeable therapists, who are helping clients to reconnect with their bodies. There is a bridge within the world of beauty that incorporates relaxation, vitality, radiance and well-being.
However, a lot of students are still not able to combine their practical work with the theory that they learn at college. So, this year, after a lot of pressure from employers, employees and clients, I have opened my own beauty school. I wanted to be able to share my method of therapy with as many people as possible at both a professional and personal level. Employers are investing time and money in sending their staff to be retrained, as they can see that it is what clients want. Even their clients are more knowledgeable and in touch with their own bodies and expect a more holistic approach.
Also, by giving worldwide lectures and writing four books (see Bibliography) which incorporate my philosophy that beauty isn't just skin deep, I have been further able to pass on an important message to the industry and public alike. People have been given practical help and advice to reclaim control of their own beauty and well-being.
The Importance of Hands-on Therapy
As the beauty industry develops, it is important always to be inquisitive and to explore further methods of helping people on a therapeutic level. By finding out what troubles people, and what they need, we can carry on improving the industry. And, although it is wonderful that current and future technologies herald a host of body- and skin-enhancing tools and machinery, the most valuable lesson I have learned is that the simplest things are often the most effective. We can employ machines and tools to facilitate a change in the skin and not as the tool to replace what we can do with our hands. Our hands contain our body's highest magnetic field. The therapeutic effects of using them outweigh using any one machine. Bring to mind when you were a child and you were not feeling well, how the stroke of your mother's hand on your brow made you feel better. It was the touch of her soft, healing hands that helped you to feel better. It is the same for hands-on therapy.
Massaging via the face, body and scalp assists its balancing and harmonizing effects. The combination of acupressure, aromatherapy, lymphatic drainage and chakra balancing enables us to stimulate circulation, remove toxins, de-stress the body and pinpoint the root of external conditions such as spots, skin rashes, water retention and hair thinning.
Home routines are also becoming an integral part of therapy. This helps the client to continually reassess their well-being. By taking responsibility and control of their needs they are automatically progressing their treatment, because they understand why they are doing it and the importance of ongoing therapy.
My Vision for the Future
Hopefully, beauty therapists will be respected for a highly valuable service of not only helping someone to feel good but also to look good. They will be working on a higher level - one that is supported by knowledge and the ability to understand and recognize the signs of any imbalances in the body and having the confidence to know that they have the appropriate tools to help their clients.
As well as a client feeling good, it is really important for a therapist to go home feeling appreciated and gratified knowing that she has made a valuable difference in another person's life and that she has been instrumental in enhancing their lives.
It would be wonderful progress to see beauty therapists working alongside the medical profession in helping their patients to maintain good health and vitality, and in order to do so most therapists would need to retrain and upgrade their skills. That is what we hope to teach in our beauty school.
I believe that in years to come beauty therapy will come to be recognized as a formidable therapy. Certainly with my salons and training centres that is what I will always strive to achieve.
My Background
My husband and I owned a Jewish delicatessen in Highgate, North London. I juggled working in the shop with looking after my two young daughters, husband and home. It was very demanding and finding time to look after myself seemed an impossibility. Visiting a beauty salon was not something I did on a regular basis. I relied on knowledge that had been passed down to me from my grandmother's knee to look after my family and myself. It is this that I feel has helped to set me apart from most conventional beauty therapists. She taught me not only what I needed to do but why I was doing it. It just made sense to me and fitted beautifully into my lifestyle. For example, if we had spots as teenagers, we mixed together some honey, gram flour and water and used it as a mask. She would explain how the mixture had drawing properties and it would get rid of my dead cells, which in turn would improve my skin texture. I learned very early on that what does not fit into a lifestyle is an added stress in our lives. That is why I would only advise people on what I know is practical, affordable, simple and effective. I wanted to give people the tools to help themselves. This may include a salon treatment once a month, as well as following a diet or skin-care routine at home.
When I opened my first centre some 23 years ago, I started by communicating with my clients and told them exactly what their skin was telling me about their internal systems; for example, constipation, tension, circulatory problems, stiffness, etc. I was surprised that no other therapist had ever given them that knowledge previously. The first few clients I treated recommended me to their friends and they came and told me what led them to me. It was so gratifying to know that I had made a difference to their way of addressing their own lifestyles and their decision to change them. This led me to look at their diet, exercise routines, skin-care routines and their general lifestyles.
At my salons, all my staff are trained to recognize what the inner body is reflecting on the outside, whether doing a leg wax or a manicure. If you know what you are looking for, it is easier to identify, communicate to and treat the client at a therapeutic level. Where we feel that they need more medical or remedial treatments we recommend them to the appropriate person. However, to know we have to do that, we must be able to understand what the imbalance they have come with may implicate for their health and well-being. So we may send someone with excess hair or reoccurring acne to a gynaecologist to test his or her hormones. At our centres, by recognizing the symptoms, we have been able to help many women realize that they may have more medically related problems like polycystic ovaries or hormonal imbalances, and with the aid of their doctors they are able to plan treatment and work towards correcting a problem that we may not be able to treat at a beauty level. However, we can work alongside doctors to help control their skin in the meantime.
By 1990, the word of my therapy had got around. It had even reached the medical profession. I was approached by the Wellington Hospital in West London to set up a beauty room on the plastic surgery wing to speed up their patients' recovery. I strongly believe in face and body lymphatic massage and knew that we could help pre- and post-surgery to accelerate the body's healing process and reduce swelling. Till today, those doctors still recommend their clients to me.
Bibliography
Vyas Bharti. Two-Day Treat. HarperCollins. 2000.
Vyas Bharti and Haggard Claire. Beauty Wisdom. HarperCollins. 1998.
Vyas Bharti and Warren Jane. Simply Ayurveda. HarperCollins. 2000.
Vyas Bharti and Warren Jane. Simply Radiant. HarperCollins. 2001.
Comments:
Avis Brown said..

I am an Aesthetician planning to take my post graduate cidesco training at the Christine Valmy International School for Aesthetics this summer. After I complete the programme in December I would like to continue my education by taking your Cidesco Spa Programme. I would like some more information about your spa and the Cidesco Spa course and the requirements needed to attend. Thank you so much for your time and consideration.
Best Regards
Avis Brown


---

Sally said..

I stumbled across this fantastic article because I'm actually researching my own CIDESCO thesis on the topic of the empowerment of women through the beauty industry and breaking stereotypes. May I say this has been an absolute god send not only because it is proving to be a difficult topic to research but also because its so comforting that there really are people who have a similar stand point about the fantastic industry we work in.

---
Post Your Comments: