Your Country

Originally Published at casper.com
https://casper.com/blog/what-is-beauty-sleep/  
Beauty sleep is very real; it refers to how our skin and body begins to heal itself from the day. Getting your 'beauty sleep' may feel like an old cliché, but there is actually truth behind it.  When we enter deep sleep, our body enters recovery mode and produces growth hormones. These growth hormones create new cells that help heal our skin from any damage done during the day. Moreover, the benefits of beauty sleep go beyond your epidermis. This article explains what beauty sleep is, the cost of a bad night's sleep, and the many benefits that come with catching up on your sleep.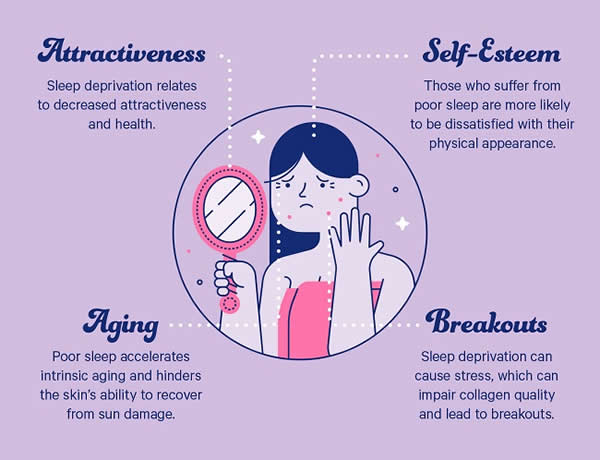 How Much Beauty Sleep Do You Need?
How many hours of beauty sleep do you need to realize its effects? According to the National Sleep Foundation, adults should get seven to nine hours of sleep every night. If you sleep less than six, you will likely notice the impact on more than just your mood.
How Poor Sleep Can Affect Appearance
Lack of sleep is currently a worldwide problem. While the effects of sleep deprivation on weight, mental health, and immune deficiency are well-known, the effects of insufficient sleep on skin and beauty are less understood.  Have you ever woken up from a bad night's sleep and noticed your skin may be looking blotchy or pale? Our skin uses sleep to heal itself and when we don't get enough of it, you'll see the effects. Below are some ways a bad night's sleep can affect your appearance.
7 Benefits of Beauty Sleep (According to Science)
Now that you know the impact of a bad night's sleep, let's go over some of the positives of getting your beauty rest. Here are seven benefits of catching up on your sleep.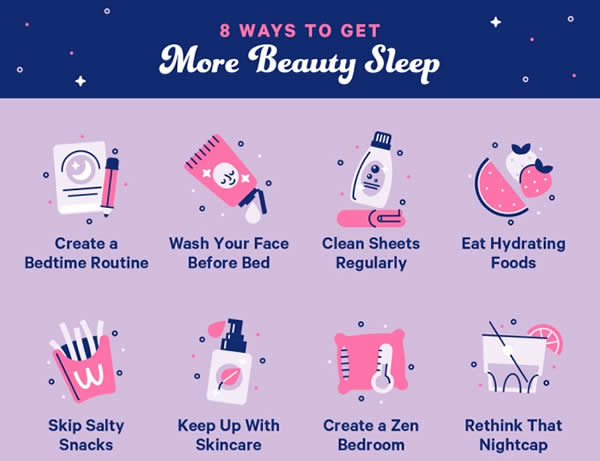 How to Get More Beauty Sleep: 8 Tips
Falling asleep doesn't come naturally to everyone; many struggle to get a full night's rest on a regular basis. If you're in need of some extra beauty sleep, practise some of the tips below and you'll be waking up with glowing skin in no time.
Create a relaxing bedtime routine: If you struggle to wind down before bed, create a soothing bedtime routine to help you relax. Consider jotting down your thoughts in a journal or shutting off your phone an hour before bed to help relieve any anxieties that may be keeping you from sleep.
Wash your face before bed: Sleeping in makeup is one of the worst things you can do for your skin. Make sure to wash your face before bed to remove any toxins and makeup from the day.
Clean sheets once a week: Similar to how you should wash your pillowcase once a week, the same thing goes for bedding. Cleaning your sheets often will help remove any bacteria that could be causing acne.
Eat hydrating foods: While chugging a pint of water before bed can result in disturbed sleep, it's still a good idea to hydrate as much as possible before you hit the hay. Instead of drinking water, consider eating it. Foods such as veggies and fruits are packed with water and won't have you rushing to the restroom in the middle of the night.
Skip salty snacks: Salty snacks close to bedtime can contribute to under-eye bags and inflammation. Consider healthier foods that help you sleep as opposed to that bag of chips you've been craving.
Keep up with skincare: While your skin works hard at night to repair damages from the day, it's still a good idea to use products before bed that will support the healing process. A solid night cream is a great place to start.
Create a zen sleep environment: You want your bedroom to signal to your body it's time to go to sleep. Make sure your mattress is comfortable, the temperature in your room is between 60 and 67 degrees Fahrenheit, and all bright lights are turned off.
Rethink that nightcap: Alcohol before bed can cause symptoms of insomnia. Try to avoid alcohol at least four hours before bed and instead stick to a decaf tea or glass of warm milk.
From healthier skin to a happier mood, there are several science-backed benefits of a good night's sleep. If you're one of the many people that struggle with insomnia or sleep anxiety, don't worry. Try incorporating some of the tips above into your daily and nightly routine in order to practise better sleep hygiene and catch up on your beauty rest.
Don't forget, a comfy mattress with cozy bedding goes a long way when it comes to getting a solid night of sleep. Pair that with a snug pillow and you'll be off to dreamland very soon.
Credit Acknowledgement
Originally Published at casper.com
Comments:
Catherine Crawford said..

Things don't look good for me then - my cat wakes me at least twice a night! I have tried different tactics and these work for a few weeks but then she reverts to being a menace - but we love her!

---
Post Your Comments: