Your Country

Reflexology has always been an attractive therapy for a wide variety of people, because only the feet and hands are usually touched, and there is no requirement to undress. There are also interesting possibilities for applying self-help reflexology in active situations to bring about immediate relief from an acute condition utilising the concept of reflexology 'Referral areas'. I recently watched a football match and saw a player fall, pick himself up and limp along for a few seconds while holding and rotating his wrist. He then resumed full participation for the rest of the 90 minutes. I was impressed to see that some of the immediate self-help reflexology principles I had taught him were being applied to a potential injury, as he had been stimulating pressure points on his left wrist to help release a muscle spasm in his corresponding left ankle.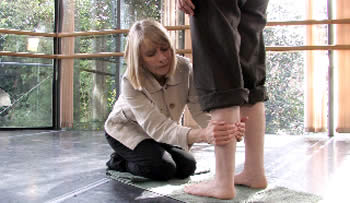 Working referral calf reflexes to stimulate the arm using VRT


I had previously shown the player self-help reflexology to prevent further injury. It is always a dilemma for a slightly injured athlete to judge whether to play through the pain barrier and recover, or continue to function in pain with the concern that overuse of the injured part will exacerbate the problem. A referral area, in reflexology terms, is an anatomically related area on the body which can be worked instead of, or in addition to, the affected area. For example, if someone hits their right knee, they need not touch the painful knee itself, but vigorously work the corresponding reflexes on their right elbow for about 60 seconds, although this can be increased to several minutes of gently massaging and stimulating the elbow and perhaps applying a little arm rotation as well. The healing effect of reflexology may be amplified by working the weight-bearing arm to help a leg condition, or vice versa, using the concepts I developed in Vertical Reflex Therapy (VRT) [Ref 1 and 2]. In this mode the client works specific reflexes for a maximum of 30 seconds.

Reflexology Referral Areas are a standard concept in all reflexology teaching. By working the appropriate reflexes on the hands or foot you can consolidate your work by stimulating the reflexes on the actual parts of the body. Be very specific about isolating a particular reflex point that precisely corresponds to the same part of the limb, and remember the rule concerning some of the more common referral areas:
The wrist corresponds to the ankle;
The individual fingers corresponds to the individual toes;
The elbow corresponds to the knee;
The palm corresponds to the sole;
The lower arm corresponds to the calf area of the leg;
The upper arm corresponds to the thigh area of the leg;
The heel of the palm corresponds to the heel of the foot.
In reflexology, the entire body can be stimulated via pressure, or 'reflex', points on the hands and feet; the aim is to bring about a natural balance and healing to the way the body functions. Hand and foot reflexology can be expanded to include the arms and legs, and there are also various specialized reflexology therapies such as face or ear reflexology. Reflexology referral areas are a powerful and simple adjunct to self-help and professional reflexology treatments.

If a client has a fractured foot in plaster then reflexology cannot be applied to the foot but instead the two reflexology systems on the hand would be treated consecutively. Firstly, the Reflexologist would work to generally stimulate all the organs, glands, and musculoskeletal reflexes that are mapped out on the hands in the same way as they appear on the feet. The hands are just as sensitive as the feet, and the all hand reflexes are equally responsive. Secondly, 'referral area' reflexology would be applied the left hand to stimulate the left foot itself. For example, if the big toe and first metatarsal bone were fractured on the foot, then extra attention would be paid to gently applying pressure, rotation and stimulation to the left thumb and the fleshy areas around the first metacarpal bone to energetically improve the blood supply and homeostasis (balance) to the injured part.

One of the key factors in the successful utilization of VRT/reflexology referral areas is to teach the client a few simple self-help techniques, on their corresponding limbs, which they can apply twice daily for a few minutes.

Restless Legs in Bed
A woman of 80 presented with restless legs, often coupled with cramp in her calves. She woke several times every night with her legs painfully twitching and jerking. It was disturbing her sleep and that of her husband, and both were becoming increasingly tired and anxious, as medication and complementary nutritional supplements had not helped to alleviate the condition. The twitching and sensitivity usually began in her right leg and I firstly paid special attention to working the neural pathway and all spinal reflexes in her both feet but with special emphasis on her right foot. I taught her the Diaphragm Rocking self-help treatment for hands that I developed to help induce a peaceful night's sleep thus reducing tensions and general stress levels.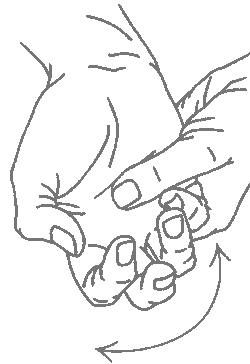 Diaphragm Rocking self help illustration


After her first reflexology treatment she reported much deeper sleep and a slight cessation in the restless legs. On the second treatment I taught her how to use reflexology and Vertical Reflex Therapy techniques prior to going to bed and during the night. Before bed she would place her weight-bearing arms, one by one, on a table and rub, squeeze and press her lower arm in a series of little pressure points to stimulate the corresponding referral reflexes in her legs for about 2 minutes. This alone brought about a drastic cessation in the involuntary twitching throughout the night. If she woke in the night she would immediately start pinching and rubbing her lower arms, concentrating on areas that corresponded to particularly sensitive areas of her legs while remaining supine. She would work the lower arm muscles to correspond with her calves. She only got out of bed occasionally to work her weight-bearing arm if the sensation would not abate. Within a month she was no longer much troubled by this condition but kept it at bay with preventative self-help techniques several times per week. Her husband too was delighted to return to restful nights and less daytime fatigue.

Inflamed and Painful Elbow
A manager, mid-forties, in a large company, had been diagnosed with right-sided inflamed and painful elbow and was often in excruciating pain and sometimes even had difficulty shaking a client's hand without winching. He would also have a dull muscle ache in his lower right arm following a long drive. After general reflexology treatment he stood for 4 minutes of weight-bearing Vertical Reflex Therapy, including work on his calves to help his lower arm, and I worked his elbow reflexes on his hands and feet simultaneously for 30 seconds each. This is called Synergistic VRT as the result of two reflexes being worked simultaneously is greater than if they were worked separately. The knee is the reflexology referral area for the elbow and the client was able to press, and massage his right knee and he felt it helped to calm the inflamed elbow sensation he often experienced. Within four reflexology sessions over a month, plus daily self-help, he reported a great improvement after weeks of inertia.

References - Books
1. Booth, Lynne. Vertical Reflexology. Piatkus Books, London. ISBN: 0-7499-2132-3. 2000.
2. Booth, Lynne. Vertical Reflexology for Hands. Piatkus Books, London. ISBN: 0-7499-2319-9.  2003.


Comments:
No Article Comments available
Post Your Comments: