Your Country

When complementary therapist Zoe Warner's husband was injured in a roadside explosion and later medically discharged, she used complementary therapies including reflexology alongside conventional medicine and treatments. Her husband's healing from complex combat injuries appeared to be faster than those with similar physical injuries and his mental health and emotional injuries were soothed by these treatments.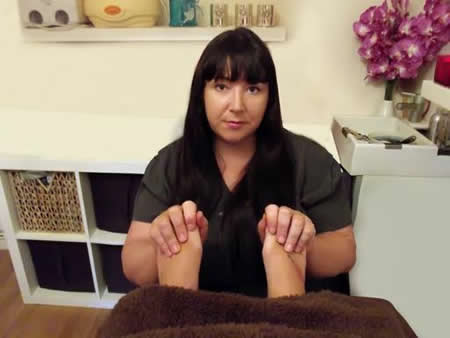 Zoe Warner
What is Reflexology?[1]
Reflexology is a gentle and effective therapy in which the reflexologist's hands are used to apply subtle pressure to reflex points on the feet. It is ancient far-eastern science, dating back 5000 years, that states that all the glands, organs and parts of the body have a corresponding reflex point on the feet and hands. It is used to naturally support clients in hospitals, clinics, schools, sports clubs, residential care and the workplace.  By stimulating specific pressure points on the body is stimulated to help itself to achieve a greater state of relaxation, well-being and homeostasis (balance). 
Vertical Reflex Therapy (VRT) is a newer form of reflexology that is applied to the weight-bearing feet or hands for a few minutes before a conventional reflexology treatment. It was developed by Lynne Booth and is now taught and practised all over the world.[2]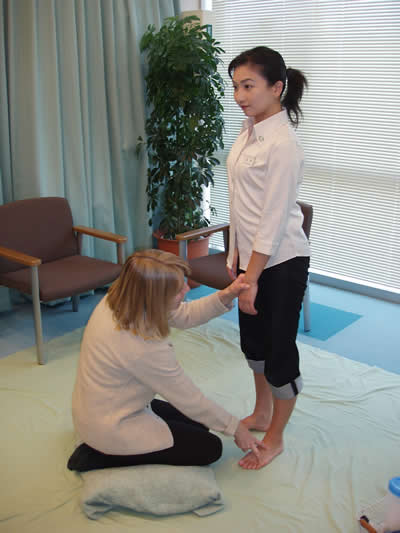 Vertical Reflex Therapy
How can Reflexology Help?
Today, reflexology is a much respected complementary therapy that is applied alongside conventional medicine in some hospitals and clinics. It has a wide application for stimulating the body to help to heal itself in connection with various illnesses; as a preventative measure against disease and stress, as a controlling factor in the care of the terminally ill and as a deeply relaxing treatment.
Reflexology and VRT appear to help regulate sleep patterns and bring about deeper relaxation.  Self-help instruction for hand reflexology can be given to aid a restful night's sleep. Reflexologists do not claim to 'cure' but these techniques are used throughout the world to naturally help to stimulate recovery.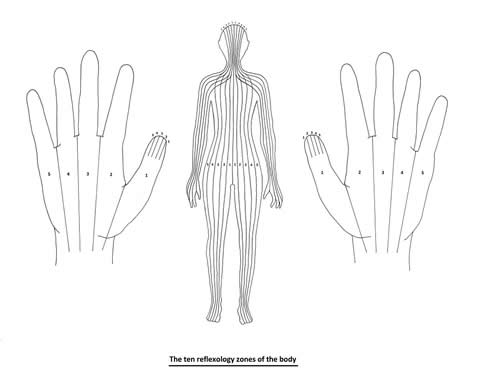 The 10 reflexology zones in the body can be found in the hands and the feet
Zoe observed the success of her venture in dealing with complex combat injuries and was eager for other injured service personnel and veterans to be able to access complementary health treatments for free, and the organization, Therapies4Forces,[3] was founded. Initially she offered complementary sessions, many of which included reflexology, from her clinic room but it soon became apparent that there was a huge need for this service across the UK. Word of mouth ensured that Zoe was inundated with calls and emails with people wanting to book treatments. Clients were referred from charities, GP surgeries and self-referral all were checked to ensure they were eligible to use the service.
Zoe's own experience of being the carer of injured service personnel had left her feeling alone and isolated with a large family, ill husband and the responsibility of relocating back to the UK on her own plus the trauma of him being medically discharged. Zoe said, "If there had been somewhere I could have gone for a reflexology treatment or other treatment it would have made the difficult journey that bit easier, I wanted to ensure Therapies4Forces would support those who are affected by the injury; this spreads much further than just the injured person".
Zoe began the task of recruiting volunteer therapists from all over the UK and Therapies4Forces now has over 300 volunteers all offering various complementary therapy treatments. Therapies4Forces offers 1-2-1 treatments and, in 2015, also introduced relaxation and wellbeing days in various locations around the UK with many more locations in the planning stages for 2016. Therapies4Forces is mainly self-funded but the aim is for this project to obtain charitable status.
Case Study 1 by Zoe Warner
A 25 year old male soldier was caught up in an explosion and suffered secondary blast injuries resulting in loss of tissue on much of right side of body, a broken femur and needed some facial reconstruction. Additionally, he was clinically diagnosed to be suffering with combat Post Traumatic Stress Disorder (PTSD). The femur break was healed, as was the tissue injury, when the soldier started receiving reflexology. However, he complained of continual pain on the whole of his right side which was radiating more frequently into his left side. Examination of his posture indicated that he leaned into his left side which he said he had done since rehabilitation.  He reported he leant to ease some of the stress on his right hand side as it initially helped with the pain of the injuries.
The client had many of the symptoms of combat PTSD, including night terrors, and his partner had recently left him as she couldn't cope with living with someone with PTSD anymore. He said he felt continually on edge and could never relax. After a thorough consultation we decided the best treatment would be reflexology which included Vertical Reflex Therapy (VRT). The client was fully aware he was able to ask me to stop the treatment if he wished to, and would let me know if he felt uncomfortable. We started the treatment with some deep slow breathing and then hand reflexology I asked the client to initially work on his own hand copying what I was doing to my hand, I showed him some relaxation techniques and then I took over and worked these points on his hands. The client then lay on the couch in the supine position. 
I applied many techniques and to relax and warm the feet including the VRT Diaphragm Rocking technique as taught by Lynne Booth.  As I worked on both feet I noted that the whole of zones1 and 5 were very congested both left and right. I worked all systems and then got the client to stand and gave a treatment whilst he was weight-bearing concentrating on the reflexes in zones 1 and 5.   Following the treatment the client immediately said he felt pain relief all over and that he felt very relaxed and could not actually remember the last time he had felt so 'chilled out'. He said it was the first time he had felt so calm since he was a child.  As part of the aftercare, I asked him to make time for some deep breathing every day for just 2 minutes, 3 times a day, and at the same time to carry out some of the hand reflexology I had shown him. He was advised to be aware of his posture and try to not keep leaning onto his right side.
The client came to see me 5 more times on a weekly basis and for these sessions we omitted the initial hand reflexology at the beginning and only briefly revised it as part of the homecare treatment as the client felt he had mastered it,  He reported  that he was actually using it several times a day as it was so easy to use and nobody knew he was doing it This had meant he had been able to go to the supermarket with his friend, which was something he had not felt able to do since he was injured as it made him so anxious.   His friend had pushed the trolley and he pressed the reflexology points on his hands. He had managed to stay for the whole shop and, by the end of the 5 sessions, had been able to go shopping several times. He said his sleep was much better and, although he was still getting night terrors, they were not as frequent as they had been.  He also reported less pain in general and the pain which he had been suffering on his 'good' side had almost disappeared and he generally felt more relaxed.
Over the weeks the congestions disappeared and, by treatment 5, zones 1 and 5 were almost clear. His posture improved and he was able to lean less onto his right leg and there was more of an equal weight-bear. The very good news was that, as well as feeling much better, he was reconciling his relationship with his wife.  His wife wrote to thank me for helping to bring her husband back, she said, "X is so much more relaxed these days, I left as I couldn't cope with how PTSD was making him behave and how being in constant pain was making him so nasty and short tempered. However, I have seen a change in him and he is getting back to being the person he was before he was injured.  It was like a stranger came home from war and, since he has been having treatments with you, it is like my husband has come home.  Thank you for bringing my husband back and the kids back to their dad.  Who would have thought that after all the treatments and medications he has been given, all he actually needed was reflexology. If someone had of told me that it would have been reflexology that would help my husband a few months ago I wouldn't have believed it." 
Case Study 2 by Zoe Warner
A 38 year old injured female veteran, caring for an injured male veteran. This client came to see me; she initially wanted some time out from caring as it was all getting to feel overwhelming.  During her consultation she spoke a lot about the injuries she had sustained due to service but said these were put on in the background as her partner's injuries were a lot worse than her own. She complained of a constant back ache and shoulder ache, to the point where it was actually affecting her part-time job which often involved a lot of driving.
She had been putting off seeing clients if it meant she had to drive in the car for over 30 minutes. She reported that if she sat in a car for more than half an hour she would not be able to even get out of the car without a lot tears and effort. She had seen the GP, who had told her to either take time off, which she could not afford to do, and was prescribed some painkillers. The GP told her the pain was due to old injuries and suggested massage. During this consultation it immerged that she was actually lifting her partner a lot who was a lot larger than her.  She stated she was often sleeping on the sofa due to her partner having the television on at night in the bedroom as he couldn't sleep. We discussed good sleep protocol and she decided that she would discuss this with her partner when she got home.
As the GP has suggested massage, we decided that she would receive a full body aromatherapy massage, as I would be able to palpate her muscles and apply other helpful massage techniques. The client fell asleep very quickly. I found from palpating that she was carrying a lot of tension in her lower back in the Latissimus dorsi area. I observed that massaging this area helped to release tension all the way up her back. I was then able to work on the muscles in the rest of her back neck and shoulders. The client was holding tension around her knees, in her pectoralis major and also within her scalp. The client was very relaxed following her treatment; as part of her aftercare I gave her some stretches to do daily. 4 days later the client phoned and reported that she had been feeling brilliant but may have overdone her because she was feeling so well  and now her hip was really painful.
I arranged for her to come round to briefly and asked her if she wanted me to give her a quick weight-bearing VRT treatment to see if I could ease some of the pain in her hips. I gave her the treatment which took only a few minutes; the client reported the results were instant - not only had her hips stopped aching, so had the last traces of back ache. At the following appointment, the client reported she still had no lower back/hip pain, and that she and her partner had moved the TV to the spare room and that the client was now getting a decent sleep on a bed which she felt was also helping.
At the start of the subsequent visits I started the treatment with VRT weight-bearing; working on the client's hips and shoulder reflexes and other reflexes which support these areas and this was followed by a full body aromatherapy massage. After 4 sessions the client said she felt much better, both physically and mentally, and decided she would like to have her next 2 treatments 4 weeks apart.  At the first of the maintenance treatments the client said she was only just starting to get a couple of niggles, had not had to take any of the painkillers the GP prescribed and had also managed a few long journeys for work followed by stretching off afterwards. Following the next maintenance treatment, the client again felt much better and physically well with minimal aches. I have now referred her to another Therapies4Forces volunteer who offers massage treatment every 6 weeks and the client knows she can call me and self-refer should she need more Vertical Reflex Therapy. 
References
1. Booth, Lynne. Vertical Reflexology.  Publ Piatkus Books, London.  ISBN: 0-7499-2132-3 2000.
2. Booth, Lynne. Vertical Reflexology for Hands.  Publ Piatkus Books, London.  
ISBN: 0-7499-2319-9. 2003.
3. Therapies4Forces was set up to help those who served in the forces. They are looking for volunteer therapists across the UK to offer 1-2-1 treatments and also to come along and offer treatments on relaxation and wellbeing days.  www.therapies4forces.org  
Comments:
No Article Comments available
Post Your Comments: