Your Country

The raging Corona pandemic has taken a heavy toll on human lives and health. Grim statistics stare you in the face every morning. Apart from people dying and hospitals bursting at the seams with ill patients, it is the psychiatrist clinics and counselling centres which are having a steady inflow of patients. What is the malaise? Deep-rooted anxiety, grief, insomnia and depression.
Whether it be the fear of contracting the dreaded disease, the anxiety of having loved ones ill, hospitalized or quarantined; or just depression at having normal routines being turned upside down, all these factors are taking a heavy toll on mental health. Several people lost their jobs, or had salaries cut by almost half and some lost close friends and family. Once again, as it happened during the first wave, mental health concerns have assumed centre stage. Many are realizing the importance of spirituality and meditation in these challenging times.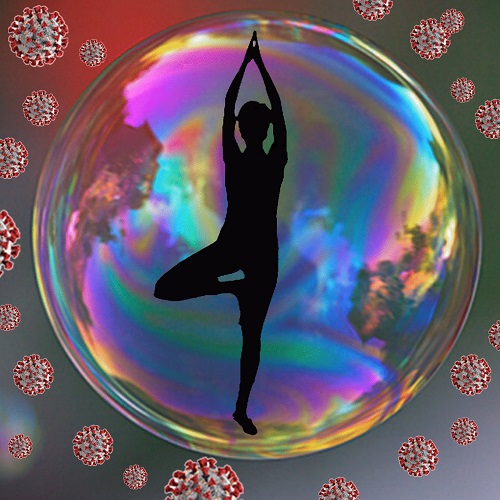 Dr Avdesh Sharma, a Delhi based psychiatrist said that it is not just Covid or the fear of Covid which is consuming people; it is the fear of the future.
"A sense of uncertainty is plaguing people. I advise everybody to live in the 'here and now', that present is the gift that the world has given to us and we ruin the present by going on living in the past.
"We need to increase the power of our thoughts and need to put a stop to negative thoughts…..we have limitless power to deal with difficult circumstances."
Spiritual guru Sri Sri Ravi Shankar observed that,
"Trying times such as the one we are going through bring out our ability to endure, prevail and emerge stronger, kinder, and wiser. This is the time to invoke the valor in us, stand together and overcome this crisis. And spirituality can help us do that. Due to the pandemic, mental health concerns are growing too. While people can openly talk about being diabetic or having hypertension, the same is not true for mental health disorders. We need to stop and check."
 The founder of Art of Living added,
"Spiritual contemplation increases inner power. When we see death all around, our mind is forced to rise above the small worries that keep it occupied every day. It brings our attention on the truth of life. What is the truth of life? There is something inside us that never changes, which never disappears, which never perishes. It is eternal. We need to pay attention to that element. When we do that, we will get the strength to handle the problem that we are seeing all around. Otherwise, when the mind is broken, the heart is broken from within, then the person is unable to do anything. Inner strength can be attained through meditation, knowledge and knowing the truth of life. A strong mind can carry a weak body. But a weak mind may not be able to carry even a strong body."
By doing yoga and meditation, can a person heal his anxiety and feelings of grief and loss? Yes, asserts the yoga guru.
"We have been conducting Covid Care protocols, anxiety and trauma relief programs across the country, that have some very powerful yogasanas, breathing techniques and meditation sessions, and millions have immensely benefited from them. They are sleeping better. They are feeling calmer. It is even helping people with mild symptoms maintain their resilience, recover better and handle their minds and emotions through this process of healing."
Art of Living yoga and meditation teacher, Dinesh Ghodke observes that a lot of people are turning to spirituality during these difficult times and that their programs have seen a very large number of new people joining in.
"Yoga makes the body healthy and the mind much sharper. Yoga and meditation uplift the spirits and give you the strength to handle difficult situations.", he states.
In times of grief, yoga gives us inner strength and helps us maintain our calm. Dinesh, who teaches nearly 600 students every month, both young students and professionals, says that mental health concerns are making more and more people turn inwards and go back to their source, their innate nature. He added that human beings are essentially kind and compassionate creatures. Meditation helps us build a shield and maintain a balance between strength and sensitivity.
Talleena Srikant, education consultant, had both she and her family, including two elderly aunts, going down with Covid. She went through the usual stress and trauma associated with the disease.
"Yes," she says, "I was very anxious. I felt very weak. But I was functional and able to do the housework. Being a Buddhist practitioner, I kept chanting and telling myself that me and my family will all get well. I would recite a few prayers for internal healing before going to bed. The worst is over."
Talleena was worried about her aunts, both in their 80s, but they too have recovered. Of course, the whole event has taken a toll on mental and nervous energies. She adds that being a Covid patient taught her to be positive in her thinking.
Bindoo Gupta had her 26-year old son contracting the disease. She said that she kept herself hopeful and went through the rounds of sanitizing everything, using disposable utensils, counselling him and other family members to remain positive and monitoring the patient's oxygen levels. Both she and her husband are diabetic so they are exercising a lot of caution. They do feel very anxious, movement is curtailed. Walks which are a must for diabetics, are a complete no-no. Bindoo added that they were not coming into contact with people, maintaining social distancing and reading to increase awareness about the disease.
Varun Upadhyaya, yoga teacher with Art of Living said that they had got nearly 33,000 new members since the start of the pandemic last year. He said there was a lot of anxiety among people, they had lost direction. Students were worried, their future was uncertain, exams were not happening. He added that several drug addicts came into their fold. They had no access to drugs owing to the pandemic and had started doing pranayama, dhyan and yoga. Several had lost their jobs, they could not meet their friends and were emotionally lost.
With yoga and regular meditation their problems of sleep deprivation, anxiety and emotional disturbance started lessening.
Sudhanshu Mishra, Happiness Coach, stresses on good sleep patterns, regular exercise, remaining socially connected and having very strong relationships with friends and family in order to be happy and at peace. In the current scenario, it is very important to build bridges with people and to overcome any negative tendencies by being kind, compassionate and forgiving.
Madhureeta Varma said that she was very anxious and concerned that she should not contract the disease. She was also worried about her 74-year old husband who was diabetic. But she added that they take due precautions and don't go out much. She stresses on the 'keep busy" and being self dependent mantra.
Mukesh Gupta, says that owing to being a diabetic with co-morbidities, he is a little more anxious than others. So many people are dying, life is very uncertain. People are undergoing depression and unable to understand what is happening. But Mr Gupta affirms his firm belief in God.
"I will live as long as I am destined to live. I try to lead a normal life."
Experts say that having a positive outlook and appreciating what you have will go a long way in keeping you mentally and physically fit.
This fierce pandemic has taught several lessons. It has taught us all the value of appreciation and gratitude., Somewhere people had started taking things for granted. Now one is grateful for the food in the refrigerator, the groceries in the pantry, being able to breathe and walk on one's own feet and most of all…gratitude for being alive.
Comments:
No Article Comments available
Post Your Comments: