Your Country

With over 20 years experience, having taught Pilates around the world, working in London, Parrot Cay, Turks and Caicos and the USA... passionate Pilates Instructor and Founder of Pure Pilates, Kirstin Ferrie has a long list of impressive clients including well-known names from the worlds of sports and dance, celebrities and royalty.
A having herself followed a robust journey of training and development having travelled worldwide to learn from the very best; Kirstin is Romanas Pilates trained, following in the footsteps of the creator of Pilates, Joseph Pilates. Here Kirstin explains more about how Pilates can reshape and strengthen the body and core, whilst improving flexibility, all without stressing the joints…
Romanas Pilates is a classical method of Pilates, which has been developed and practiced for over 90 years based around reshaping and strengthening the body, strengthening the core, realigning the body and posture and improving flexibility, without stressing the joints. Stretching and strengthening exercises are done with tailor made Pilates apparatus and exercises are also taught that can be done just with a floor mat, so clients can also experience the benefits at home. At my Pure Pilates studio, the equipment has been designed to the exact spec used by Joseph Pilates.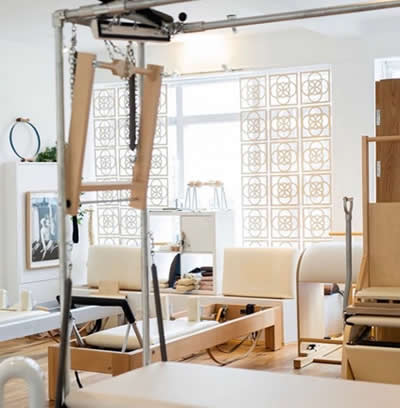 Pure Pilates Ilkley Studio- Photographer Natasha Cadman
Pilates has the power to restore us to ourselves; physically, emotionally and mentally. It's not just a toning tool or a good habit for exercise bunnies.  I truly believe and know the power of Pilates as an holistic rhythm for life. Pilates positively impacts every part of our lives; emotionally, physically, mentally and even socially as our body confidence soars.
Joseph Pilates said in the book Pilates' Return to Life Through Contrology, first published in 1945, Presentation Dynamics Inc.; 21st ed. Edition, (ISBN13: 9780961493790); "The Pilates method teaches you to be in control of your body, not at its mercy."
Our genetic makeup, where and how we live, work and play, all have a major impact on how we look and feel. Everything we do from how you sit at your computer, how you work from home, how you use your phone, how you drive, how you carry your baby, what you do for fun… can all affect our posture, our movement and our overall well-being. Those activities, wrongly performed over a lifetime, can have an increasingly detrimental effect on your body as you age.
Romana Kryzanowska was an American Pilates instructor who started as a student of Joseph Pilates, Romana is quoted to have said; "You can say what Pilates is in three words, Stretch with strength and control, and control is the most important because that makes you use your mind."
Pilates helps turn that clock back, helps get your body back into a natural alignment, as the method concentrates on working with the whole body and how each part affects another as you move, rather than training to develop a specific part. Pilates, whilst it can be gentle when necessary, can also be very challenging too.
Pilates mat work is probably the most well known, but to workout on the equipment is the most beneficial and gets the fastest results. Today we still use the equipment (apparatus) Joseph Pilates devised, and, with a teacher who knows The Method thoroughly, we can apply the exercises to each person's individual needs. It is the way Joe Pilates meant it to be used and what Romana has passed on to us all.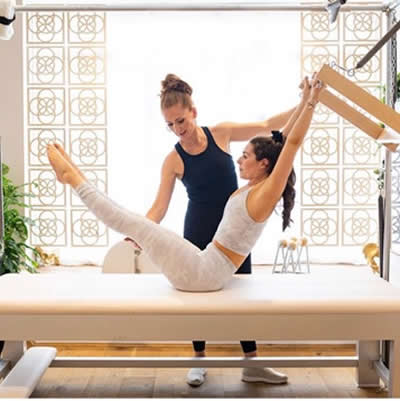 Kirstin Ferrie teaching Saskia Ward on Legacy Cadiliac at Pure Pilates Ilkley Studio – Photographer Natash Cadman
Going through the movements is not enough. How you do them is more important than what exercises you do. Although we are now exposed to so much through social media and the Internet, it's important to know that it is how an exercises feels that's the most important not how it looks. The purpose of the movement, what are you trying to achieve and what does your body need today, not every exercise is for every body and sometimes just because you can, doesn't mean you should. If we pay attention and listen to what our bodies are telling us, the answers are there. Being mindful of this each time you lay down on the mat or other equipment is where and when all the magic and learning happens.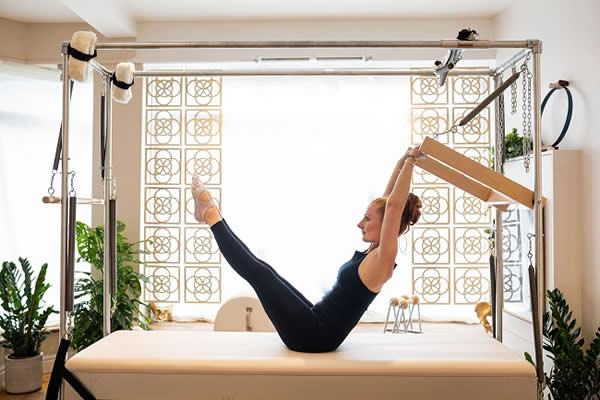 Kirstin in Action - Photographer Natash Cadman
If we take the reformer machine, for example, the footbar, springs, shoulder blocks etc.… are all there to give us feedback, to let our body know where it is and what it needs. We almost only need to focus on the feeling and keeping it and let each exercise do what it needs to do and not be distracted by choreography.
Pilates developed his method to have an order; one movement led from one into the other so that the body was strengthened, stretched and found the control needed for the next exercise. Not all the exercises in this order will be easy so its imperative to add them in as one is ready for it. 
Although something might be a challenge it should never hurt. In my own practice, if something is really hard for me, it just means I'm not ready for it, so I need to strengthen or find the stretch and control elsewhere in the system. It is a full body integration and when it feels right it will always be beautiful.
For me Pilates is a tool that should make everything that you do out of the studio easier so we can live a fuller, longer pain free active life.
Comments:
No Article Comments available
Post Your Comments: