Your Country

Did you know that Peru's endemic plant species offer vast applications of natural ingredients for the European food, cosmetics and pharmaceutical industries? A few months ago, courtesy of the Swiss Import Promotion Program I made the trip to Lima to observe and report on the rapidly developing BioTrade project which, in a nutshell, 'mentors' the local companies in their quest to bring their products to the European markets.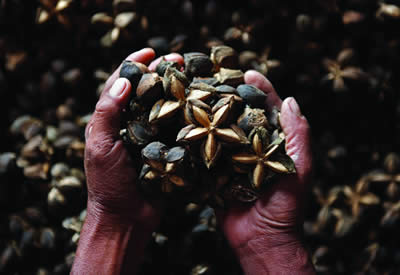 Sacha Inchi
Do not underestimate the richness of this resource! Together with the professionalism and technical expertise being employed in the extraction and commercialization process, Peru is rapidly becoming one of the most important and exciting places for the food, cosmetics and pharmaceutical industries.
Peru is in the top ten of mega-diverse countries in the world. Its forest coverage, Andean terrain and its variety of microclimates create perfect conditions for healthy ecosystems, resulting in a thriving biological diversity.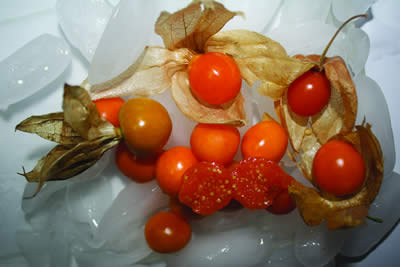 Physalis
To ensure the preservation of this natural heritage and sustainability of the industry for future generations, the United Nations Commission on Trade and Development (UNCTAD), with help from foreign investment, established the BioTrade project to regulate the production, transformation and commercialization of biodiversity. Extraction and regeneration are carefully balanced using methodologies which take into account traditional knowledge as well as ecological and socio-economic criteria.
To promote BioTrade and encourage institutions and companies to adopt this new business approach the Peru Biodiversio (PBD) Initiative was set up in 2007 under The Peru National BioTrade Promotion Programme (NBPP). PBD envisages not only increasing production and competitiveness through technical innovation, but also expanding the product range and diversity, stimulating research and development and improving quality control. www.biotrade.org/nationalPERU4.asp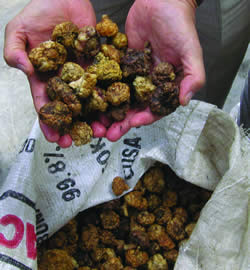 Maca
Native crops such as Tara (caesapinaspinosa), Maca (Lepidium meyenii walp), Cacao (Theobrama cacao), Sacha Inchi (Plukentia voliubils linneo), Aguaymanto (Physalis peruvianna), Camu Camu (Myrciaria dubia) and Algarrobo (Prosopis pallid) have huge potential in the international market. Thanks to the Swiss Import Promotion Program SIPPO a broad variety of these products, which are also available with certified organic quality, are accessible to European companies.
Today, four years from the start of the PBD initiative Tara, Maca and Cacao have been singled out as outstanding ingredients for export to the European food industry. Furthermore, Sacha Inchi, which has not yet been approved in Europe as a food ingredient, is already much appreciated in the cosmetic industry. By adopting BioTrade principles and under the guidance of PBD a number of SMEs (small to medium enterprises) have registered their success in the international market place. An outline of some of the companies and their successes follows: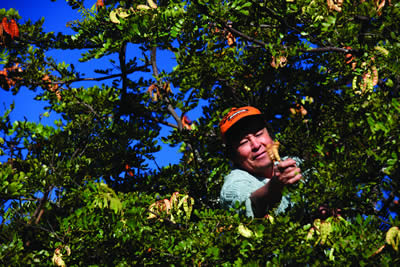 Tara Harvest
Molinos Asociados SAC
Molinos Asociados, based in Lima leads the way in Tara processing technology for both Tara pod and fruit derivatives. Tara gum is a stabilizing agent or hydrocolloid known in the food industry as E- 417. It is obtained from a 100% natural vegetable source. The chemical source of this vegetable product is a long chain polysaccharide, known as a soluble dietary fibre. The seed endosperm is mechanically separated from seed cast and germ. Previously it was considered easily replaceable by other hydrocolloids that provide viscosity and little jellification.
Molinos Asociados have developed a new processing standard for the gum, achieving a pharmaceutical standard of cleanliness (total plate count, TPC below 50 ufc/gr). This characteristic - safe for use in the human diet - is very valuable to the nutraceutical market. The new microbiology standard opens a direct Nutraceuticals commercial application. www.molinosasociados.com
Somerex SA
This Peruvian agro-industrial company sources active natural products for use in farming, the food, cosmetics, pharmaceutical and textile industries. As well as supplying these ingredients, the company also produces a variety of end products such as antioxidants, degreasers and preservatives.
They will work with potential buyers to produce particular specification on request. Thanks to the PBD Initiative, development in the company and the cutting edge equipment from Minolta, Colorimeter and HPLC installed in their own laboratories they can measure concentration, composure, sensitivity and acidity and adjust the product to the requirement of the buyer. This places them in the position of market leaders in the production of Tara which is successfully exported to markets around the world. www.somerex.net
Agroindustrias Amazónicas SA
Agroindustrias Amazónicas is firmly committed to environmental and social principles.
Based in Lima, the company is specialized in the production and promotion of Sacha Inchi products. Sacha Inchi, also known as Inca Inchi, is a plant from the Peruvian rainforest used by the indigenous people for thousands of years. Already trading for cosmetic purposes Sacha Inchi is currently awaiting approval in Europe as a food ingredient. Research shows it has a high nutritional quality. The oil has over 50% of omega 3 in its natural state as well as high quantities of Omega 6 and 9. The Sacha Inchi protein flour could be used as a functional and nutritional ingredient in a wide variety of food products www.incainchi.com.pe
Chakarunas Trading SRL
Chakarunas Trading stands out for its rich product portfolio of which Maca is the leader. Commonly known as an aphrodisiac, its properties are far more extensive. Maca is used as a dietary supplement thanks to its high nutritional value. In particular, it aids the balance between the essential nutrients. It is characterized by a sweet taste and distinctive strong scent.
Also produced by Chakarunas Trading are: Cat's Claw, Dragons Blood, Yacon and Camu Camu. Camu Camu is also known as rumberry and has one of the highest recorded levels of vitamin C - 90 times more than that contained in an orange. The berries also contain a full complement of minerals and amino acids that can assist the absorption of Vitamin C. Unique to the Camu Camu fruit is its combination of phytonutrients and bioflavonoids. www.chakarunas.com
These rich natural ingredients are increasingly in demand in Europe. By assisting Peruvian companies to achieve the standards and quality necessary for their products to be approved for use by European food, cosmetic and pharmaceutical industries PBD is successfully assisting Peruvian companies to bring their products to the international market and in particular to Europe.
Trade missions, intercontinental pavilions at trade fairs and expert advice facilitate the transition from traditional local industry to international trading status. The potential is enormous, success is within grasp and the flourishing entrepreneurial spirit has enjoyed the benefits of complying with the principles and criteria of BioTrade.
Further Information
For further information contact Swiss Import Promotion Program (SIPPO) www.sippo.ch
Comments:
No Article Comments available
Post Your Comments: