Your Country

Time doesn't fly.  It doesn't drag by.  We have a relationship with time –
one we can change for the better.
You don't use time, it uses you.  Whether you race to complete tasks as quickly as possible or you sit at a desk and do nothing at all – time still passes at the same rate and you can't have any of it back.  But what if you could strike a balance and complete more things more of the time? If you need better time management skills, the solution is not actually about 'managing' time because time cannot be managed.  Time just is.  The question is how you choose to manage yourself in relation to time.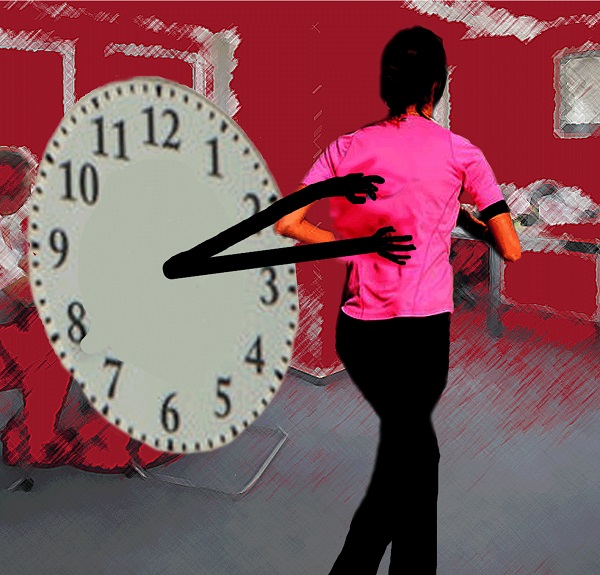 People Do Things for One of Three Reasons
They are drawn to the task and want to do it;
There have no choice, they must do it;
They do things that allow them to put off what they most want to avoid.  Then afterwards they may feel guilty, frustrated or resentful about the way they've apportioned their time.
If You are a Perfectionist, then Drop your Standards
Time management techniques do help us to take more shortcuts and stop wasting time.  But it's possible to have an even better relationship with time simply by knowing how you think about it in relation to the way you work.  Are there times when 'time drags'?  Or do you see time 'flying by', only noticing and possibly regretting it when it has gone?  Knowing how you relate to time and listening to what you say to yourself about time is the first step to understanding why you do things the way you do.  It also gives you an option to change how you think about time.
List the types of tasks you are doing when you notice you have 'too much' time.  When do you experience 'too little time'?  When do you say to yourself, 'It's just the right amount' of time?
Find out what's really important to you by asking yourself as you perform each task, 'how will doing this help me achieve my goal in life?' Now choose some of these new time strategies that reflect the way you like to operate.
If you're a perfectionist, then drop your standards.  If you wait until things are perfect you may never finish tasks.  Do the important stuff first.  Practice saying 'no'.  Just because you can do something doesn't mean you have to do it.  It takes a lot of time to procrastinate, so stop doing it.  One way is to change you self-talk from 'I should' to I'd like to' finish this by such and such a time.
Make decisions more quickly.  Ask a few good decision-makers around you how they do it and practice for best results.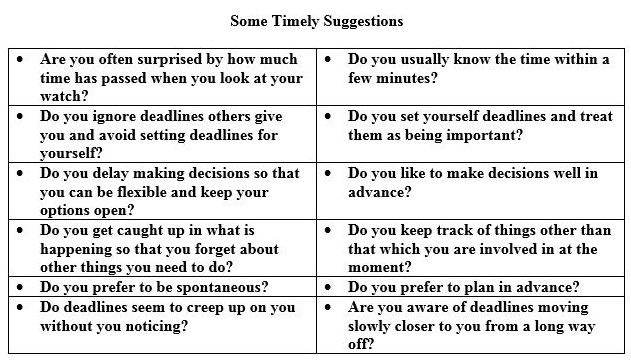 If you answered yes to four or more questions on the right, you probably live life in an organised, methodical way.  If you want to become more flexible, ask yourself 'What will happen if I don't know what is planned?'
If you answered yes to four or more questions on the left, you probably lead a flexible life with a minimum of forward planning.  You may end up rushing to get things done or feel guilty about things that you haven't done.
Comments:
No Article Comments available
Post Your Comments: