Your Country

Socially there are Changes in the Way that We Communicate
Many of us spend our work time in front of computer screens.  We may use the telephone but even in a business context, spoken words have only 7% of total impact.  Body language, eye contact, voice, pheromones – all the chemicals and emotional cues you pick up on in a visible setting that are essential for our successful interpersonal interactions are missing;
Conversations are shorter nowadays, and fewer are face to face. So some of us don't get as much chance to read facial expressions or build empathic understanding of other people's emotions. There is less chance to read facial, emotional or body language cues;
People listen to music and use ear phones when travelling, which shuts out a lot of their environment from their visual, auditory and kinaesthetic landscape and reduces their chances to read situations honed from using their sensory awareness of what is happening around them.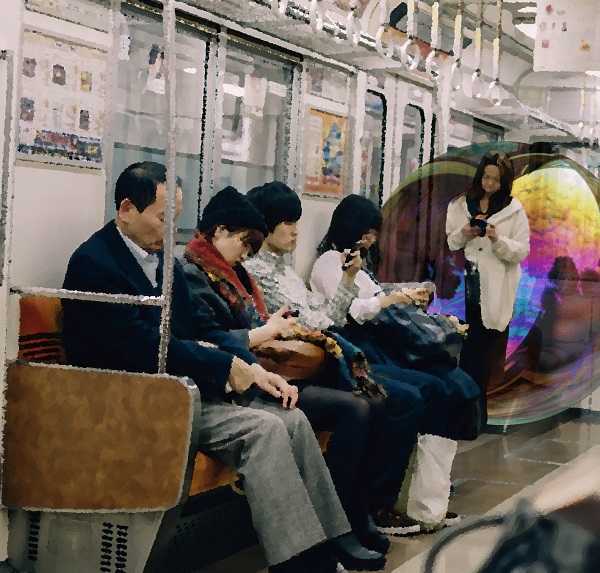 Rapport Skills can be Relearned, at any Age
I spent summer giving talks and running courses on making friendships and building rapport skills, some of them for the over 50s empty nesters wishing to start up a new social area of their lives again.  Courses have been really rewarding, with some very heartening results. 
It is projected that over 40% of the population will be fit until the age of 80 with the help of new hips, knees and medication.  It is good that some people want to rebuild their confidence and ability to make friends – because otherwise some of us are in for a long dry spell alone.
Some baby boomers are choosing alternative styles for hooking up - such as weekends together and back to playing golf or seeing friends during the week.  What these friendships offer besides company is the reciprocal support a partner gets from knowing they have someone who cares about them to talk to and be there for them for hospital procedures and aftercare in their later years.
What is Rapport?
Rapport creates the effective basis for communicating with others. 
Rapport comes from showing other people by your behaviour and by your words that you accept the validity of their experience for them - by meeting them in their model of the world.  You are creating the basis for co-operative communication – and that is rapport.
Think of Building Rapport
When you want to increase your influence in a way which is genuine and non-manipulative, for example to help a colleague improve their performance;
When you disagree with someone's view but want to maintain a good relationship with them;
To help people feel more comfortable when they appear ill at ease or lacking in confidence.
How You can use Rapport
Building rapport with others can help you to establish or promote a better relationship between yourself and others and to deepen liking and trust.  Being in rapport can help your friends and colleagues know you are 'with' them before you ask them to change in any way.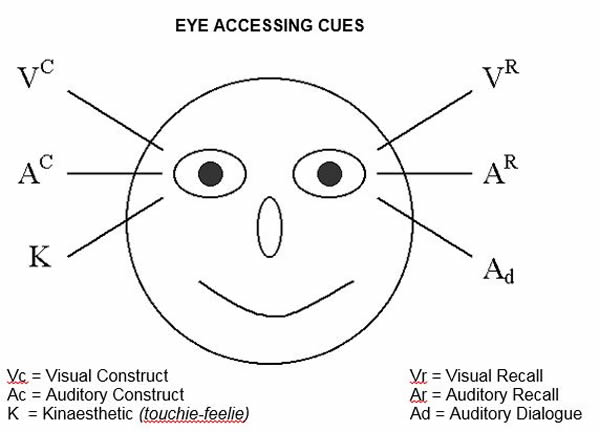 The NLP Eye Cues give Feedback and can help build Communication
We use our senses to process and deliver information and messages in order to make sense of our world.  When people think they make unconscious eye movements and the directions in which they move their eyes tends to correlate with the type of system, whether it is visual, auditory or kinaesthetic, that they are using.  People look up when they are constructing or remembering pictures in their mind's eye.  To the sides when they are constructing or hearing language, and down when they are in touch with their feelings.
Knowing people's eye accessing cues is useful for communicating with them in their preferred sensory language  If they are:
Visual – tell them what they will see, when they have achieved their task;
Auditory – tell them what they will hear;
Kinaesthetic – if they are feelings-type people say how good they will feel when they have successfully accomplished the task they want to achieve.
Predicates are Cue Words that are Linked to the 'Language of the Senses'
Next we notice Sensory Language which ties in with the eye cues and identify words which align with the visual, auditory or kinaesthetic senses.  Predicates are useful because they help you to listen and communicate with awareness.  Predicate phrases confirm which sensory language cues a person is speaking in, so you can adapt your own language to flow with theirs.
"I hear what you say" – is Auditory language;
"Sight for sore eyes' – is a Visual description"
"Stiff upper lip' – (is a feeling description) Kinaesthetic.
We build up our understanding of sensory language, layering new techniques in over the course of the day as people become more confident.  Successful interactions with others depends largely on our ability to establish and maintain rapport.  Understanding other people's eye cues, voice tone and body language makes any form of communication easier. 
Further Information
For more information on NLP and Building Rapport skills with others and practice dates, please visit  admin@francescoombes.com
Comments:
No Article Comments available
Post Your Comments: