Your Country

Today's lifestyle can leave us with little chance of peace and quiet. There is a greater level of stress resulting in stress-related problems such as headaches, skin irritation, sleeplessness, food or drink abuse. The ability to be contacted anywhere, anytime, by mobile or email, has added to this situation. There are few places you can go where you won't hear a mobile phone ringing or someone making a call, except at the theatre, cinema or a concert, but these are places where you might be concentrating on the performance and not necessarily switching off. Classical music can be strident, depending on the composer, and films can be disturbing in content.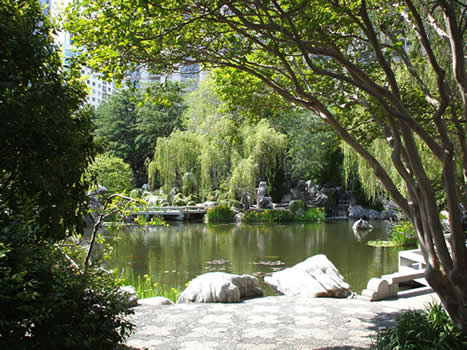 It is worthwhile to take stock of who we are; what our goals are; what our dreams are; where we are going in our lives; what our relationships are like and how we can improve them. These are the sort of things we can mull over when it is quiet. It can be easier to be objective about a problem, see it from a new angle when we take this opportunity. You might want to take a notepad with you to jot down ideas, thoughts, possible solutions or changes you could make. At other times, you might like to just let your mind wander and see what surfaces, or you could try imagining you are looking at a blank canvas, a painting or a wall in order to clear the clutter from your brain. Trying to focus on this, bringing your mind back to this when it strays onto a problem, can be calming in itself.

Religious buildings in general have an atmosphere of peace and serenity. It is particularly evident in the older ones, perhaps due to the centuries of quiet contemplation, prayer and singing which now form the place's memory. There is also the feeling of smallness as one walks into a cathedral, for instance, and noises seem muffled – pitter patter of feet, whisperings and a reverential atmosphere. A respect for other people is evident. You can sit in almost total silence, something which can be unattainable elsewhere. The simple act of entering the building is like stepping inside a bubble – no phones, computers, televisions, mobiles – the brain can relax, our senses can relax. Time seems to be put on hold. As we relax, our bodies can start to heal. We can use the time as we wish – to ponder a problem in peace, or shut off from the daily problems, or just allow the calmness to wash over us, renewing our energy.

Religious buildings often have works of art and, in particular, stained glass windows. The colours in these can be rich and vibrant especially when the sun streams through. They shine like jewels and can be magnificent. Images and colours can be an aid to prayer and meditation, although some people probably prefer more Spartan surroundings so that they can focus more easily. Some colours in the stained glass windows relate to the chakras, or energy systems in the body. Red (1st chakra) symbolizing life, strength and vitality is an energizing colour, yet it can also be grounding. It is associated with the earth and is the centre of energy and vitality. Orange (2nd chakra) associated with the water element, has an affinity with the throat and communication. Yellow (3rd chakra) can help us to detach from obsessional thoughts, habits and feelings. It can remind us of sun, warmth, heat and energy and is inspiring and stimulating. Green (4th chakra) associated with the air element and the sense of touch; the heart, circulatory system, lungs, immune system, hands and arms. It has a calming effect on the heart. Blue (5th chakra) has been used to symbolize inspiration, devotion, peace and tranquillity as well as confidence. While it can be a cold colour, the rich hues used in windows give it warmth and intensity. Used in colour therapy, blue may help with problems of the throat and, combined with singing, can help to stimulate glands to counteract infection. Purple or violet (6th chakra) can have a strong effect on the mind and is associated with the eyes, ears, nose, and brain. It may help with the release from obsessional thought patterns, habits or feelings. White or gold (7th chakra) relates to our higher consciousness. By allowing the eyes to absorb the colours, you might like to note any shift in feelings, outlook or thoughts. Whether one is a member of a religious group or not, sitting in such a building can offer the chance of time for meditation due to the lack of distraction. In cities, the larger buildings, often open to the public every day, can provide a haven at lunchtime from stresses at work, and also the possibility of someone to talk to in confidence.

The musical aspect is also important, as the chakras resonate with music. It can be interesting to notice which parts of the body resonate to the music, from the low notes of the organ, which seem to rise up through the floor, to the high voices of the sopranos in the choir, which sound ethereal. If we sing ourselves, we can fill our lungs and release emotions built-up in the throat, neck, shoulders, chest and back. This can give a positive feeling of release and make us feel calmer, stronger and refreshed. There is also the smell of a church – that musty, earthy smell which can produce a grounding effect. The woody scents, such as atlas cedar, cypress, pine and sandalwood, can instill feelings of centering, steadying, strengthening and empowerment. The floral scents from a display may be relaxing, nurturing and uplifting. Resinous scents may have settling, quietening, consoling and transcending effects. The style of building can also denote stability, strength and continuity, and we can feel safe inside the thick walls and heavy doors in a world where everything seems to be shifting. The flagstones are solid, dependable and supportive.

It is not only in older buildings that we can find these qualities; excellent examples can be found in small chapels, in particular those associated with hospitals. The hectic and often gloomy atmosphere with the mixture of people's emotions – those rejoicing in birth or those dealing with heartbreaking grief. But, take just a few steps from a busy corridor into such a sanctuary and the contrast is palpable. These are indeed sanctuaries from the outside world. My experience of a local one is of wooden floors, pale blue walls, light streaming through beautiful stained glass, a water feature which seems to represent the circle of life, renewed energy. There is a selection of books relating to different religions, prayer mats, an area for a small group and also for a formal service. There is the feeling of being supported, welcomed, cocooned and buffered from the outside world. An oasis indeed.

Next time you come upon a religious building, why not go inside and sit down? Just let your mind wander and relax, take in the surroundings and how you feel as you gently unwind. It might be the remedy you need, especially in the gloomy winter months. If you feel inclined to take part in a service, then see how you feel after listening to the music and singing. It is unusual to find all these qualities in one place – meditation can be practised at home or in a garden, and we can listen to music where we want, but to find peace, music and colour in one place is wonderful. Similar emotional calm may be found in a Chinese garden where there is the greenery of the plants, the gentle sound of water and birds, and perhaps sunlight through the trees, the gentle movements of fish swimming. Again there are the earthy, woody scents along with those of flowers and the trees. The green, herbaceous scents have been associated with clarifying, pacifying, regulating and balancing effects. The stones around, and perhaps a paved pathway, give a solidity underfoot, and wooden or stone benches located in quiet corners are conducive to contemplation and meditation.


Bibliography
Proto L. Self-Healing: Use Your Mind to Heal Your Body. Judy Piatkus (Publishers) Ltd. 5 Windmill Street. London W1P 1HF. ISBN 0-86188-980-0.
Wills P. Colour Therapy: The Use of Colour for Health and Healing. Element Books Ltd. Longmead, Dorset. UK. ISBN 1-85230-364-6.
Fontana D. The Elements of Meditation. Element Books Ltd. Longmead, Dorset. UK. ISBN1 – 85230-229-1.
Markham U. The Elements of Visualization. Element Books Ltd. Longmead, Dorset. UK. ISBN1-85230-076-0.
Mojay G. Aromatherapy for Healing the Spirit. Gaia Books Ltd. 66 Charlotte Street. London W1P 1LR. ISBN1-85675-072-8.
Worwood VA. The Fragrant Mind. Bantam Books. 61-63 Uxbridge Road. London W5 5SA. ISBN 0-553-40799-6.
Worwood VA. The Fragrant Heavens. Transworld Publishers Ltd. 61-63 Uxbridge Road. London W5 5SA. ISBN 0-385-40899-4.
Battaglia Salvatore. The Complete Guide to Aromatherapy. The Perfect Potion. 1/15 Virginia Street. Virginia Q. 4014. Australia. ISBN0-646-20670-2.
Comments:
No Article Comments available
Post Your Comments: