Your Country

Over the years I have been practising I have dealt with a number of consultations and telephone calls from anxious parents who have asked 'can you help with my child's cough?' Adults who are subject to lingering coughs or the seeming inability to shake off coughs and colds also contact me.
Many have tried honey and lemon as well as over the counter cough mixtures and have been prescribed medicines by their GPs, yet are still left with a niggly cough. It is important to visit the GP if the cough should be persistent so that he/she may order further tests to rule out anything that could be deemed to be more serious. So once these avenues have been exhausted a visit to a homeopath could offer some relief.
In order to assess the remedy required a full consultation must be taken to determine if there are any other causative factors, i.e. emotions / stress / grief since homeopaths take these into account when selecting the more appropriate remedy.
Homeopaths use a Repertory and Materia Medica to search for the remedy that fits the symptom picture the client is presenting with. Let me give you an example of a cough that is associated with grief. The Repertory is made up of chapters and in this instance the chapter is Coughing – the subheadings are termed rubrics and one such subheading is Grief – so to explain in more detail there are six different remedies listed in this category but the main one is the remedy Ignatia. Upon cross referring with the Homeopathic Materia Medica we find that Ignatia (St Ignatius Bean a member of the Loganiacae family) has a very strong emotional picture and the person requiring this remedy is prone to the effects of grief and worry or frustration. Their cough is brought on by nervousness, it may be dry, hacking or spasmodic and feel as if there is dust of feathers in the pit of the throat. Once coughing starts it increases the desire to cough. The cough tends to be worse in the evening and there is very little expectoration. The cough can be brought on by warm drinks and the person will feel very sleepy after a spell of coughing. Taking a deep breath and sighing is very common with this remedy.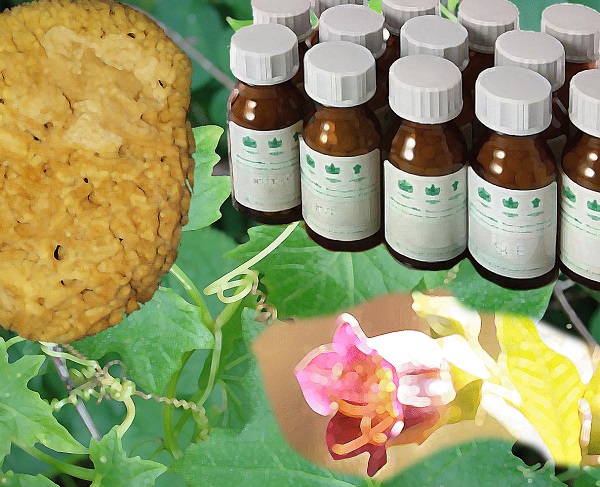 Should the cough be hard, the Repertory lists a number of remedies, the main ones being Belladonna, Bryonia, Kali Carbonicum, Spongia and Stannum. Once again reference is made to the Materia Medica to determine which remedy is the most suitable. An outline of each of these is given below:
Belladonna is a remedy that is used for feverish conditions and the cough is described as barking, whooping cough with pain in the stomach before an attack. The cough can be tickling, short, dry, worse for any fine dust that is in the air, for yawning and is worse at night. The cough can be violent during sleep and the person will grind their teeth. This remedy is one of a trio of remedies used for children, the other two being Aconite and Chamomilla.  
The Aconite cough is one that comes on suddenly, especially after being exposed to air conditioning or cold, dry winds and has been used to help children who suffer with croup and are frightened because they find it difficult to get their breath. An adult would describe their lungs as feeling hot and they would expectorate thin, gelatinous sputum worse in the morning and during the daytime. The Aconite cough could also be brought on by ailments from mental and emotional shocks and the person has a fear of going to the doctor.
Chamomilla is a remedy that is used when the ailments are brought on by anger and is known by many parents as a remedy that they would turn to when their child is teething as the child tends to want one thing and another and be dissatisfied with everything. This cough is dry and tickling and when the child is angry the cough is worse. As a time period the cough is worse from 9pm through to midnight and although they cough during their sleep it does not wake them up.
Referring back to the remedies for hard coughs, Bryonia Alba derived from White Bryony is suited to the person who is very easily angered and becomes irritable. Like Chamomilla the person is hard to please and the pains are described as bursting, stitching or tearing. The cough is dry, hacking and very painful, so much so that when coughing the person is liable to want to hold their chest as the pain is sharp in the side of the chest. Entering a warm room can set off the cough and it would feel as if the head would burst. The cough can provoke gagging but without any nausea. The Materia Medica states that this remedy can be used for whooping cough, pleurisy, bronchitis
Kali Carbonicum has a dry, hard, suffocative, choking cough that is worse at 3am and is associated with sharp pains. The person requiring this remedy would be woken from their sleep with an acute pain in the chest. The cough can be incessant with retching or choking and then vomiting. If a cough is left after a child/adult has recovered from measles, this would be the remedy to be thought about.
Spongia is one of the trio of remedies that homeopaths use to help children who are suffering from croup, the other two being Aconite and Hepar Sulph. The mucous membranes of the person needing Spongia are dry, the cough sounds like a saw being driven through a pine board. I have heard this cough many times and it sounds like a foghorn. The cough is, like Aconite worse for cold dry winds, but is better after eating warm food and drinking. A remedy listed as being useful for whooping cough
Stannum is a remedy that is called for when the person has weak lungs – talking causes a weak feeling in the throat and chest, the pains increase gradually and gradually subside. The person finds it very difficult to walk or do anything without coughing and there is shortness of breath. The cough is brought on by laughing, singing or talking and there is expectoration of copious green, sweetish mucous. I found this particular remedy very suited to my father who was diagnosed with emphysema because he displayed the signs and symptoms associated with this remedy.
A cough that is producing yellow or green mucous would indicate that your body is fighting off a cold or infection; the change from yellow to green tends to occur with the severity and length of the illness and it is not always necessary to resort to antibiotics. Homeopathic remedies are detailed in their discolouration of mucous and chosen appropriately. However if there is difficulty breathing, chest pain or blood in the sputum, then professional help via your GP should be sought so that further investigations can take place.
In conclusion a homeopath will take into account the type of cough, whether it is hard and dry or wet and productive, the colour of the sputum, any emotional factors associated with the cough, and even the sensation a person would describe, (e.g. sensation of a hair in the trachea) and would choose the most appropriate remedy. Many of my clients have a homeopathic remedy kit that they use for acute situations and these have proved to be very useful in dealing with the early stages of coughs, colds etc. and have often removed the need to visit the GP.
Homeopathy is gentle, non-toxic and non-addictive and can safely be used by all ages and does not interfere with any prescribed medication.
References
Murphy, Robin ND, Homeopathic Clinical Repertory 3rd Edition
Murphy, Robin ND, Nature's Materia Medica 3rd Edition
Comments:
No Article Comments available
Post Your Comments: