Your Country

The Healing Power of Touch
by Gina Pickersgill
In the scheme of things, touch is a sentient emotion. We touch another person, we make sure we have enlisted the qualities that convey meaning. The touch of another person can heal or harm us such that when touching another person we are entering into a contract that enables us to transform our being into something different. Touch, therefore is a transformational tool which we use either discriminately or with no awareness whatsoever. In this article we're going to explore the healing power of touch and how it can transform the presence of being from that of being emotionally destabilized to that of achieving balance.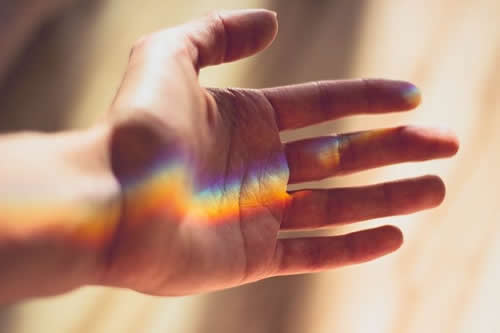 https://pixabay.com/photos/hand-rainbow-light-palm-touch-2326058/
A touch, a smile, and image, a song can all hold meaning in a way that makes a difference to our physiology. This meaning was made in the first moments of encounter and in the context in which they were made. These memories are what makes us who we are. We encounter situations where 'touch' is present when we make choices about what to perceive in the context it is received. The moment you experience a sentient encoding of 'meaning', a body of excitatory neurones fire off to encode a memory trace to embed meaning into the psyche.
We are creating aspects of ourselves when we are assigning meaning to life events. As such we are making decisions about who we are and who we are going to become. If we use the analogy of how a boat knows which direction to move in, we will see that 'meaning' makes us point our sails in specific directions. Therefore the conclusion of which is made in tandem with emotional charge, (an electrical signal that indicates a matter has been decided one way or another). Thus when we have created a scenario that ensures our survival, we are prone to receive messages that confirm or deny our safety.
Waiting for the moment in time when signals give us messages to react or respond to situations will depend on how well we have embedded meaning into our support system. Training our minds to recognize specific signals is of paramount importance when deciphering 'meaning' in the context of healing touch.
Healing is a word we all know to mean something different when it comes to learning how to heal our clients. We have learned that 'touch' is a therapeutic medium through which we can influence energy resonances that create balance and harmony within their auric field. Healing therefore, is an energy conducting process that allows the client to feel a sense of equilibrium inside their muscles, joints and heart. 
"Touch your heart" is often a saying we use to give others the feeling of being cared for. This leads us onto the idea that touch does not just have to be a physical process; you can also reach into the inner sentient feelings of our most deepest emotions. Therefore 'touch' is not only physical but emotional too.
In his book 'Sentics: The Touch of Emotions', Dr Manfred Clynes speaks about virtual images representing specific emotional states. Specifically he refers to the term 'virtual' as having "no directly corresponding physiologic realization of the sensation of e.g. or flow for love or lightness for joy et cetera". In this sense we are touching on the specifics of how emotions are felt in the body. His experiments were such that he was able to assess emotional states by measuring wave forms that produce sentient markers for energy vibrations related to specific states. 
What this tells us is that energy is related to how we experience the world around us. In other words we feel energy in our body as sentient emotion. Taking this into consideration we now have to notice what energy signatures represent our client's emotional states when assessing what balances are needed as a result of therapeutic touch.
Therapeutic touch and how it helps to restore emotional balance.
Therapy in and of itself is only useful in so far as it is able to restore emotional balance. In this way it helps to re-fuse connections that have been lost due to trauma. Trauma being anything that causes a block between one neuron and another that is responsible for love, joy or happiness. The way this happens is that neurons become disconnected by the sources that create disturbances in the energetic field. These sources include experiences such as deep shock, grief and betrayal. Therefore when we experience these emotions we are often left with trauma related to the meaning of the event that caused it to occur in the first place. Hence we use the term such as "shaken to the core" or "heartbroken" to describe how we are feeling as a result. 
So touch has the ability to heal via the vibrational opposite that creates connection in conjunction with knowing you are important, cared for and safe.
Insignificance is one of the main reasons why clients feel disenchanted with how they have been treated by others in terms of disturbing emotional events. Another reason is that they have held onto resentment for so long they have forgotten how to laugh, let go and have fun! Therefore the body retains any tension that resides in the neurological networks that produces it, blocking any signals trying to be sent via the electrical conductivity of the nerves that produce balance. 
So insignificance and resentment are two elements that respond to healing touch via the emotional opposite of each vibrational match. The opposites being self-acceptance and love. To accept oneself means to allow oneself to be who you are without apologies and to love another means to allow them to be who they are without judgement. These are both tough calls when you are steeped in psychological blame of self and others. Therefore trauma is creating essences of character that are not useful to communication at the level of love. Instead communication is from fear and lack. In essence we have begun to realize how trauma may benefit from healing touch and how it might respond when used specifically to heal trauma that has been ingrained deep in our psychological profiles. 
I continue this discussion in further future writings in relation to the quantum field of influence on how it impacts the healing power of touch. 
Comments:
No Article Comments available
Post Your Comments: