Your Country

Most of those I've worked with (self included!) share something that for many of us hurts us even more than physical pain – an occasional, yet dreadful sense of helplessness. Who among us hasn't felt so overwhelmed with our own predicaments that we've lost any hope for a better tomorrow? Who hasn't thought of giving up the "good fight"? Have you felt overwhelmed by the tides of social injustice, animal abuse, humanitarian crises, mass shootings, war, or natural disasters? Sometimes, it seems like our individual environment or even the whole world has gone mad and there's nothing we can do about it.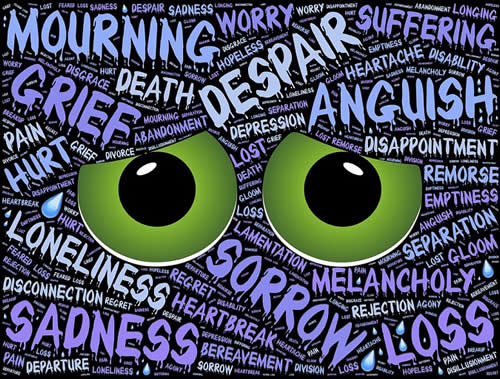 Despair Depression
But there is. There always is.
When anxious, stressed, and overwhelmed, the mind thinks, "If only I could figure out what I'm anxious about, then I could do something about it." And as logical as that is, it's trying to escape the unpleasantness of the situation with linear thought.
Linear thought doesn't acknowledge stress as a teacher; rather, it convinces us that stress is an enemy that needs to be defeated ASAP. The mind will eventually make a plan, and it'll seem like a good one. But that strategy won't be Source-inspired. At most, that approach will get you out of immediate turmoil – which isn't horrible – but longer lasting and more effective methods typically don't originate in the mind.
Feeling helpless is made even worse by the conditioning we receive as children that knowledge equals praise and lack of knowledge equals shame. Do you remember raising your hand in school to show everyone that you knew the answer? Did you crave hearing your teacher say, "You're right! Great job!" And of course, the converse is also true. We're shunned or made fun of if we don't know certain things. In fourth grade, I was sent to a special class because I couldn't say the sound, "th" well. I felt rejected, ashamed, and of course, dumb. Granted it's a small example (I did get picked on for other reasons, too), but the feeling is the same: there was something wrong with me, and I was a loser. We were never taught the value of a mistake in school. Instead, we had to get it right or we'd get a big F on our report cards and risk not graduating to the next year's program – FAILURE.
But mistakes are how we learn. Sometimes, lessons aren't as relatively benign as an assignment at school. Sometimes we fail at relationships. We fail to make a good living. We fail to heal something or to remain healthy once we get there. We overspend or invest in something that goes belly-up. LOSER.
The ego identifies with certain aspects and makes those known to others. While playing a trivia game or just interjecting a random fact into a conversation, the ego is always looking for praise. It can filter out anything negative and dares anyone to tell the emperor he's naked. Haven't you met a lot more people who will say they're above average in intellect than those who say they're dumb? And of course, we've all heard the narcissist claiming to know more than certified experts at pretty much anything. The need to believe we are—or at least be seen as—intelligent, mars our experience of seeing the world as a mystery, learning as fun, or revelling in the uncertainty.
When we are overwhelmed, the mind goes to the fear place: "I don't know what to do! I don't know what my next move should be. I can't deal with the stress, the turmoil, the unpleasantness of it all." Oftentimes, self-criticism kicks in: "I'm useless. I'm stupid. I'm a loser. I should know how to manage, to heal, to intuit, to…" You get the idea.
We have to accept that there are some things we just can't know. Sometimes, we don't know something because we don't have access to that knowledge, or perhaps something is beyond our current level of understanding. But if we work through these fears of looking or even being unintelligent – and I do mean through, not around – we will always be informed of what to do, when, how, and with whom in response to any situation.
In my experience, Source is always there to provide an answer to any inquiry. All we have to do is work through the block and then tune in. In that order! Because if we try to tune in well when in emotional chaos or fear, the mind will filter the intuitive guidance, prolonging the desired end result. 
Eventually, you'll get clear enough to hear the guidance.
The Universe is always saying YES to us, even if it appears otherwise, when we can truly know this, we can quiet the mind and trust we'll be guided to the next best step! The inherent humility in a healthy surrender to something greater (as opposed to an unhealthy giving up) is the doorway to fulfilling our soul's contract and experiencing what we came here to witness and feel.
No matter what the issue is, there is always something we can do to ease back from the path of fighting and suffering. The information we need is always available to us, but we must first embrace not knowing how to respond and then allow ourselves to be informed. In this way, we replace helplessness with tangible, Source-inspired action steps!
Comments:
No Article Comments available
Post Your Comments: