Your Country

Bruschetta It's easy to fall into the rut of not eating a proper meal, especially after a long day at work. Coming home after an exhausting day can turn even the most enthusiastic cook into a hater. But rather than delving head first into a box of cereal or calling your local take-out joint, it's amazing what some left-over bread, canned tuna and fresh greens can produce.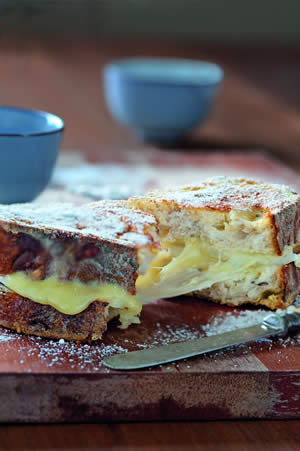 Ham & Cheese Mochi French Toast
The concept of eating breakfast for dinner doesn't play into the tradition of eating Bruschetta. On a recent trip to Spain, I discovered local diners tuck into 3 to 5 bruschettas piled with hearty fillings for dinner. A loaf of wholesome bread, even a few days old, can turn an unlikely cooking ingredient into a delicious light meal. Bread cut into thick slices, grilled and brushed lightly with good olive oil being the simplest way to prepare the Italian appetizer and topped with your favourite topping. Turn brushcetta into a meal but pilling high with toppings like beans, tuna and salmon.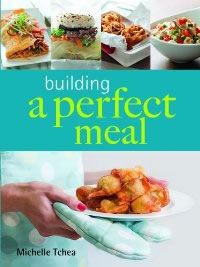 Bruschetta with Roasted Tomatoes and Basil
Health Benefits of Tomatoes
Full of vitamins and minerals to help maintain stability in the body;
Antioxidants like Flavonols and Carotenoids present in tomatoes are known to fight cancer, support good heart health and maintain bone strength. The benefits of tomatoes are maximized when slightly heated with fats.
1 ciabatta loaf, cut into thick slices;
2 vines of tomato, ripe but not rotten;
3 cloves of garlic, minced or grated;
8 tablespoons of olive oil;
Handful of torn basil leaves.
Pre-heat the oven to 180 degrees C
Combine about 6 tablespoons of olive oil with the garlic and let it infuse for about 5 minutes or more. Set aside.
In a roasting pan, place the tomato vines on the tray and drizzle with about 2 tablespoons of olive oil.
Place in the oven for about 15 minutes, until the tomatoes have collapsed.
Whilst the tomatoes are roasting, lightly toast the bread on both sides and set aside.
Using a pastry brush, brush each ciabatta slice with the garlic infused oil; do this while the bread is still warm.
Take out the roasted tomatoes and sprinkle in a pinch of salt and pepper to taste. Throw in the torn basil leaves.
Lightly mash with a fork and spoon onto the toast.
Serve immediately so the bread remains crispy.
Bruschetta with Marinated Tuna, Beans and Wild Rocket
Health Benefits of Beans
Full of iron and fibre to help prevent cancer and cut cholesterol;
Full of vitamins and minerals as well as maintaining efficient digestive health.
3 cloves of garlic, minced or grated;
8 tablespoons of olive oil;
1 medium ciabatta loaf, cut into thick slices and lightly toasted on both sides;
2 x 250grams good quality marinated tuna (in spring water);
1 tin of white navy beans, rinsed and drained;
1 packet of wild rocket, washed and drained;
Pepper to taste.
With the bread still warm from toasting, brush one side with garlic infused olive oil and set aside.
In a bowl, mix together the navy beans and marinated tuna, keeping the tuna chunky and most of the beans intact - some can be slightly mashed.
Sprinkle in black pepper and salt if desired but the tuna should be flavoured.
Place the wild rocket on the thick slices of toast and spoon heaping tablespoons of the bean and tuna mix.
Serve immediately.
Bruschetta Salmon Tartar
Health Benefits:
High levels of Omega 3 and other essential oils;
Full of Vitamins D, B and A; Minerals: calcium, iron and phosphorus;
Reported to prevent cancer, maintain brain and nerve stability.
1 medium ciabatta loaf, sliced thick and toasted lightly on both side;
6 tablespoons of olive oil;
1 fillet salmon, sashimi grade;
Salt and pepper;
2 teaspoons of Dijon mustard;
2 tablespoons of Greek yogurt;
1 teaspoon of fresh dill, chopped finely;
Fresh horseradish, grated (optional).
In a bowl, place the olive oil and garlic together, let it sit for about 5-10 minutes to marinate.
Carefully wash the salmon fillet and drain with paper towelling. Using a sharp knife, cut the fillet into small cubes, being sure not to bruise the fish too much.
In a bowl, combine the Dijon mustard, yogurt, dill and fresh pepper.
Add in the salmon and combine until just mixed.
Toast the ciabatta slices and brush with the olive oil.
Top with the a large tablespoon of the salmon tartar.
Serve immediately with a grating of fresh horseradish if desired.
Further Information
More recipes can be found in Michelle Tchea's new book: Building a Perfect Meal
www.amazon.co.uk/Building-Perfect-Meal-Michelle-Tchea/dp/9814351571/ref=sr_1_1?ie=UTF8&qid=1328884845&sr=8-1
Michelle Tchea can be contacted at http://www.michelletchea.wordpress.com/
Comments:
Tan said..

Awesome!! What great recipes. I already have two copies of your book and I love it. Will definitely be buying this one for my family and friends...

---
Post Your Comments: