Your Country

When the scorching sun kisses your face, body and limbs during summer, you are in the slough of distress, and ultimately, you become completely exhausted. You feel tired, thirsty and sometimes angry. Who can control the summer heat? Moreover, if you are a health freak and do not want to gulp fizzy cold drinks or sodas, is there any option left to rejuvenate and invigorate your body and mind so that you can beat the summer heat, to some extent. The answer lies to taste a refreshing fruit infused water drink which cuts down your sugar by wiping out sugar filled beverages. You can easily make a fruit infused water drink without adding sugar. This process of infusing is known as "Let sit in a liquid to extract a flavour or to cleanse." I call it "Let us devour this scented or flavoured liquid of fruits gleefully with tongue."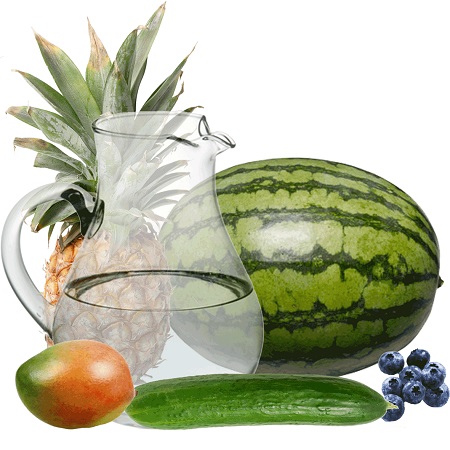 This is completely a science of producing fresh fruit infused water. This is basically flavouring water with fruits. People misconstrue this as a mixing of fruits with water with respect to its recipe. Here fruits are either sliced or cubed and placed in water to ensure the flavour seeps into the same with the refrigeration and a time gap. Fruits infused water is also known as Aguas Frescns which is derived from Spanish culture where the beverage is made of fruits, rice and cereals to sweeten the water. This process of infusing can be sugar free or with a limited quantity of sugar say less than ¾th of a cup. This is a healthy way to make water as a nourishing and flavoured drink. This is also good for kids in place of so called carbonated drink or even chilled water. The carbonated drinks are bound to invite health hazard. It also serves as a replenishing or revitalizing drink when the children and even adults come back from school or their work. The preparation is very simple as you only need fruits of various types and water. 
Preparation
You choose different fruits, different flavours. Some fruits provide a tart or zesty flavour, some a soothing and sweet taste. The smell of water is completely dependent on the fruits you add. Fruits like apples and oranges provide a distinctive aroma to the infused water. The grapes do not produce much of a difference. The main attraction of this drink is light, lingering aftertaste because of the fruits. There is no thick sloppy or pulpy feeling after you drink. Some fruits like mangoes, apples, and fleshy fruits have a tendency to disintegrate or form lumps in water and while preparing, special care needs to be taken. Fruits like watermelon and oranges break down easily and mix well with water. Lemons, oranges and grapefruits are the best choices for these drinks because they impart flavour, aroma and a colour to the water. Children specifically like coloured drinks.
Selection of Herb
It is advisable to add a herb or two to remove the supremacy of fruits. Furthermore, some people may not like fruits alone. This can also increase the taste of the drink. Herbs such as mint, rosemary, basil leaves are best suited for preparing these drinks. Crushed mint or mint sprigs make the taste delicious when the drink is served with ice. If you want to make the taste tangy, add little more basil or spearmint.
Be Imaginative
Infused water is completely a creative choice of preparation with fruits. You may add vegetables in place of fruits to replace the soup. For example, a glass of chilled cucumber infused water is a great source of vitamins and minerals. You may create a delicious drink by freezing the fruits in ice or iced water. You can use raspberry, strawberry or blueberry or even grapes. The ultimate flavour of the drink will be a fruity flavour.
The details of recipe of some of the fruit infused water are described below:
Fresh fruit infused water recipe: There are no sweetener, no sugar, no chemical and it is free of generating any calorie. This fresh fruit water drink soaks the flavour of all the fruits and herb when they are kept in the fridge. The ingredients are 6 thin slices of cucumber, watermelon of 1/3rd size, 1 large sprig fresh mint approximately 8-10 leaves. You can also make this fruit water with raspberries, ginger and Thai basil. In that case, you have to go for ¾ cup of raspberries, 4-5 thin slices of ginger with skin and 1 large sprig of Thai basil. You have to put fresh cold water about 95 ounces in a glass pitcher and add the above ingredients as per your choice. You have to keep this preparation to chill at least for 4 hours in your fridge so that the flavour of the fruits is mixed with water. 1 large pitcher of this drink has 8 servings which contains no fat, fibre 1 gm, sugar 1 gm, Protein 0 gm, sodium 1 mg, potassium 5 mg. The drink contains Vitamin A, C and K. It is a light, non-alcoholic drink and is able to resist the summer heat once you drink twice or thrice, particularly during the daytime;
Citrus cucumber water: The ingredients are 1 large lemon, slice of one large lime, one large orange slice, one large cucumber slice and ½ gallon of water. All these fruits and vegetables are placed in a glass pitcher and then water is added. It is allowed to infuse for two hours before serving over ice;
Cucumber melon Aguas Frescas: The ingredients are slice of one large cucumber, ¼ honeydew melon in cubed, ¼ cantaloupe in cubed, ½ gallon of water. The melon and cucumber are to be placed in a glass pitcher. Water is added. Then this preparation is allowed to rest, refrigerated, for 2 hours. It is then served over ice;
Watermelon basil Aguas Frescas: The ingredients are 2 cups of watermelon after removing the seeds and cubed, 8-10 basil leaves and ½ gallon of water. Now, water is poured over melon and basil and then it is refrigerated for two hours. Now, serve after this period over ice and garnish with a sprig of basil;
Pineapple chipotle Mint Aguas Frescas: The ingredients are ½ cup sugar, 8 to 10 mint leaves, ¼ teaspoon of dried chipotle powder, 2 cups of pineapple cubed and ½ gallon of water;
Bring sugar and water together and place them in a saucepan. Boil it over a medium heat. Reduce the heat to simmer and allow the syrup to simmer for 3-4 minutes, until the sugar is dissolved and the liquid becomes slightly thickened. Now the syrup is to be removed from the heat and it is to be cooled fully. The cooled syrup is to be placed in a glass with mint leaves and chipotle so that both these ingredients are muddled thoroughly. The cubes of pineapple are to be placed in a large glass pitcher, add the muddled syrup and water. Stir it thoroughly and then refrigerate for 2 hours, stir again before serving over ice. Before serving, it is to be garnished with a slice of pineapple and a sprig of mint.
All these drinks stated above are tasty and delicious. They are mostly sweet, but calories are limited. These drinks contain vitamin A, C, calcium and iron. The percentage of sodium, potassium varies from drink to drink. You can also make variation in these drinks and they are virtually unlimited. The choice lies in your own imagination and taste. All these drinks are healthy; the addition or deletion of fruits will not do any harm. The flavour of these drinks can be changed by adding more fruits and as per your liking. For example, some people like orange and some others like mango and so you add and mix one fruit with others to complement the drink more tasty. You can even add vegetables, herbs and flower to create additional flavours. You may try some fruits and vegetables alone or in combination with other fruits namely orange, lemon, watermelon, cantaloupe, blueberry, raspberry, cucumber, mango and pineapple.
All these drinks can be served either sweetened or unsweetened and can be prepared with plain, chilled or sparkling water.
Fruit spritzer: Fresh lemon juice, mango, club soda, coarse salt, raspberries, cantaloupe, watermelon and more.  The ingredients are ¾ cup sugar, 6 cups cantaloupe, 6 cups watermelon, 6 cups honeydew melon, 8 cups watermelon, 4¼ cups raspberries, 1 teaspoon lemon juice, 1 pinch coarse salt, carbonated water. The preparation time is 30 to 40 minutes with 8 servings, total calories 520 per servings, total fat 1%. The contents of sodium, potassium are 120 mg and 20 mg respectively. Total carbohydrate - 131 gm, dietary fibre - 16 gm, sugar - 110 gm, protein - 11 gm and cholesterol - nil. The drink contains Vitamin A, C, calcium and iron. Its taste is salty and sweet with a bit of bitterness; it has also sour taste;
Blueberry lemonade: The ingredients are ice, blueberry for the purpose of garnishing, 3 cups water, ¾ cup sugar, 4 cups blueberries, 1 cup freshly squeezed lemon juice. The preparation time is 15 minutes. Total servings are 6, 180 calories per serving. Saturated fat is 2%. Cholesterol is nil. Sodium 10 mg, potassium 150 mg, total carbohydrate- 46 gm, dietary fibre - 2 gms, sugar - 38 gm, protein- 1 gm. It contains Vitamin A, C, calcium and iron. Taste is salty, sour and sweet;
Summer fruit sangria: 6 cups fruits such as mango, pineapple, cantaloupe and apricot, ¼ cup peeled fresh ginger, basil leaves ½ cups, orange liqueur ½ cup, white wine 1 bottle and fresh lemon juice 3 tablespoon and ice. The apricot will be either sliced or cut into chunks. The total time is 1 hour and servings will be 8. Each serving contains 190 calories. Total fat is nil. Sodium is 15 mg, potassium is 270 mg. Total carbohydrate is 26 gm, dietary fibre – 2 gm, sugar 21 gm, protein 0 mg. This drink contains Vitamin A, C, calcium and iron. Taste is medium sweet, less sour with slight bitterness;
Basil lemonade: Ingredients are ¾ cups granulated sugar, freshly squeezed lemon juice 1/3 cups, 2 lemons are sufficient, roughly torn fresh basil leaves ½ cups, water, ice. A total time of preparation is 20 minutes. 4 servings and each serving contains 50 calories. Total fat is nil. Sodium is 270 mg. Potassium - 30 mg. Total carbohydrate is 14 gm. Dietary fibre and protein are nil. Sugar - 13 gm. Cholesterol is nil. This drink contains Vitamin A,C, calcium and iron;
Juicy water: The ingredients are 1 cup fruit, namely apple, banana, Guava and fruits are to be sliced,1 quart water, lemons for garnishing. A serving is one which contains 100 calories. Total fat is nil. Cholesterol is nil. Sodium is 50 mg. Potassium is 370 mg. Total carbohydrate is 33 gm. Dietary fibre – 7 gm. Sugar – 19 gm. Protein is less than 1 gm. This drink contains Vitamin A,C, Calcium and iron. The taste is salty.
While concluding, I emphasize the utility of this drink, which is mouth-watering, nourishing and healthy.
It is a dehydrating drinks and cleans your system;
It also detoxifies your system;
The male fraternity who are not that accustomed to carry out household chores can easily make these drinks;
People who are averse to drink much water because of its odour and taste, can easily drink and digest fruit infused water drink;
The combination of various fruits makes this drink very delicious;
There is no adverse effect on your health.
Though this drink is primarily meant for the summer season, you may drink throughout the year to revitalize your energy and stamina. The fruits are healthy diets and when it is added to water, you get extra food value. So, this drink can be identified as an energy booster.
Drink plenty, drink frequently and drink gleefully to remain healthy so as to enjoy your life in peace.
Comments:
No Article Comments available
Post Your Comments: