Your Country

It is exhilarating, intoxicating, thrilling, and it will always leave you wanting more. Just a few words to describe wild swimming and its ever-increasing popularity.
Recent figures from Sport England [1] suggest more than 4.1million people are regularly donning their bathing suits to go open-water swimming, and in the past 18 months, wild swimming has seen a huge 287% increase in popularity.[2]
But what is wild swimming? For those new to the pastime, wild swimming is the act of swimming in natural bodies of water such as lakes, rivers, ponds and oceans - weather NOT dependent. And although wild swimming has seen a surge in popularity in recent years, becoming almost fashionable, it has been around for much longer than we realize.
I first began wild swimming in my mid–forties and haven't looked back since. As a child, swimming meant endless boring training laps in the same pool, competitions, early morning starts and constantly smelling of chlorine. By the end of my teenage years, I'd had enough and had stopped swimming completely unless I was on holiday. Roll forwards to my mid-forties and I started yearning for a way to exercise that I loved (rather than forcing myself to run or go to the gym). I was living close to the Thames in Oxfordshire and was aware that there were a few people locally who swam in it. I joined their Facebook group and lurked for a year before building up the courage to take the plunge.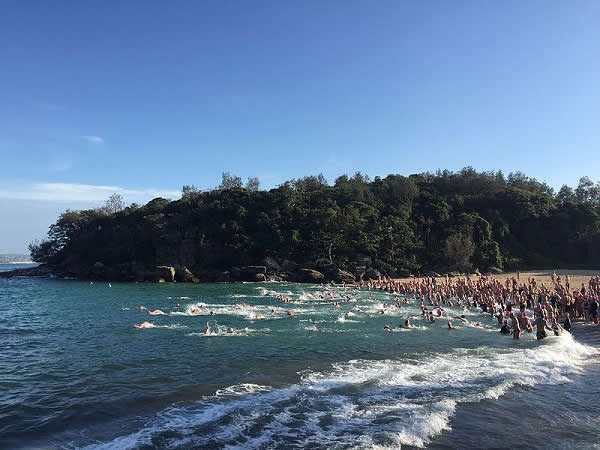 Courtesy Wikipedia
Wild water swimming has had many well-known advocates over the years, including David Cameron, Catherine Hepburn, Thomas Hardy and Benjamin Franklin,[3] all of whom have spoken about the benefits, both physical and mental, that wild swimming offers.
As a certified health coach, I was already theoretically aware of the many health benefits available. However it was when I founded two businesses in quick succession, angelrated.com and coworkcrowd.com, that the mental health benefits became really applicable to me. I now swim in the Thames three times a week, no matter the weather or temperature, and only wearing a swimsuit!
Swimming in cold water feels to me like the most intense meditation or mindfulness session. You can't be anywhere but in the here and now. You can't think about anything except your movement through the water, whether you're still warm enough, or if it's time to get back to the bank (at which point your focus switches to swiftly bundling on as many layers as you can and getting a hot drink inside you). Then comes the massive hit of euphoria. It feels like a reset for my brain and that anything I turn my mind to is now possible. If I can get into water that's in single digits wearing just a swimming costume, then I can handle anything that running two businesses can throw at me.
Physically, wild swimming reduces inflammation and pain throughout the body. Studies have shown that full immersion in cold water creates a stress response, while regular and repeated immersion creates a biological reaction where the response your body has to that stress reduces, which in turn reduces inflammation, helping to reduce the severity of ailments such as arthritis, high blood pressure or type 2 diabetes.[4]  Wild swimming has also been found to reduce cortisol levels, improve circulation, strengthen the immune system and increase metabolism.[5]
The benefits do not stop there, as wild swimming has also been noted to improve mental health, with one patient who had been medicated for anxiety and depression for almost a decade trialing a programme of regular open-water swimming. She saw her depressive symptoms reduce consistently, and was able to cease her medication.[6]
Wild swimming reconnects those who do it with nature and as its popularity increases; so does the community where swimmers meet and build positive connections with each other. I have received all of these benefits, and many more.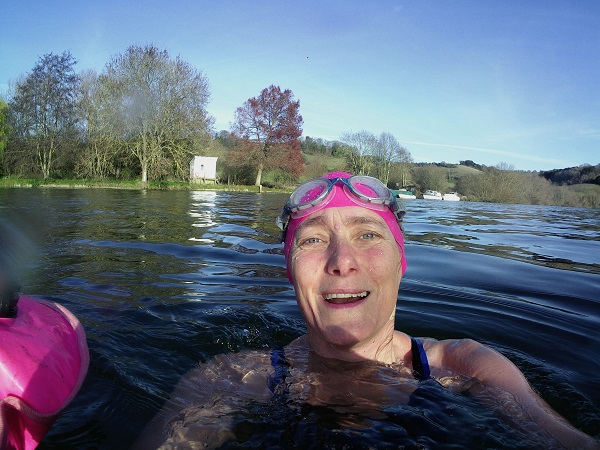 Angela Bryant, Wild Swimmer and Founder of Angel Rated
In the summer, I enjoy the sunshine on my back as I build up to longer and longer distances. I signed up to do a 10k swim that had to be cancelled, but I still push myself to increase my speed, stamina and endurance. In the winter, my swims are counted in minutes rather than kilometres. Last winter was the first time I swam through the winter and it felt like an epic achievement. The swims might only be 10 minutes long (or less as the temperatures drop) but the impact on my mental health and sense of accomplishment is off the charts.
Scientists at Cambridge University, doing research into wild swimming, have discovered a potential link with cold water immersion and slowing down the onset of dementia.
Their research centred on swimmers using the Parliament Hill Lido, North London, where they found that the hardy regulars, who safely take their body temperatures to hypothermic levels, had a 'cold shock' protein in their blood that has been shown to repair some of the damage caused by dementia in mice.[7]
The act of wild swimming releases endorphins, it helps to reduce stress, anxiety and depression, alertness and energy levels are increased, and euphoria can be felt within the entire body.
The number of people implementing wild swimming into their daily routine soared during the lockdowns in 2020 due to local pools being closed and with the government allowing one form of exercise per person per day. In particular, female participation has increased enormously.[8]
I, like many, found solace in the activity, and it really helped me through a challenging time. The past year has been tough, but swimming has been my constant companion, giving me a much-needed break from all the craziness that's going on, while helping my own sanity, and allowing me to process emotions and make plans for my businesses.
From hidden lagoons to astonishing lakes, before jumping in, it is important that you do your research into how to correctly get started and safe places to partake in wild swimming. It is essential to understand water safety, to gauge the depth and check the current, and ensure that you have the correct equipment. I find Outdoor Swimmer to be a wonderful source of help and information.[9] However, once you have gained the required information, the wild swimming experience is invigorating and beneficial and one that anyone can begin regardless of age.
The first time I went, I was terrified. What if I was too slow, or got caught in the weeds, or the fish nibbled my toes, or the people were all weird? I needn't have worried. I immediately loved it and haven't looked back since. Rather than staring at the same swimming pool floor or ceiling tiles, I swim in an endlessly changing environment that connects me back to nature in a way that I never expected. I was hoping to get some exercise and meet a few like-minded people, but instead I've become hooked on something that impacts every part of my life. It is now part of my identity, and I know I'm not alone in feeling that.[10]
References:
Comments:
No Article Comments available
Post Your Comments: