Your Country



If you are an adult who wants to straighten their crooked teeth, there are several options that you can consider. There are metal braces and ceramic braces but the most popular option is Invisalign braces. You can get a gorgeous smile without having to wear traditional braces.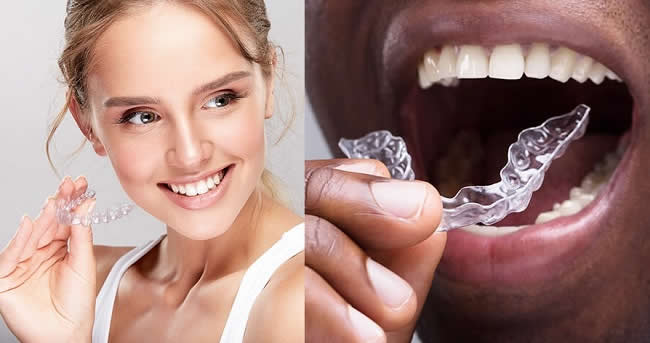 Invisalign ® Clear - Left and 3M Clarity Aligners - Right


How Does Invisalign© Work?
Invisalign treatment includes a series of clear, plastic aligners that can comfortably fit on the teeth. They apply consistent force on the crooked teeth guiding them into the right positions. Though the pressure put by the Invisalign is less as compared to traditional metal braces, it does the job perfectly.
Four Benefits of Invisalign© for Adults
1.    No Dietary Restrictions
When you have metal braces, there is a huge list of things you cannot eat as they can damage the wires and brackets. These include hard, sticky and crunchy foods. These foods also make it difficult to clean the braces.
One of the best parts of opting for the Invisalign process is that you can easily take them off when you eat. Unlike metal braces, there are no restrictions on what you can or can't eat when you have Invisalign.
Just take off the aligners, eat whatever you want, rinse your mouth thoroughly and pop the trays back in.
2.    Low Maintenance

Invisalign aligners require little to almost no maintenance. Take them out when you brush and floss. Clean your trays with a soft-bristle toothbrush and put them back in.
Cleaning the trays will hardly take 15 minutes each day. If you notice discoloration in the trays, soak them in water for a longer time and then clean them with a brush.
3.    Comfortable and Convenient
Invisalign is very comfortable to wear since they are smooth. Their smoothness helps in eliminating any kind of irritation in the mouth, especially gums. Since there are no wires, you will experience fewer cuts and sores as compared to traditional braces.
Invisalign is very easy and convenient to use as well. The trays can be removed or put in very easily. Since they are practically invisible, you can also leave them on without being conscious. But if you really want to take out the clear teeth aligners for a few hours, to maybe attend an event, you can easily pop them off. This isn't possible with traditional braces. But remember to put them back in without fail.
4.    Shorter Treatment Time
You must wear your aligners for at least 20 – 22 hours each day. By following the dentist's instruction and keeping the aligners for the required time, Invisalign treatment will last about 12 months. This is half as long as traditional braces, which can take about 2 years or more to fix adult teeth.
Consult with your orthodontist about how to get Invisalign to fix your teeth. They fit comfortably on your teeth and control the tooth movement the right way. You can choose Invisalign to change your smile or fix minor adjustments. In the end, you will be left with the smile you always dreamt of.


Comments:
No Article Comments available
Post Your Comments: