Your Country

The latest government data reveals that close to 75 per cent of the adult population has now received a first dose COVID-19 vaccination. At the same time, nearly half of the adult population has also received their second dose. Since the start of the vaccine drive, the easing of social distancing restrictions has been gradual. However, the historic effects of the pandemic will continue for those who have contracted the novel virus, as well as for those who have served as carers, parents, and essential workers.
After the pressure of the pandemic is eased, many people will begin to feel the effects of mental burnout and 'long COVID'. Both understanding the difficulties of surmounted responsibilities and the continuing symptoms of the virus beyond the infectious period has led people to believe that there will be very concrete consequences of the past year well into the future. Here, we look at the people suffering from the consequences of COVID, and how these effects can be relieved.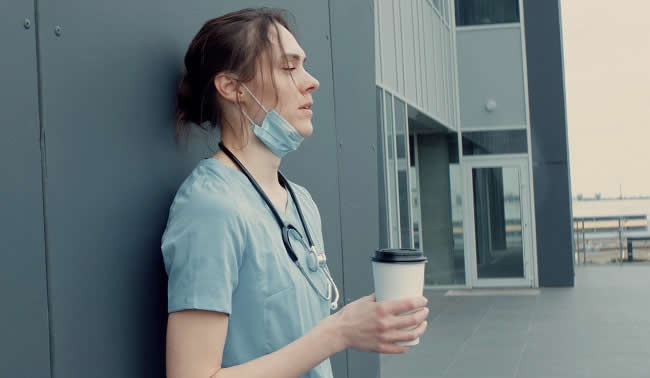 Fatigue
Since the initial peak of the coronavirus pandemic, reports of continuing symptoms of COVID-19 after the infectious period have raised concerns as to the long-term effects of the illness. Appropriately, this was coined as 'long COVID.
Lasting symptoms of the coronavirus can include:
Fatigue
Joint pain
Muscle pain
Anxiety
Depression
A recent study by King's College London showed that one in twenty people will experience symptoms of the coronavirus lasting longer than eight weeks. This would suggest that over 224,366 people have suffered the effects of long COVID by the end of May 2021.
However, there are suggestions that the effects of long COVID can be alleviated by natural supplementary support. With symptoms similar to Chronic Fatigue Syndrome, some medical professionals are advocating the use of Coenzyme Q10 as an essential vitamin for recovering from the long COVID. Dr Chris Steele addressed long COVID symptoms on national television, suggesting that "quality counts" when it comes to choosing the Q10 supplement. Studies have shown significant benefits with supplementation of Q10 affecting their fatigue status – one of the demobilizing effects of post-virus life.
The Deficiency of Lockdown
There was a dramatic shift in the habitual experience of Brits during the initial national lockdown. With an emphasis on staying home as much as possible, it is unsurprising that both physical and mental health was affected. For example, reduced sunlight exposure from remaining indoors may have contributed to a national deficiency of vitamin D. According to the NHS, vitamin D helps "keep bones, teeth, and muscles healthy."
As joint and muscle pain are complementary of long COVID, there is evidence to suggest that the effects of the virus and long COVID are worse among those with this deficiency. In fact, recent studies are exploring the links between respiratory viral infections and vitamin D. Both Scottish and English authorities are now providing the most vulnerable in society free vitamin D3 supplements to alleviate the potential damage of the virus. The NHS continues to advocate supplementary use of the vitamin year-round for everyone.
However, there has been more than a chemical deficiency during the lockdown. Restrictions on physical exercise and social interaction may have contributed to a reduction in mental health. As well as guidance to protecting our physical health against the virus, the Government and various NHS foundations have published guidance on protecting our mental health – especially after the coronavirus.
Communication and exercise are key to recovering mental health, according to one NHS Foundation Trust. Recognizing that anxiety is high during the pandemic, talking to someone is the best way to avoid mental burnout. Talking through your problems with another person is essential for avoiding unnecessary stress. This can be done virtually or in-person while adhering to social distancing guidelines.
Additionally, the Government recommends adding exercise to your daily routine. Meaningful activities are suggested to help with mental health. Physical movement can also help reduce anxiety and depression.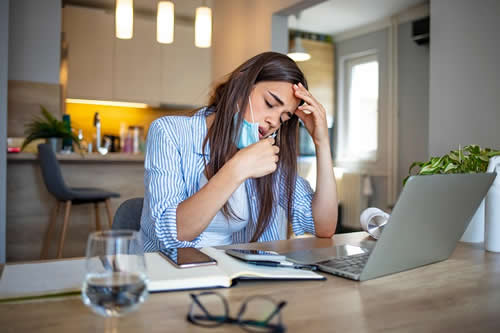 A Future of Work
The pandemic has changed everyone's lives, but arguably more so for our frontline workers. The conditions of working under increased scrutiny, regulation, and demand have created a mental burnout among many sectors of work.
For NHS staff, anxiety has hit a peak level. A YouGov poll in April of 750 NHS workers found that 69 per cent of respondents would rate their anxiety as a five or above. Deaths from coronavirus more than trebled since then, in no doubt continuing to contribute to this feeling. The pandemic has forced some NHS staff to rethink their working position, with seven per cent of workers saying they were unlikely to stay in the healthcare sector after the pandemic ends.
The education sector was also a key victim of the pandemic. However, research points out that the lockdown helped improved feelings of anxiety amongst teachers. Before the lockdown was announced, one in eight teachers reported high anxiety as a consequence of the coronavirus. After the lockdown announced, this number was reduced to only one in twenty.
However, where schools closed, home classrooms were opened. The pressure of education was likely passed on to parents. Parents now had the added pressure of multiple decisions to maintain a working life, family health, and the education of their children.
While the burnout is fatiguing, one psychologist suggests that there is an optimistic angle to take away from the pandemic. Janna Koretz believes that: "This is going to make everybody's ability to manage, cope and be flexible much better." She understands that life after COVID-19 will be perceived as easier only because we have been challenged by the pandemic.
While the physical effects of the coronavirus may contribute to a diminished vitality for those who have been infected, mental burnout should be considered as a temporary measure. As restrictions continue to ease, thanks to the administering of the vaccine and other measures, normality is an approaching concept. However, the public still needs to ensure they are safe in the meantime – from both the virus and the mental health implications of increased pressure during this adverse period. Whether through communicating with friends or supplementary benefits, looking after ourselves should be a priority.
Sources
https://coronavirus.data.gov.uk/ [online] Available at:  https://coronavirus.data.gov.uk/details/vaccinations   [Accessed 1 June 2021].
Kcl.ac.uk. 2020. New research identifies those most at risk from 'long COVID'. [online] Available at:     https://www.kcl.ac.uk/news/study-identifies-those-most-risk-long-covid   [Accessed 1 June 2021].
Georgina, C., 2020. Best supplements to combat 'long-Covid': Dr Chris recommends two essential vitamins. [online] Express.co.uk. Available at: https://www.express.co.uk/life-style/health/1350429/best-supplements-long-covid-vitamin-b-q10-coenzyme-dr-chris, [Accessed 1 June 2021].
Qmul.ac.uk. 2020. SMD - Clinical trial to investigate whether vitamin D protects against COVID-19 - Queen Mary University of London. [online] Available at: https://www.qmul.ac.uk/media/news/2020/smd/clinical-trial-to-investigate-whether-vitamin-d-protects-against-covid-19.html  [Accessed 1 June 2021].
nhs.uk.. Mental wellbeing while staying at home - Every Mind Matters. [online] Available at: https://www.nhs.uk/every-mind-matters/coronavirus/mental-wellbeing-while-staying-at-home/  [Accessed 1 June 2021].
nhs.uk. n.d. Vitamins and minerals - Vitamin D. [online] Available at: https://www.nhs.uk/conditions/vitamins-and-minerals/vitamin-d/  [Accessed 1 June 2021].
Ibbetson, C., 2020. How are NHS staff coping with COVID-19 | YouGov. [online] Yougov.co.uk. Available at: https://yougov.co.uk/topics/health/articles-reports/2020/04/24/covid-19-how-are-nhs-staff-coping  [Accessed 1 June 2021].
Nuffield Foundation. 2020. Teachers' well-being largely unaffected by lockdown | Nuffield Foundation. [online] Available at: https://www.nuffieldfoundation.org/news/teachers-well-being-largely-unaffected-by-lockdown  [Accessed 1 June 2021].
Lufkin, B., 2020. How to avoid burnout amid a pandemic. [online] Bbc.com. Available at: https://www.bbc.com/worklife/article/20200330-covid-19-how-to-learn-a-new-skill-in-coronavirus-quarantine  [Accessed 1 June 2021].
Comments:
Tom said..

It is highly likely that the injection numbers are elevated in order to make it appear as if the majority are complying with allowing the mRNA nano-particle spike protein pricks to proceed without much resistance. Why would anyone get this experimental garbage of which the longer term effects are totally unknown? It usually takes 7-10 years, or longer, before vaccine trials can produce long term results, and the mRNA injections are anything but normal vaccines.

The listed symptoms for long covid are very similar to dozens of other diseases and viruses. Thus, the label of "long covid" could easily be given for other related medical problems, as in being misdiagnosed. I question the ability of many doctors to be specific in their diagnosis of various viruses. So much of modern stone-age medical science is of the one-size-fits-all category. The PCR test is a waste and cannot tell the difference between any virus or a hiccup. So what accurate testing does?

I suspect that most people being told they have long covid have many other medical problems which can present similar symptoms.

---
Post Your Comments: