Your Country

Created by Dr. Bill Cham, Curaderm BEC5 is a skin cream used to treat some forms of non-malignant skin cancers. Its origin is an incredible story involving cows behaving strangely and a home remedy used by Australian cattle farmers.
The fascinating discovery of BEC5 is a reminder that many effective treatments and remedies originate in nature. Plants and animals often provide clues about the hidden effects of natural chemicals and compounds, this is true of Curaderm.
A Local Remedy for Bovine Facial Tumors
In Brisbane, Australia during the late Seventies cattle farmers noticed that some of their cows developed skin tumors around their mouth and nose. The cattle who suffered from these lesions were seen rubbing their faces up against a particular plant that grew around the edge of the field. The plant was a member of the nightshade family (Solanaceae) and called the devil's apple.
The cows would congregate next to these plants, rubbing their muzzles on the leaves and fruit. To the amazement of the farmers, the same cows showed a reduction in the size of the tumors and in several cases the lesions had disappeared altogether. Local farmers began to make salves from the plants and the devil's apple gained a reputation as an effective treatment for bovine facial tumors.
https://www.youtube.com/watch?v=dr3cTJjRfVE
The Discovery of BEC5
When local people told their vet about the salve and its effects, he decided to present it to Dr Bill Cham who was currently working in Brisbane as a medical doctor. Because of his background in biochemistry he was the ideal person to get to the bottom of its effects.
Dr Cham was initially skeptical, but it didn't take him long to realize the potential of the discovery. He put together a research team and they discovered that the anti-tumour effects come from the presence of certain gylcoalkaloids. Once the active ingredient had been identified, Dr Cham's team found that it was also present in other members of the nightshade family, including egg plants (aubergine).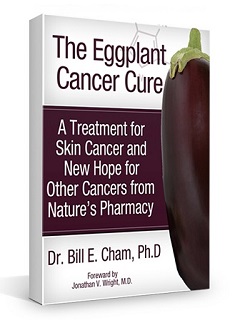 In 1987, they were finally able to extract the specific blend of glycoalkaloids including Solasodine Glycosides. Dr Cham gave this blend his name 'Bill Edward Cham,' which he shortened to BEC5. His team went on to show that BEC5 has key features that could make it a game changer in the treatment of some human skin cancers. This prompted them to formulate the skin cream Curaderm BEC5.
Curaderm: How the Active Ingredients Work 
BEC5 works by explicitly targeting the cancerous skin cells present in basal cell carcinomas and destroying them. BEC5's glycosides can detect the small alterations cancerous cells make to their membranes. They can then enter each affected cell and break it down from the inside. This cell killing action is so specific that BEC5 has no negative effect on the healthy skin cells at the edge of the tumor.
Curaderm also contains salicylic acid and urea, they support the healing of damaged skin and effectively deliver the BEC5 to the site of the cancer. Salicylic Acid is a beta hydroxy acid that is often used on skin to exfoliate, clean and heal areas of damage. Urea is an organic compound which is used to support the skins rejuvenation by removing dead cells.

What are Basal and Squamous Cell Carcinomas?
Basal and squamous cell carcinomas are the cancers that are most effected by Curaderm BEC5:
Basal cell carcinoma – This is the most common form of skin cancer worldwide and incidences continue to increase. It is often caused by long-term exposure to sunlight and starts in the basal cell. These are the cells that produce new skin cells as the others die. These tumors often appear as a translucent bump on the skin and are often found on the head or neck.
Squamous cell carcinoma – The second most common form of skin cancer, these tumors are also caused by exposure to sunlight. It forms in the squamous cells found in the middle and outer layers of skin. Like basal cell carcinoma it is usually not life threatening but it can be more aggressive, spreading to other parts of your body causing wider complications.
While there are many treatments available for basal and squamous cell carcinoma, they often involve surgery or other invasive procedures.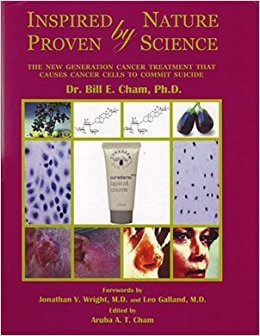 What the Studies have Found 
Dr Cham first reported the tumour-killing action of BEC5 in 1987, but there have been relatively few scientific studies conducted. Fortunately, those that have been completed go into enough detail to show that many of the claims made about Curaderm are factual.
Three pivotal studies involved practical trials of the product:
Dr Cham conducted the first of these investigations himself in 1991. He aimed to record the effect of low concentrations of BEC5 (0.005%). Of the 39 basal and 29 squamous cell carcinomas treated with Curaderm, all regressed. The patients he treated with a placebo showed no effect. He also reported that there was also no adverse effect on the liver kidneys or hematopoietic system.
In 2002, the dermatology department of the Royal London Hospitals conducted the second detailed study. It was a clinical appraisal of BEC5 in the treatment of malignant lesions of the skin and involved a double-blind, randomized trial involving 94 patients. It also featured a second trial, which was an open study of 41 patients.
The results showed a general rate of 78% for the successful treatment of basal cell carcinoma with BEC5. They defined the success of the procedure as "zero presence of basal cell carcinoma after histological examination of samples extracted from the lesion site by punch biopsy."
The study concluded that "BEC5 is a topical preparation, which is safe and effective, ideal therapy for outpatient treatment. Hence BEC5 is a much-needed alternative to surgery for basal cell carcinoma."
In 2007, Dr. Sangeeta Punjabi of the department of dermatology at Hammersmith Hospital in London led the third detailed investigation. It was a double‐blind, randomized study with a placebo‐controlled parallel group. Dr. Punjabi's team conducted it across multiple centers focusing on the effect of solasides on basal cell carcinomas.
The team's objective was to "assess the safety and efficacy of a 0.005% mixture of solasodine glycosides in the treatment of basal cell carcinoma." The study ran across ten centres and had 94 participants, it used a mixture of solasodine glycosides called 'Zycure' which is similar to that found in Curaderm.
Dr. Punjabi used a version of the cream without the solasides as a placebo. She compared it to an active version, which contained 0.005% of solasodine glycosides. The results showed a 66% success rate for the active cream at eight weeks and 78% at one year, compared to 25% at eight weeks for the placebo.
The study concluded that solasodine glycosides show effective clearance of skin tumours with no adverse effects. Dr Punjabi went on to say "While surgery may remain a more appropriate treatment for many patients, we feel treatment with [0.005% Solasodine cream] may prove advantageous if there are multiple small tumors of recent onset and perhaps in these patients where the location of the tumor makes other therapeutic approaches difficult."
Common Trends in the Research:
Despite different approaches all three reported that they had observed:
The ability of BEC5 to distinguish between healthy skin cells and cancerous cells.
That BEC5 was at least 78% effective in the treatment of Basal Cell Carcinomas. 
That application of the cream was safe, and there were no links between it and any adverse effects.
Other Reports on the Use of Curaderm:
As well as these double-blind studies, other scientists have produced summaries, evaluations and case-studies of available evidence:
Dr. Cham's assessment of the research to date was published in 2007 and concluded that Curaderm BEC5 could eliminate skin cancer without harming the surrounding healthy skin cells. He went on to say that much more research was needed to reach any firm conclusions.
In 2011 the Journal of Cancer Therapy published an overview of Curaderm BEC5's effect on skin cancers. In it, Tania Robyn Chase critically evaluated the claims made about the cream and considered them against the available evidence. She concluded, "A topical cream, CuradermBEC5, containing these antineoplastic glycoalkaloids, is very effective and safe for the treatment of non-melanoma skin cancers."
A 2016 case report gave the details of a case in which Curaderm was used to treat a recalcitrant basal cell carcinoma on a patient's nose. The patient had previously undergone three unsuccessful treatments of surgery, radiation therapy and photodynamic therapy. The application of the cream resulted in the complete regression of the tumor, confirming the promising effects of solasodine in the treatment of basal cell carcinoma.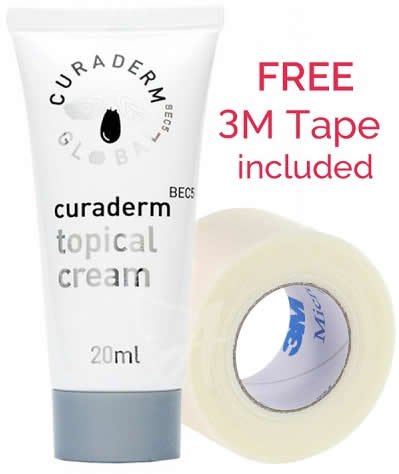 How is Curaderm BEC5 used? 
To treat basal or squamous cell carcinomas the lesion is carefully cleaned and dried, then a thin layer of Curaderm is gently rubbed into the skin around the affected area. The area is then carefully covered with an air and watertight dressing. This is held in place with micropore tape to allow the cream to be absorbed into the skin gradually.
This procedure is repeated every 12 hours for eight weeks.
Some people find that the cream irritates and erodes the lesion making it uncomfortable, but studies reported that there were no long-term concerns related to this.
Conclusion 
The studies that have been carried out on basal cell carcinomas and squamous cell carcinomas have shown incredible results. However, there is still lots to be learned, and more studies are needed to fully understand its effects and the extent of how patients can use it in tumor treatment. It's also worthy of note that many of the same doctors took part in more than one of the studies, it would be helpful to see research from a wider group of doctors.
The current understanding indicates that it is useful for situations when surgery is unavailable, or the tumor is in a position that makes surgery difficult. It also lends itself for use when trying to avoid having to resort to a surgical procedure. It cannot help with melanoma or other more aggressive tumors and there is still lots to be learned about its effect. 
There is no doubt that solasodine glycosides can have a targeted effect on cancerous cells. Because this is a characteristic that many current treatments don't have, there is potential for future studies and applications. In the meantime, Curaderm BEC5 offers a ray of hope for those suffering from basal cell carcinoma.
References
Batsev, AF. et al. (March 28, 2016). Topical Cream Curadermbec5 Treats a Recalcitrant Basal Cell Carcinoma. Retrieved from https://clinmedjournals.org/articles/cmrcr/clinical-medical-reviews-and-case-reports-cmrcr-3-098.php?jid=cmrcr
Cerio, R. (April 23, 2002). Clinical Appraisal of BEC5. Retrieved from https://www.bec5curaderm.com/pdf/ClinicalTrialsRoyalLondon.pdf
Cham, B. et al. (September, 1991). Topical treatment of malignant and premalignant skin lesions by very low concentrations of a standard mixture (BEC) of solasodine glycosides. Retrieved from https://www.ncbi.nlm.nih.gov/pubmed/1913614
Chase, T. (2011). CuradermBEC5 for Skin Cancers, Is It? An Overview. Retrieved from https://file.scirp.org/Html/20-8901214_16648.htm
Cham, B. (2007). Solasodine Rhamnosyl Glycosides Specifically Bind Cancer Cell Receptors and Induce Apoptosis and Necrosis. Treatment for Skin Cancer and Hope for Internal Cancers. Retrieved from http://www.bionational.com/pdf/503-514.pdf
Ciazynska, M. et al. (February, 2018). Trends in basal cell carcinoma incidence rates: a 16-year retrospective study of a population in central Poland. Retrieved from https://www.ncbi.nlm.nih.gov/pmc/articles/PMC5872246/
Mayo Clinic, (June 21, 2019). Squamous cell carcinoma of the skin. Retrieved from https://www.mayoclinic.org/diseases-conditions/squamous-cell-carcinoma/symptoms-causes/syc-20352480
Punjabi, S. et al. (December 17, 2007). Solasodine glycoalkaloids: a novel topical therapy for basal cell carcinoma. A double‐blind, randomized, placebo‐controlled, parallel group, multicenter study. Retrieved from https://onlinelibrary.wiley.com/doi/full/10.1111/j.1365-4632.2007.03363.x
Comments:
No Article Comments available
Post Your Comments: