Your Country

A cancer diagnosis touches everyone, friends, family, colleagues and of course the person who has cancer.  It's is not often recognized that those surrounding a cancer patient have struggles also.  There is often the worry of not knowing what to say, what to do or how to treat a cancer patient. If you are in the position where you don't know what to do, just remember that there are no set rules and every friendship is different. Be sure to think about your unique relationship and let that guide you.  Sometimes giving practical help can make an enormous difference to your friend when words don't seem appropriate or enough.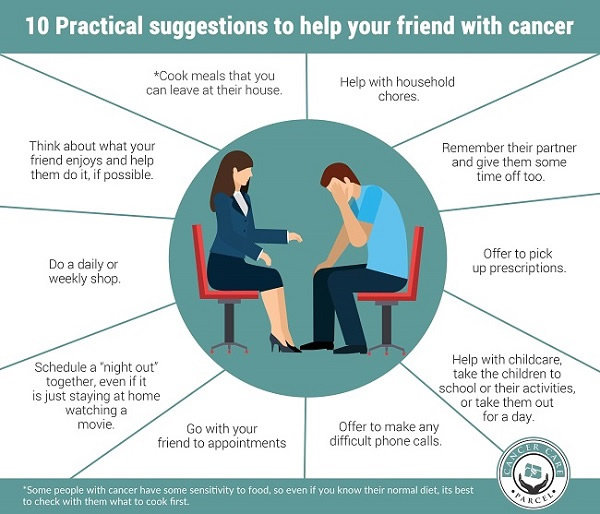 Many People Find it Hard to Ask for Help
For many people it's not always easy to accept help and is usually not easy to ask for it.  You could gently remind them that you do not expect them to return the favour and you do it because you care. While not being pushy, you could suggest specific tasks. Asking "how can I help?" is too broad and maybe overwhelming; the same goes for saying " I am here if you need me" .  Whilst this may be true but, it's very unlikely that your friend will follow up.   One of the best things you can do in these circumstances is to make solid offers of help such as "what meals can I make for you?" or "when can I drive you to the hospital?"
Aspects of your Friend's Life to Consider when Thinking about how You can Help Them
Think about the little things your friend enjoys and what makes life "normal" for them and offer to help make these activities easier;
For example, they may like going to the cinema but don't have the energy to go.  How about suggesting a night in watching TV and bring the movie to them?
Think about their regular chores that may now be difficult to do and help with those; Helping with washing up, shopping and other chores can make a big difference;
Think about how their life is now (appointment, new diets and so on) and offer to help organize those;
Perhaps you can drive them to a chemotherapy appointment or call the GP to check up on prescriptions?
Remember their Family and Responsibilities
Often the person who has cancer has responsibilities to their family, so if you offer to help with the regular family chores you could be taking a lot of stress away. Other ways you could help with the family are
Take children out for the day to give your friend some time to themselves;
Make sure their partner and/or parents are being looked after;
Bring some ready cooked family meals.
And if you commit to helping, it is important that you follow through on your promise.
Only Circumstances have Changed
The important thing to remember is that this person has not changed, but their circumstances have. They may be overwhelmed by the situation they find themselves in. They have worries about their loved ones and about their own mortality on top of a mountain of appointments, specialist visits and treatments. If you can help in any small way or just be there to listen it could make an important difference to their lives.
Last Thoughts
By continuing your friendship and helping organize regular activities after a cancer diagnosis can help the healing process. But it is important to remember that friends also need support after treatment has finished.  After treatment, your friend will be trying to find his or her  "new normal". Friendships are an important part of that. With the practical approach, your friendship will make a lasting difference to your friend with cancer.
References
What to Say and Not to Say to People who have Cancer - http://www.positivehealth.com/article/cancer/what-to-say-and-not-to-say-to-people-who-have-cancer
3 Practical things you can offer to help someone with cancer https://cancercareparcel.co.uk/help-someone-with-cancer/
Different Ways You Can Help Someone Who Has Cancer https://thriveglobal.com/stories/different-ways-you-can-help-someone-who-has-cancer/

Practical suggestions for helping a friend with cancer https://cancercareparcel.co.uk/helping-a-friend-with-cancer/
Acknowledgement Citation
First Published https://cancercareparcel.co.uk/helping-a-friend/
Comments:
No Article Comments available
Post Your Comments: