Your Country

Julie and I had known each other for a number of years before our friendship turned to romance. In February 1992 Julie asked me if I would like to make up a party of four going to France, skiing. Naturally I jumped at the opportunity! Ten months later and seven days before Christmas we eloped to Gretna Green. That evening we phoned the whole family to give them the good news and we had the best evening of our lives. The hotel had an excellent American cabaret performing for the Christmas period. Each member dressed, looked and sang just like a famous American artist. Who else has seen Roy Orbison, Tina Turner, Elvis Presley, Michael Jackson and Madonna perform on their 'honeymoon'? We returned to London almost straightaway and quickly knuckled down to married life. The love and friendship grew stronger by the day.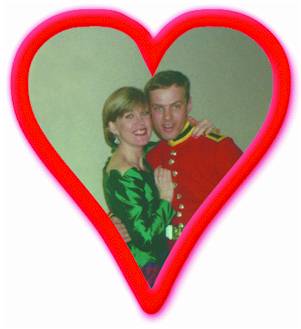 During 1993 Julie had to go for a smear at The Royal Brompton Hospital. Unfortunately they found some abnormal cells and she had them taken out straight away.
In August 1994 Julie was diagnosed as having a malignant tumour in her right breast and there were also cancer cells found in her lymph glands. About a couple of years before we married Julie had a mole removed from her legs. I have, since her death, been led to believe it was far more aggressive in nature than she let on and was, no doubt, malignant as well. Julie always played it down saying that it was benign and only had it removed because she thought it was unsightly. I never pushed the issue, I was definitely the passive partner in the marriage.
Prior to the lumpectomy, Julie and I went for counselling at The Royal Marsden (RMH). We sat and watched some American film discs about breast cancer, survival rates, mastectomies and other cancer-related issues. The films told us a lot more about breast cancer at that stage than had been discussed at the hospital. It made the situation far more morbid and only confused us even more. As we walked back home Julie was upset by all the inconsistencies in information available. Julie wanted to be clear in her own mind what could possibly lie ahead. I think I must have been in a state of shock as I found it hard to keep track of all the important facts and issues. She was far better at sorting the wheat out from the chaff than me. It was a hard pill to swallow for both of us but Julie had the cancer and a young husband. I knew that she was going to need a lot of reassurance and I immediately told her that no matter what happened I would always stand by her and support her.
Julie was more upset by being misguided by inconsistencies or inaccuracies than the thought of having cancer. Was Julie just another guinea-pig for the RMH cancer experimental unit? Or was it just routine patient care? Well, whatever the reason, it certainly upset both Julie and I. I was not only upset because Julie now had cancer but I thought the RMH were not altogether open and frank with us. We just wanted the truth about Julie's exact condition, the likely response to treatment and what the future could hold. We were left feeling confused and on our own.
Thankfully, Julie was a positive person most of the time. Lying in hospital she very quickly made friends with her 'neighbours' and had more time to talk to the staff. After the operation she was more relaxed and the anxiety had virtually gone. I saw a far more upbeat and confident Julie from then on. We were so much in tune with each other, I felt the benefits of that as well. It was just one small blip which we would get over and then move on.
I loved Julie so much but she was definitely not perfect, she couldn't be, she knocked about with me! Of course, she still had her moments and when they came I did my best to reassure her. I told her how much I loved her and that I would always stand by her no matter what happened. She remained in hospital for about a week after the operation. Every morning and evening I took her a smile to keep her going, and when she could, she repaid the compliment! Once Julie was discharged she immediately commenced chemotherapy and then radiotherapy. Julie returned to work soon after her discharge from the RMH. In fact, both our employers were excellent and gave us the time and space when we needed it. I remember how at her firm's Christmas outing Julie wore her Father Christmas hat perched on her wig!
In April 1995, shortly after her treatment finished Julie took her law degree final exams. Not one to sit still, Julie spent the summer temping and then went on to complete a Masters Degree in Corporate Law at university. Julie only withdrew from gaining a Doctorate because the cancer had migrated to her liver. The university asked Julie to join the teaching staff as they realised her potential. She had worked in many law firms, guiding many a 'wet behind the ears' lawyer with her knowledge and natural intelligence. Naturally, she jumped at the opportunity and found it very enjoyable and rewarding.
In December 1996 we spent a week in the Lake District celebrating our fourth wedding anniversary, but Julie didn't feel right. By March 1997 she had discovered a solid lump under her right ribcage. We returned to the RMH for tests and our suspicions were confirmed. The cancer had spread to the liver and Julie immediately began another course of chemotherapy (MVP). Although now terminally ill, Julie was happy to travel back and forth to continue her treatment at the RMH. I just wanted Julie to receive the very best treatment possible so I was only too happy to ferry her about whenever and wherever, nothing else mattered.
Julie had an awful time with the chemotherapy (MVP – Platinum based). She was extremely ill, had mouth ulcers and suffered horrendous pains in her back and chest. In two weeks she lost a stone in weight and hardly ventured further than the bathroom. I was absolutely petrified and I just wanted to burst into tears all the time, but didn't, because Julie had enough to worry about already without having to cope with a wet husband as well. I bottled an awful lot up inside because I had nobody to talk to. Grown men don't cry, or do they? Thankfully Julie was extremely brave about it all and her main concern was how was I going to cope.
While lying in bed recovering from the chemotherapy Julie told me that she was not going to continue with the chemotherapy. Her withdrawal from the treatment didn't really surprise me although I believed it to be a retrogressive step. Wrongly I believed the chemo was the best thing to do. I thought Julie was just giving in. Reluctantly I agreed with her decision, after all, she was the one who was suffering. The Consultants later confirmed that chemotherapy at that stage was only palliative and it would not have prolonged her life anyway.
Julie was not one to lie down and just give in. She did a lot of reading and research and before long her eyes were beginning to be opened by complementary medicine. Going back to our London days we already made plenty of fruit and vegetable juices to supplement her diet. Logic was telling us that if a patient was already sick and struggling what's the point in bombarding him or her with even more chemicals? Julie's liver was already struggling with cancer so what was the point of 'treating' the patient with even more toxins and noxious chemicals, like platinum?
A very good friend of Julie's sent her an article she'd came across about an intensive nutritional-based therapy called the Gerson Therapy. The idea behind the therapy is to help the sick body rid itself of disease by consuming lots of simple organic foods, juices and using non-toxic medication. Primarily, it is the supportive action of these foods and supplements which help the body's immune system deal more effectively with the disease. At first, it appeared that the therapy was just a more scientific and controlled modification of what Julie was doing already. Intensive it certainly was and it completely changed our way of life.
The Gerson Clinic in Mexico provides courses where cancer patients can learn at first hand what is involved. Always ready to try and do whatever was necessary, I then had the problem of raising the £12,000 needed to fund the trip. However, after a lot of turmoil, we decided that the money would be best spent on organic produce and juicing equipment, especially as we could be following this therapy for two years or more.
To me it seemed a perfectly natural thing to do. There were no awful side-effects like you have with chemotherapy etc. It is all just a matter of choice. Do you sit back and wait to die or do you try and emulate other peoples' successes? Other people had made complete recoveries, so we thought we could only give it our best shot. We all have choices and Julie chose this. Things were definitely not straightforward but we were both prepared to give it a go. I drove Julie to the Wirral for a Gerson training day and shortly afterwards to London for a consultation with a Gerson Doctor. By the beginning of May we were up and running.
Julie and I were up at 5.30 am every day and we were still going at 8-9 o'clock at night. Every day 13 freshly prepared juices were made, normally at hourly intervals. By then we were buying nearly all our produce direct from an organic wholesaler. Each juice had a number of various natural medications, compounds and pancreatic enzymes added to assist digestion etc.
Every day I scrubbed, cleaned and prepared the fruit and vegetables, mostly carrots and apples ready for juicing. Once the juices were made Julie drank them straightaway and then after each juice I would clean, scrub and rinse the juicing equipment with our own purified and sterilised water ready for the next juice.
We had an industrial water purification cylinder delivered and I connected it to the mains. Julie and I were going through 150lbs of fresh organic produce a week. Everything she used and came into contact with had to be pure, non-perfumed and unadulterated in any way. What we couln't get through the wholesaler, we bought over the phone or I collected. We had three freshly-prepared full vegan meals a day and a soup which was definitely an acquired taste. During the peak of the therapy Julie was having five enemas a day to assist detoxification and a crude liver extract injection (B12).
The therapy was extremely onerous on both of us. Physically, mentally and emotionally I was carer and in many respects it was the hardest job I had ever done, but one thing for certain, it was definitely the most rewarding.
Whatever Julie wanted to do I was there to help her and made the necessary arrangements if need be. With the aid of both families, friends and various organisations we had sufficient financial help. What we did lack was the real physical and constructive support. What did shock and upset us both was the manner in which Julie's GP dealt with the situation. We knew that as far as they (medical profession) were concerned Julie was already 'written off', we were not at all under any illusion that this was not the case. However, Julie was still alive and she was definitely going to fight it all the way.
Julie needed her GP to sanction blood tests for the Gerson Doctor. Her GP was happy for Julie to have regular blood samples taken at the surgery but apart from that her attitude was anything but helpful. The GP told Julie she was wasting her time, the therapy couldn't work, she should accept that she was going to die sooner rather than later and instead of wasting her money (i.e. on organic produce!) she should be out enjoying herself! Having seen how quickly people in Julie's condition deteriorate I couldn't understand why she was told to 'go and enjoy herself'. Of course Julie knew what she was doing and the costs involved. She was always so sure of herself. Would it not have been better for the GP to keep her patronising views to herself and offer a few words of encouragement instead? Psychologically it made the struggle harder because she faced negativity and pity everywhere she went.
How come you cannot have the funds to follow a treatment or therapy of your own choice? How much would that second course of chemotherapy cost the NHS if Julie had decided to continue her treatment? What's its track record and success rate after all? The dieting regimes certainly made Julie feel and look better for at least nine months. To Julie the Gerson Therapy was far more palliative than any course of chemotherapy and, of course, it didn't have any awful side-effects either.
As time went by Julie read book after book about nutrition, the digestion process and other complementary medicines. She continually adjusted her therapy to suit her own individual needs. Eventually Julie decided that a mainly raw diet was more suitable to her needs. She read a book by Norman Walker and by the beginning of August switched to the Dries Diet. Naturally, I just wanted Julie to do whatever she thought was best. How can you count the time and money in a situation like this? I couldn't, the time and money was immaterial. Thankfully Julie relied heavily on her own intuition and instincts so I was rarely called upon for my advice. I tried my hardest to comply but with all the best will in the world you do stray. If I had a boiled egg with my salad for instance, I would have to suffer a disapproving glance or a verbal confrontation because I already had a jacket potato on my plate.
Naturally, Julie was prepared and willing to try everything. There was not a complementary medicine or treatment she was not prepared to investigate or try. She tried iridology, colonic irrigation and spiritual healing all over the country. At the hospice she also had aromatherapy and reflexology. Julie began to see a more holistic approach to her treatment.
Julie was so positive and determined to beat it. For a few months during the previous summer she was convinced it had gone. This was not at all surprising as she looked really good, her complexion was soft and healthy, she had boundless energy and a real zest for life. She would not even accept the remission theory, it had most definitely gone. Of course, there was nothing I wanted more but unfortunately I couldn't get my head around that theory so quickly after the diagnosis. I just wanted to see what the forthcoming months had in store for us, after all, it was only four months after the diagnosis. (The prognosis was 6-18 months to live.)
Julie had to confront this negativity everywhere, she didn't have to leave the house for it, it came in the post and on the telephone. Julie was right and her frustration more often than not was directed at the older generation who, for all their good intentions, were continually upsetting Julie.
By Christmas Julie had already started to have problems again with her health. Her chest was playing her up as were other areas. The concern, anxiety and stress was dragging me down as well. We both had a stomach bug which left us both weak and depleted. I went down to ten stone and looked sick with it. We took a break and went to Scotland in the January. Thankfully the weather was good for the time of year and Julie even came out walking with me.
We struggled on until March when Julie decided that she wanted to go away for a long weekend and see her family. This short weekend break turned out to be a permanent arrangement. Julie went in to hospital and, with the aid of modern medicine, passed away peacefully on 26 April.
I am longing to return to some kind of normality once again but it's going to take time. I'm going to be a better person for it all and I already see things in a new and brighter light. I have so much to thank Julie for.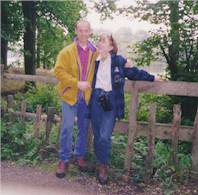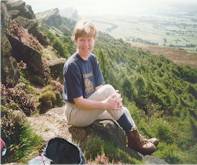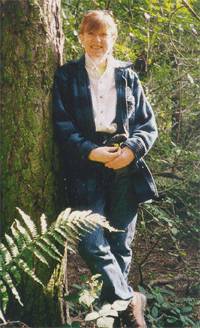 After this article was published, we received this letter from her husband...
Thank you very much for sending me a copy of the October issue of Positive Health this week. Your introduction and the rest of the Breast Cancer Special Feature makes a very interesting and informative read. Your magazine certainly incites a lot of worrying and sobering thoughts. I thought your editorial was really good as well. Julie had a "shining spirit" and she also fought her battle with incredible determination and self-belief. Unfortunately, too many of us just glide through life not taking a blind bit of notice of what we are doing to our health and our environment. Julie had for a long time known this to be true but tragically it was too late in her life to make a real impact and she died well before her time.
During her childhood Julie's parents took her to the seaside to bake unprotected in the sun but then people didn't know any better I suppose in those days; my parents were the same. Later on at the beginning of the 80s Julie went off trekking around New Zealand and Australia. With her fair skin and ginger/blond hair I doubt whether she had enough protection even then. Having been badly exposed I think it was just a matter of time before the cancerous cells appeared and eventually took total control of her body.
I also enjoyed reading the "Creative Writing for Health" article. I have been for counselling which has helped in some respects but funnily enough, although I really struggle putting my words and thoughts down on paper I still nevertheless find it challenging and therapeutic, especially when I produce something to be proud of.
It is my intention to donate my writer's fee to the Linda McCartney Memorial Appeal, a Cancer BACUP appeal to pay for a permanent nurse post in memory of Linda McCartney.
Did I tell you about what we did with all the donations that were made to "Julie's Fund"? Whilst Julie laid in hospital she discussed at great length with the Ward Manager what could be done to make The Rowan Breast Unit a more homely and comfortable place for future patients. Jenny suggested a table and set of chairs for the Unit Day Room, a communal room set aside solely for patient use. The table would then provide a more dignified place for patients who were able to get out of bed to have their meals and play games on etc. It also meant that the nursing staff and auxilaries could feed a few patients all at the same time thus relieving other members of staff to undertake other essential tasks etc.
Naturally after Julie passed away it seemed the most appropriate thing to organise and then have delivered in her memory. I also bought a glass protective safety top (toughened glass) for the table, heat resistant plastic sheeting and cut it to the length and shape of the table, place mats to match, 22 very colourful flower vases, a smashing radio/music centre and 25 CDs (which it holds all at the same time) and if left on random play will just play and play and play...
Once again thank you for the magazine and publishing my article.
- Julie's Husband
Comments:
No Article Comments available
Post Your Comments: