Your Country

Introduction
In the 1920s Canadian nurse Rene (pronounced 'Reen') Caisse developed a herbal remedy that is believed to have a positive remedial action on cancer, and is also reputed to ease the effects associated with conventional chemotherapy treatment. The Canadian nurse named the formula essiac, which is a reversal of her surname. It is made by blending four commonly available herbs; Sheep sorrel (Rumux acetosella), Burdock (Arctium lappa), Slippery elm bark (Ulmus rubra) and Turkey rhubarb (Rheum polmatum) into a decoction. Rene opened a cancer clinic and treated hundreds of people that had been given up on by conventional medicine as terminally ill. At one point, she even took on the Canadian government for the right to do so. Her results were sometimes outstanding and, although she never claimed essiac was a cure for cancer, many of her patients did. Despite the wealth of anecdotal evidence supporting essiac as a remedy for cancer, it is alarming that a clinical trial has not yet been performed. Is this because at trade prices a year's supply only costs £3.72?
Clouds Trust (www.cloudstrust.org) is a secular charity based in Hampshire, England, that continues to investigate the efficacy and costs of complementary medicine, particularly in relation to cancer. Mali Klein is the founder of Clouds Trust and co-author of Essiac Essentials and The Secrets of Rene Caisse's Herbal Pharmacy with Sheila Snow. Sheila worked alongside Rene Caisse for three years and collected many valuable quotes and insights. Mali and Sheila have unique access to archives of information and have interviewed many reliable sources.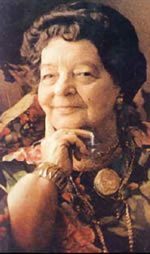 Rene Caisse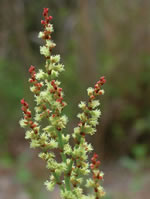 Sheep Sorrel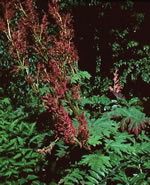 Turkey Rhubarb


Burdock Root

Slippery Elm
History
The essiac herbs came to Rene Caisse's attention in the 1920s while working as a nurse. An elderly patient claimed her breast cancer had been sent into remission after using an eight herb formula prescribed by a Native American herbalist thirty years previously. Rene noted the ingredients and, when her own aunt became ill with cancer, persuaded Dr Fisher to let her treat her aunt with the herbs. The results were outstanding and Rene's aunt lived for another 21 years. Dr Fisher was so impressed he began to send patients to Rene that had been given up on by conventional medicine as terminally ill. He became the first of many advocates for Rene's treatment.
Rene opened a cancer clinic in Bracebridge, Ontario, where she treated hundreds of people for free. The results she obtained treating people with cancer can only be described as miraculous. These results are recorded by the 1939 Cancer Commission, set up by the Canadian government to investigate Rene's work. Patients from the Bracebridge clinic described under oath how their cancers were broken down and passed out of their bodies. Rene's research evolved the original eight herb formula into the four herb formula known as essiac.
In total, over 50,000 signatures were collected in support of Rene's work. The first petition was signed by eight doctors in 1926 and sent to the National Health and Welfare Department in Ottawa. The response was to send Dr Arnold and a colleague to arrest Rene for practising medicine without a license. However, when they arrived and saw the eminent physicians working with and supervising Rene, they did not make the arrest. Instead, Dr Arnold became very interested in Rene's results and her work and arranged research facilities for her. The last petition was presented to the Canadian Government in 1938 with a Bill requesting that Rene Caisse be allowed to practise medicine in Ontario in the treatment of cancer. The bill failed by only three votes.
Rene wrote: "I did not know then of an organized effort to keep a cancer cure from being discovered, especially by an independent researcher not affiliated with any organization supported by private or public funds. Tremendous sums have been raised and appropriated for official cancer research during the past 50 years, with almost nothing new or productive discovered. It would make these foundations look pretty silly if an obscure Canadian nurse discovered an effective treatment for cancer!"[1]
The Bracebridge Clinic closed in 1941. Rene continued to provide essiac latterly for free from her kitchen, with the help of Mary McPherson. Right up until her death in 1978 aged 90, she fiercely guarded the formula, only revealing it to a trusted few. She sold the Resperin Corporation the formula for $1, but it is now believed that she may have purposely sold them the wrong one.
A statue of Rene Caisse now stands outside the Woodchester Villa Museum in Bracebridge, Ontario, and there is also a memorial room dedicated to her work.
What is Essiac?
The term essiac is a blanket term that covers the four herb formula devised by Rene Caisse, as well as the Sheep Sorrel solution and any other variations occasionally used for individual patients. For example, one witness from the Bracebridge clinic days testified to having collected a supply of Gold thread herb (Coptis groenlandica) for Rene, which she used for some of her patients. The action of the Golden seal herb (Hydrastis canadensis) most closely resembles the action of Gold thread.[2]
The original eight herb formula prescribed by a Native American would have been specifically for the one patient. Rene's research developed the formula into the four herbs but she still left room for individual variations in the tradition of Native American medicine.
There are many essiac products on the market that claim to be selling Rene Caisse's formula. It is also sold as Flor-essence. Unfortunately, some products are not up to the same standards and some are outright frauds. Carefully check the ingredients as similar sounding substitutions are sometimes made. There is also the issue of quality of ingredients.
How Does it Work?
Evidence of anticancer activity for essiac is limited to anecdotal reports. Individual case studies suggest that the tea improves quality of life, alleviates pain, and, in some cases, impacts cancer progression among cancer patients. Experimental studies with individual herbs have shown evidence of biological activity, including antioxidant, antioestrogenic, immunostimulant, antitumour and antiocholeretic actions. However, research that demonstrates these positive effects in the experimental setting has not been translated to the clinical arena. Currently, no clinical studies of essiac or Flor-essence have been published.[3]
Rene believed that essiac worked in a similar way to insulin. Diabetes is not cured by insulin but is controlled. She was fortunate to work with Dr Banting who won the Nobel prize for the discovery of insulin. Rene wrote: "It is my conviction that cancer results from a glandular deficiency. Essiac is a combination of non-toxic herbs, given by hyperdermic injections into the muscle and it may also be taken orally.
"I believe that it supplies a deficiency of a secretion ordinarily supplied to the human body by a gland of undiscovered origin, which I call 'Gland XOX'. This gland should supply the body with a secretion that is resistant to cancer tissue. Lack of this secretion allows malignant cancer cells to prey upon and invade healthy cells and take control of the human body, growing and multiplying until the invasion of the malignant cells into vital organs takes place, stopping the functioning of these organs and causing death."[1]
Gland XOX may be what is now known as the immune system.
Mali Klein explains: "Essiac is a perfect example of synergy. The four herbs are blended together and then brought to boiling point for ten minutes. We believe the release of oxalic acid and how it alters during the heating process actually helps to produce the synergistic effect. So it's a perfect example of where essiac is greater than the sum of its parts."
Herbs
Burdock root (Arctium lappa)
Natural healers revere this herb as nature's best blood purifier, that is, they believe that it rids the body of dangerous toxins. Many herbalists recommend this herb for its diuretic action.[4]
Sheep sorrel (Rumex acetosella)
The action is diuretic, refrigerant and diaphoretic, and the juice extracted from the fresh plant is of use in urinary and kidney diseases. Sheep sorrel is rich in oxalic acid in the form of potassium oxalate. Oxalic acid has been shown to be a powerful oxidizing acid that stimulates the human system into activity.[5]
Mali Klein said: "Sheep sorrel is far more potent than periwinkle (certain conventional chemotherapy drugs are derived from periwinkle). Make sure they get the Sheep Sorrel right. That's the one that acts directly on the cancer. People can't use it by injection because that's illegal at present. They use it topically, they use it as mouthwash, enema and douche and they get some pretty amazing results with a Sheep Sorrel decoction alongside the four herbs."
Slippery elm (Ulmus rubra)
Slippery elm bark is a widely used herbal remedy and is considered to be one of the most valuable of remedies in herbal practice. In particular, it is a gentle and effective remedy for irritated states of the mucous membranes of the chest, urinary tubules, stomach and intestines.[6]
Turkey rhubarb (Rheum palmatum)
Rheum palmatum is a laxative, but it is also astringent which relieves diarrhoea. It stimulates the appetite as well as the digestive juices throughout the digestive system. It cleans the blood.[7]
The Future
The British Columbia Cancer Agency began a trial of essiac but was forced to close the trial due to failure to accrue enough participants. Dr Ursula Lee, medical oncologist at the BC Cancer Agency, said: "There is a huge amount of information, and misinformation, about 'cancer cures', but without any evidence grounded in well conducted clinical trials to support these claims. Without clinical trials there is no objective means of determining what is useful and what is harmful.
"There is no evidence to support essiac's claims of effectiveness as a cancer treatment. There is also no good evidence to say that it is harmful", said Dr Lee. And this is how the situation will stay until a clinical trial is performed. Essiac will continue to have a mythical status and be supported by anecdotal evidence.
Clouds Trust endeavours to follow Rene Caisse's exact procedure in processing the herbs and making up the recipe in order to promote awareness of the qualities of the correctly crafted formula. Mali said: "The trouble is, with most of the people doing studies, how do we know what quality of essiac they are using? How do we know they have got the right formula? I think a clinical trial would be very necessary. I've always said from the beginning of Clouds Trust that I was very willing to donate any amount of the herbs for a proper trial if only someone would do one. And nobody has bothered. It's a very closed shop – the pharmaceutical world. The bottom line of it – Sheep sorrel is too cheap. Most people have it growing as weeds in their gardens. It's classified as a pernicious weed and it's not expensive to produce."
Case Study
CA had been given three months to live after being diagnosed with terminal liver cancer. The doctors said there was nothing more they could do and prescribed pills to make the patient as comfortable as possible. Her son was not satisfied with the prognosis and began researching for an alternative. She was given essiac and, to the surprise of the doctors, lived another two years. Her
family believe two good quality years were added onto her life by taking essiac.
References
1. Caisse RM. I Was Canada's Cancer Nurse: The Story of Essiac. Cancer Club of Canada. Toronto.
2. Clouds Trust. info@cloudstrust.org;   www.cloudstrust.org.
3. Tamayo C. et al. The chemistry and biological activity of herbs used in Flor-Essence herbal tonic and Essiac. Phytother Res. 1: 1-14. 2000.
4. Mindell E. The New Herb Bible. Vermillion. UK.
5. Hopking A. Materia Medica.   www.godshaer.co.uk/herbal-rs.htm
6. Nutrition for a Living Planet.   www.diet-and-health.net
7. Dickens, T. Down to Earth.   www.reiki-chi-machine-uk.com/page11.html
Resources
Clouds Trust. info@cloudstrust.org;   www.cloudstrust.org
Klein M. A Future Beyond the Sun. Fisher Miller. UK. 1997.
Organic Herb Trading. www.organicherbtrading.co.uk
Snow S and Klein M. Essiac Essentials: Rene Caisse's Herbal Cancer Remedy. Gill & Macmillan. UK. 1999.
Snow S and Klein M. Essiac: The Secrets of Rene Caisse's Herbal Pharmacy. Gill & Macmillan. UK. 2001.
Further Information
Essiac Essentials: Rene Caisse's Herbal Cancer Remedy by Sheila Snow and Mali Klein (Newleaf. 1999. ISBN 1-85860-057-X) and Essiac: The Secrets of Rene Caisse's Herbal Pharmacy by Sheila Snow and Mali Klein (Newleaf. 2001. ISBN 0-7171-3228-5. Both books are available from bookshops and by mail order from International Flower Essence Repertoire. Tel: 01428 741572; flower@atlas.co.uk
Comments:
John Russell said..

I was told about this remedy towards helping with cancer l have been told I have multi-myloma and a friend who works for age UK told me to contact you as you could advise me on possibly a better way to deal with my health problem thank you JOHN.




---
Post Your Comments: