Your Country

Turmeric extract, curcumin, has been classified as a potent anti-inflammatory agent in the treatment of arthritis, heart disease, diabetes, and cancer, and a natural anti-inflammatory alternative to NSAIDs for the relief of arthritic pain.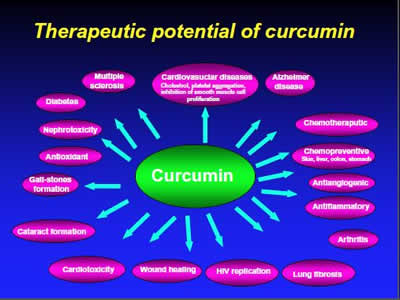 Breast Cancer and Curcumin
Matrix metalloproteinase-3 (MMP-3) is a key enzyme with important implications in the invasion and metastasis of breast cancer cells.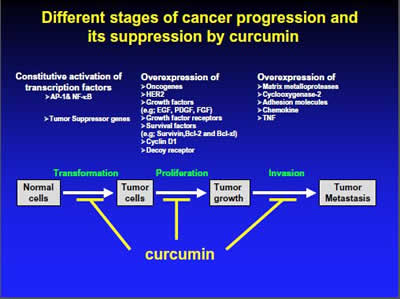 A peer-reviewed study shows "…ELISA assays showed MMP-3 levels were significantly decreased in all curcuminoid treatments." The inhibitory effect of turmeric curcuminoids on matrix metalloproteinase-3 secretion in human invasive breast carcinoma cells
www.ncbi.nlm.nih.gov/pubmed/20661707
Why Curcumin/Turmeric? - The Role of NF-κB
Curcumin Downregulates the Constitutive Activation of NF-κB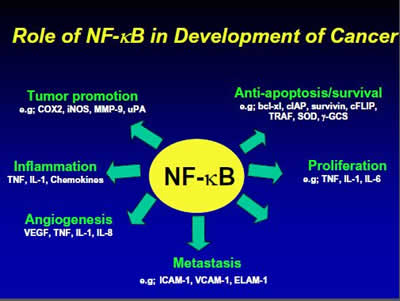 NF-κB [Nuclear factor-kappaBeta] plays a central role in inflammation through its ability to induce pro-inflammatory responses.
The activity of NF-κB has been implicated in atherosclerosis, arthritis, inflammatory bowel disease, rheumatoid arthritis, and septic shock, malignant transformation and tumour growth (e.g., certain blood cancers and solid tumours), and bone breakdown and rebuilding (osteoporosis).
NF-κ B can be generally thought of as a "biological switch" that can be turned off in cells to treat these diseases.
"NF-κB is activated by several agents, including cytokines, oxidant free radicals, inhaled particles, ultraviolet irradiation, and bacterial or viral products.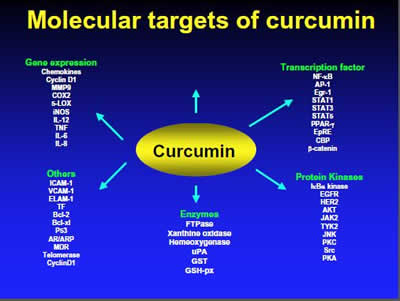 In contrast, complete inhibition of NF-kappaB has been linked directly to apoptosis [cancer cell death], inappropriate immune cell development, and delayed cell growth.
The University of Texa M D Anderson Cancer Center has released their non-traditional endorsement of curcumin.
"Leukemia, breast, ovarian, lung cancers, as well as, melanoma, glioma, and sarcoma may well respond to this age-old Spice."
Turmeric may help inhibit tumor growth http://houston.myeloma.org/Tumeric.pdf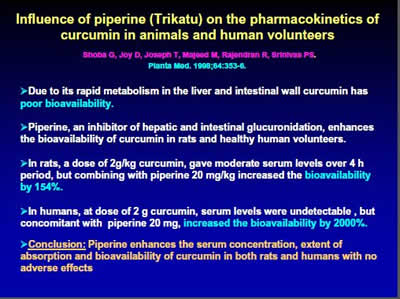 The same studies showed in humans, at dose of 2 grams [less than ½ teaspoon] curcumin, serum levels were undetectable but concomitant with piperine 20 mg [black pepper] , increased the bioavailability by 2000%.
"A variety of animal models and human studies have proven that curcumin is safe and well tolerated even at very high doses."
Curcumin and Prostate Cancer
Prostate cancer is the second leading cause of cancer-related deaths in the United States.  Androgen reduction therapy is largely effective against hormone-sensitive tumors, and tumor buds often emerge after hormone therapy. Apoptosis is the underlying mechanism by which most anticancer therapies including chemotherapy, radiation, and anti-hormonal therapy kill tumor cells.
However, the use of these apoptosis-inducing antitumor agents is limited by unacceptable systemic toxicity.
While a high-fat diet has been implicated in the occurrence of human cancers, including prostate cancer, several compounds found in common plant-derived foods have been recognized for their anticarcinogenic properties. Curcumin, the yellow pigment found in the spice turmeric extracted from the rhizome of the plant Curcuma longa, has been shown to have strong anti-inflammatory, antioxidant activities.
It is also not entirely clear how curcumin promotes apoptosis, but it may be related to the effect of curcumin on genes that regulate apoptosis. 
Curcumin downregulates cell survival mechanisms in human prostate cancer cell lines.
www.ncbi.nlm.nih.gov/pubmed/11753638
Curcumin in Various Cancers
http://onlinelibrary.wiley.com/enhanced/doi/10.1002/biof.1068
"In the current study, the anti-inflammatory effects of curcumin were evaluated relative to various chronic inflammatory diseases. Based on the available pharmacological data obtained from in vitro and in vivo research, as well as clinical trials, an opportunity exists to translate curcumin into clinics for the prevention of inflammatory diseases in the near future."
Curcumin in Inflammatory Diseases
http://onlinelibrary.wiley.com/enhanced/doi/10.1002/biof.1066
Photo Credits Acknowledgement Citation
The images in the above article were obtained with permission from The University of Texas MD Anderson Cancer Centre.:
Bharat B Aggarwal PhD. Anticancer Potential of Curcumin
Comments:
No Article Comments available
Post Your Comments: