Your Country

What Is It?

The M Technique is a registered method of gentle touch, suitable for anyone wanting to touch someone who wants to be touched. The M Technique™ is a series of stroking movements performed in a set sequence at a set pressure and set pace. It is different from conventional massage, as it follows a choreographed sequence of strokes that never changes. The M Technique™ is suitable for the critically ill, actively dying, or very fragile. It can also be used if the receiver is just stressed, or when the giver is not trained in massage. It is much lighter than conventional massage. If you were to measure pressure on a scale from 0-10 when 10 is crushing and 0 is no pressure, the 'm' is a constant 3. This is gentle enough for even the most fragile patients. The technique has been successfully used with the critically ill, actively dying, during operations, immediate post-operatively, on labouring women and in neonatal Intensive Care Units. It can also be used in certain conditions such as breathlessness or varicose veins when massage would be contraindicated. Because the M Technique™ is tightly choreographed, this frees the giver to concentrate on being present with the patient, rather than thinking about what stroke is required next.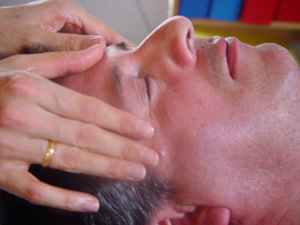 The M Technique™ is very simple to learn – the training programme is only 14 hours (over two days). Each stroke has a mnemonic name to help the giver remember the stroke. Each stroke is repeated three times. This simple repetition builds up a profound sense of relaxation within minutes, as the receiver is quickly lulled into a hypnotic like trance that totally relaxes them. The giver is also relaxed as they concentrate on being totally present and counting the strokes.
Why Was It Created?

Many years ago I was a critical care nurse. I wanted to communicate with my patients and let them know I was there for them, that I cared, but many of my patients did not speak English. Many could not communicate with me because they were so sick or were intubated (had breathing tubes). I felt touch could be the way, and so I trained in conventional massage. Learning massage was very empowering, but most of the strokes were inappropriate in a critical care setting. I experimented and found that the repetitions of gentle stroking movements calmed agitated patients, particularly if those movements were done in a set pattern. The M Technique™ was registered in 1998 with United States Patent and Trademark Office. Reg No. 2,203,159 and is protected. Copyright laws apply in the UK and USA. Worldwide rights pending.
The M Technique™ has been described as 'physical hypnotherapy', 'a spiritual dance' and 'the essence of nursing' [1] and is profoundly relaxing for both giver and receiver.
By the time I returned to the UK in November 2005, I had taught this to about 5,000 people across the USA. In the USA, it is now used in approximately 40 hospitals (please see Table 1), and it is beginning to be accepted as part of nursing care. Several hospitals such as Valley Hospital, Ridgewood, NJ, Harris Methodist, Fort Worth, TX and Westchester Medical Centre, NY have specific protocols and policies.
Figure 1: Hospitals using the M
Technique™ in the USA

Avera Benedictine Centre, Yankton, SD
Banner Desert Medical Centre, Mesa, AZ
Beaver Dam Community Hospital, WI
Children's Hospital. St Paul, MN
Deaconess Hospital, Evansville, IN
Franklin Medical Centre, Greenfield, MA
Gillette Children's Hospital, St Paul. MN
Good Samaritan Hospital, Kearney, NE
Harris Methodist Medical Centre, Fort Worth, TX
Hennepin County Medical Centre, Minneapolis, MN
Highlands Hospital, Rochester, NY
Highline Community Hospital, Burien, WA
Hillside Rehab Hospital, Warren, OH
Ingham Regional Medical Centre, Lansing, MI
Mercy Hospital, Dubuque, IA
Mercy Hospital, Edmund, OK
Mercy Hospital, Oklahoma City, OK
North Westchester Hospital, Mt Krisco, NY
Obici Hospital, Suffolk, VA
Pinnacle Health Polyclinic Hospital, Harrisburg, PA,
Shawn Medical Centre, WI.
Sierra Nevada Memorial Hospital, Grass Valley CA
St Clare's Hospital, Baraboo, WI
St Clare's Hospital, NJ
St Johns Hospital, Maplewood, MN
St Luke's South Shore Hospital, MI
St. John's Riverside Hospital, Yonkers, NY
St. Joseph's Hospital, St Paul, MN
Stamford Hospital, CT
UHHS Heather Hill Hospital, Chardon, OH
United Hospital Heart & Lung Centre, St Paul, MN
University Hospital Health Systems, Eastlake, OH
Valley Hospital, Ridgewood, NJ
West Allis Memorial Hospital, WI
Woodwinds Health Campus, Woodbury, MN
Aurora Healthcare System, WI
VANJ Healthcare System, NJ
Planetree Hospitals throughout USA

The M is currently being used in about 14 hospices in the UK, and word is spreading. For a list of hospices, please see Table 2. (We give a large discount to hospices). Anyone can learn this technique; they do not need to be a therapist: the training is open to carers and relatives as well as therapists and nurses. We give a certificate of attendance to all who complete the course, but only therapists and health professionals can qualify as an M Technique™ practitioner and go on the practitioner database.
Figure 2: Hospices currently using the M Technique™



Merton Hospice Warwick
Shakespeare Hospice Stratford on Avon
St Francis Hospice Romford
Bury St Edmund Hospice
Leckhampton Court Hospice Cheltenham
St Helena's Hospice Colchester
St Elizabeth Hospice Ipswich
Christie Hospital, Manchester
Wakefield Hospice
St Richards Hospice, Worcester
Hornsea Palliative Day Care Hospital
Shalom House, St Davids, Wales
Any Research?

In 1996, research was carried out at Columbia Presbyterian Hospital, New York. The M Technique™ was applied to legs of medical students, and within five minutes showed a calming influence on heart-rate variation, which is used to measure parasympathetic peaks (relaxation response). During the 11 years I lived in the USA, we carried out several pilot studies. Several were on end of life agitation and were studied at Beth Israel Hospice New York, Scranton Hospice Pennsylvania and Harris Methodist Hospice Texas. Results indicated that a five-minute hand M Technique™ reduced terminal agitation, pain and dysopnea. Another study was done with labouring women at Banner Desert Medical Centre, Arizona. In this study, the 'm' technique reduced anxiety and allowed the woman to progress through labour faster.
In 2001, Vicki Slater a PhD RN carried out research on the M Technique™ She measured its effects on mood, muscle tension and relaxation (n = 14). Data was analyzed using a paired t test. The effects of the M were statistically significant (p = <0.005). The study was done in compliance with the requirements for a professional development course and sadly never published.
In 2005, The American Massage Foundation funded clinical research that was carried out at University of Pennsylvania, PA. The effects of the M Technique™ were compared to the effects of conventional massage (Swedish) using SPECT brain analysis (Single Photon Emission Computed Tomography. The effects of the two methods of touch on the brain were different. The M Technique™ appeared to have a more profound effect than massage. It was a small study and the findings need to be replicated for any conclusion to be drawn. However, it is has exciting implications for the 'm' technique. The research findings have been published in the October issue of
Journal of Complementary & Alternative Medicine
– a peer-reviewed journal.
Is It Useful to Nurses?

I have received many letters from nurses saying how the M Technique™ allowed them to give Tender Loving Care (TLC) to their patients in a simple, dignified, acceptable and timely manner, and how the technique produced a profound effect on the patient-nurse relationship, and their own self-worth as a nurse. The technique is being used in many hospitals across the USA. One hospital, Valley Hospital, NJ had decided that all nurses working there should learn the technique. Lori Mitchell, a critical care nurse in Kalispell, Montana found it helped calm patients prior to extubation. Marie-Alice Miller, another critical care nurse (in Banner Desert Medical Centre, Mesa, Arizona) found it helped a patient with multiple sclerosis to relax. The patient was ventilator-dependent and very apprehensive. This technique has been used in almost every hospital department with beneficial effect. Several articles have been published in the nursing press about the M Technique™ [2,3,4,5] and in the world of complementary medicine.[6,7,8,9,10,11]
Can Anyone Do It?

Yes! Anyone can do the M. As well as wanting to comfort the very critically ill, I wanted to empower relatives and friends who might be sitting with a critically ill (or actively dying) friend or relative. Often relatives and friends feel there is nothing they can do. The technique is comforting and nurturing for those in the last hours and moments of life, and it has been shown to reduce end-of-life anxiety.  
I have taught it to a very young girl who was visiting a relative in an intensive care unit. She did not want to be there. She was clearly worried by all the strange noises and equipment. Her father did not know what to do. He could not leave his daughter all on her own in the corridor, but he was nervous she would trip over something and cause a disaster. I asked her if she would like to touch her grandfather. She shook her head. I asked her if I could. She nodded with solemn eyes. I began to do the M Technique™ on her grandfather's hand, quietly explaining what I was doing, for her grandfather's benefit (patients in a coma do often hear what is said to them), as well as for the little girl. She edged toward me, fascinated. "Would you like to try?" I asked. She shook her head sadly. "It's really easy," I encouraged. "Look". She watched as I repeated the movements. Then she held out her hands.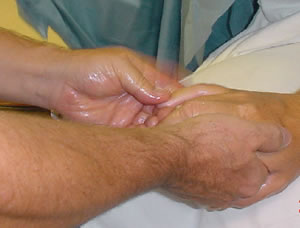 Within a few moments she had grasped the essentials – slow speed, gentleness and rhythm. She became quite engrossed in her task, communicating her love for her grandfather through the M Technique™ – no longer a cross and distressed granddaughter, but a little therapist empowered and wanting to give comfort. I shall never forget the change in her, nor the change in the whole intensive care unit, as she began to quietly sing as she worked.
To be honest, the M is my life's work. This is what I am meant to be doing and what I hope to do for the rest of my life. Being present with a critically ill or dying relative is at the very heart of being human. Yet, at those times, it is difficult to be present. It is difficult to just 'be'. The technique allows you to do something when there is nothing that can be done. It allows you to speak with your hands and thus play an active role in the act of dying - to really be there at the transition. A nurse wrote "The M Technique™ enables you to enter a spiritual dance with the strokes as the music" [12]. You have heard of Mind-Body medicine. Well this is Body-Mind medicine! And research shows it really works.
Take Away Message

Even in these busy times, we can find five minutes. That five minutes could reduce the need for medication, calm an anxious patient/relative, or just help you get back in touch with why you cared in the first place. The M Technique™ is simple enough to teach to almost anyone, and it has a profound affect on both giver and receiver.
References

1.    Ondash E.
Massage Technique Helps Relax Patients.
In Spotlight on Nurses. Nursezone Feature Story.
www.nursezone.com/stories
. Accessed 08/03/06/ 2006.
2.    Buckle J.
Take five and relax.
[Journal Article, Pictorial]
Nursing Spectrum
(New York/New Jersey Metro Edition). 18A(11): 23. 22 May 2006.
3.   
M stands for 'magic' touch . . .The magic of touch.
16 January 2006. [Journal Article, Commentary, Letter]
Nursing Spectrum
(New York/New Jersey Metro Edition). 18A(11): 4. 22 May 2006
4.    Buckle J.
The 'M' technique: physical hypnotherapy for the critically ill.
[Journal Article, Pictorial]
Massage & Bodywork.
15(1): 52-5, 58-9, 64. Feb-Mar 2000.
5.    Wengert E.
Touch of a Nurse.
Advance for Nurses. P13. 16 May 2005.
6.    Buckle J.
The M Technique™
. In
Clinical Aromatherapy: Essential Oils in Practice.
Churchill Livingstone. New York. P152-154. 2003.
7.    Lantin B.
Gentle Strokes for Happy Folks.
In
Body & Soul. The Times.
28 July 2007.
www.timesonline.co.uk/tol/life_and_style/women/body_and_soul/article2152112.ece
Accessed. 14/8/08.
8.    Buckle J.
The M Technique™
. Associated Bodywork & Massage Professionals.
www.massagetherapy.com/articles/index.php/article_id/325
. 2003.
9. Buckle J.
A New Touch Technique to Soothe and Relax.
In Essence. P24-26. Vol 3, No4. Spring 2005.
10.    Buckle J.
In Holistic Nursing: a Handbook for Practice.
Ed Dossey B. Jones & Bartlett, Boston. MA. 483-485. 2008.
11.    Buckle J.
Aromatherapy in Mosby's Complementary & Alternative Medicine: a Research-Based Practice.
Ed Freeman L. Mosby. St Louis. MO. p391-393. 2008.
12.    Mazzer M. Valley Hospital. Ridgewood. NJ. Personal communication. 2005.
Further Information

The M Technique™ is insured by Balens 
www.balens.co.uk
To find a practitioner, order the 11/2  hours instructional video or for the two-day certification course visit
www.mtechnique.co.uk
.
Comments:
No Article Comments available
Post Your Comments: