Your Country

Spinal Rejuvenation
In 1997 I was privileged to be the first Osteopath in the world to use a powered vertebral mobilizer - a spinal treatment using a 'bionic hand' which consists of four pistons, which mobilizes each vertebra more efficiently than using the hands alone. At this time I was seriously considering having to give up work, as I was seeing my Osteopath fortnightly to keep pain free. This revolutionary, but logical treatment, which is highly effective for chronic neck and back pain, scoliosis, whiplash injuries, prolapsed discs, etc., was featured in Positive Health Issue 29 June 1998 - www.positivehealth.com/article/back-pain/power-assisted-micro-manipulation. Since then, the next generation model, Theraflex, has been launched, having enhanced features for both the practitioner and the patient. In this hi-tech age it makes sense to use technology to assist and improve treatment outcomes.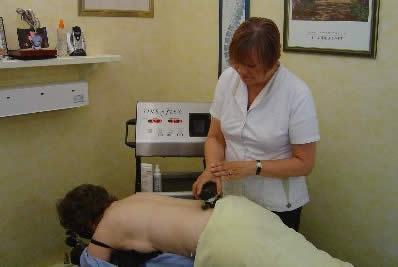 Irene using Theraflex
Why Back Pain is a Major Problem
Authoritative literature states that 97% of back problems are mechanical in origin. If present methods of treatment were effective, we would not have the current epidemic proportion of back problems that we have today.

According to the BackCare Association - www.backcare.org.uk, up to 80% of the population will experience back pain at some stage of their life, costing the NHS more than £1 billion per year on back pain related costs. In the private healthcare sector £565 million is spent on back pain every year as well as the 5 million working days lost as a result of back problems. I believe Theraflex, in the fourteen years I have been using this technology, will help reduce these costs and human suffering. It is a tool which becomes an extension of the practitioner's hands, allowing the therapist to feel the improved mobility of each joint whilst treating.

Patients on long term disability benefits have returned back to work following road traffic accidents, falls, etc having had Theraflex treatment, where other conventional therapies have failed. It is a very logical treatment, getting to the cause of the problem - the stiffened areas of the spine, not just where the pain is. Therapists I speak to at exhibitions appear to be wary of change, but my own experience demonstrated to me how Theraflex treatment rejuvenates the spine. It was by far the best investment I ever made, not only for my patients, but myself.

What is Theraflex



The Theraflex system consists of a computerized unit which also encases an air compressor. The unit has a handset with four pistons which work in numerous sequences, speeds and forces, enabling the therapist to mobilize the vertebrae approximately 25 times more efficiently and effectively than just the hands alone. It is not normally uncomfortable for the patient, and makes treatment easier for the therapist. The forces and speeds can be adjusted to meet the needs of the patient. Like its predecessor, there are 3 main modes: Rapid, Momentary and Progressive. During the Rapid and Momentary modes the pistons act like gentle hammers, a bit like the stimulation of the patellar reflex. The momentary mode mobilizes a pair of vertebrae in opposite directions. This part of the treatment really gets the spine moving as most people stiffen up with ageing, traumas to the body such as falls and car accidents, or just bad posture. The enhancements to the Theraflex system include a handset where the speeds and forces can be adjusted by the therapist without the practitioner having to take the handset off the patient's spine during treatment. The patient's have also described Theraflex as being 'smoother' than its predecessor. The unit now combines an oil free compressor and computerized unit in one. As it is on wheels it can be easily moved between treatment rooms.

The patient lies on the specially designed Mantis plinth: either an electric adjustable couch or the portable, sports plinth which both have adjustable head masks. Occasionally, if patients can't lie down, I may treat them sitting astride a chair, leaning forwards on the back rest. With scoliosis patients we may use rolls on different parts of their body to try and affect the curvature.

There is no forceful manipulation - it is safe, fast, effective. My oldest patient is 91 and the youngest has been four years of age. Patients are encouraged to work on their postural muscles by walking tall for 10 minutes for 10 days. Most pain patients generally need only 3-5 treatments, as long as the spinal problem is mechanical. Depending on the curvature of the spine, scoliosis patients will take longer, but the results are measurable. However, even if you are fit and not in pain, the treatment can enhance sports performance by making the spine more flexible, so I can almost always guarantee, for example, that a patient's drive will be further in golf, as it is like an MOT of the spine.

Patients are encouraged to have maintenance treatments every 3 or 6 months depending on their condition, or following falls or road traffic accidents/whiplash injuries, etc. If you don't maintain suppleness of the spine, overstressing will come back. The changes are very obvious; not only to the patient, but to friends or family they have brought along to watch. Damien, one of my patients has videoed these changes or has shown interviews with happy, pain free patients on his website Scoliosis Cures and Pain Relief on Face book.

Scoliosis
Although designed to relieve back and neck pain, over the years we have found that Theraflex treatment can also reduce the curvature of scoliosis or kyphosis. Scoliosis is a back condition that causes the spine to curve either to the left or right side. 80% of cases of scoliosis are idiopathic, which means that the cause is not known, developing mostly during the teenage years. On probing patients, many seem to have had a serious fall at a growth spurt in their teens. The ribs may protrude and shoulder blades often stick out on one side, known as a rib hump. Sometimes it may appear that one leg is shorter than the other and the hips may be uneven. The usual orthopaedic test is the Adam's Forward Bending test where the patient bends forward, when a bulge or rib hump may appear. Scoliosis is said to affect 3-5 out of every 1,000 people.

At the clinic we also use a SpinalMouse to assess the progress of our treatment. This is a radiation free device to monitor posture and mobility of the spine. As scoliosis can be a progressive problem with the curvature (s shape of the spine) increasing over time, patients may later develop back pain or resort to surgery or braces to stop the problem getting worse. But we can halt or reverse the process using Theraflex and using the SpinalMouse we can monitor the changes of the Theraflex treatment.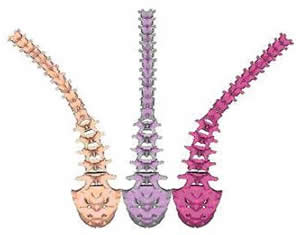 Spinal Mouse Report
 

Example of Spinal Mouse report from the upright position and showing side bending left and right. This would be coupled with various tables and reports. www.idiag.ch/

Case Study 1 (Scoliosis)
Using Theraflex it is possible to decrease the pain in just a few sessions. A session may last between 20-30 minutes plus. It is also possible to reduce the curvature as seen in our patients; an example below is Damien Mearns who is trying to promote this treatment to other scoliosis sufferers. The X-ray was taken in 2001 prior to Theraflex treatment, although he had seen other practitioners in the past. You can see the difference in rib sizes each side. The photograph shows Damien with an improved posture following treatment. Ideally this treatment should be available on the NHS and not just in private clinics, and should be given initially to avoid bracing and surgery for scoliosis. Changes should be noticed in just a few sessions. Check that your therapist has heard about Theraflex. Following treatment, it is also recommended to exercise in order to maintain the improved posture.


| | |
| --- | --- |
| | |
Photos 1 x-ray of DM and Photo 2 Photograph of DM following treatment

 
Case Study 2 (Pain Relief)
A patient recently came to me following a road traffic accident which had happened approximately one year before. She was in the process of changing jobs at the time of the accident; following the injury she was unable to start her new job as the pain was so severe. Her insurance company had sent her to me for treatment. She presented with some of the usual symptoms of whiplash: pain, reduced mobility in the neck and shoulder and low back pain, making it difficult walking her dog. Following her 3rd treatment she had started work again on a contract basis and on her fourth appointment she told me she was starting a new job of her dreams. A wonderful start for 2011, when 2010 had been so awful for her as she was only ever prescribed pain killers by her GP.

With such cases I may also use PBK Therapy, which is an Italian electrotherapy which has 20 years of research to back up the claims it makes for pain relief, more mobility in joints, as well as healing fractures and wounds. There is also a special programme on it for cervical trauma as well as a host of orthopaedic options for knees, shoulder, etc. I have found this a useful addition to the clinic.

Conclusion
The Theraflex treatment dramatically enhances the skills and knowledge of a practitioner, enabling them to provide a more effective treatment for chronic back and neck pain, abnormal curvatures such as dowagers hump, scoliosis, prolapsed discs and whiplash injuries. Welcome to Theraflex, backcare of the future.

References
Statistics quoted www.backcare.org.uk
For further information Theraflex please contact www.theraflex.info
The BackCare Clinic was the first clinic n the UK to use the SpinalMouse sees www.idiag.ch
The SpinalMouse is now also used by the Nuffield Hospitals as part of their health screening.
PBK Therapy is an Italian electrotherapy quite new to this country and is used in hospitals around the world for pain relief, as well as by elite sportsmen for speedier recovery from injury. www.pbkinternational.com
Comments:
Sonia - Theraflex - Valencia - Spain said..

Irene Having been a patient and experienced firsthand what Theraflex could do and the excellent results achieved I fell in love with this treatment, and now as a Theraflex Therapist i have a passion like yourself for Theraflex and recommend this treatment for back problems and spinal maintenance... Lets keep telling others to just give it a try.. Well done Irene keep up the good work...

---
Post Your Comments: