Your Country

Stephen MacAllan Acupuncture Allergies Vega Test
Mercury Detox, Herbalist, Naturopathic Medicine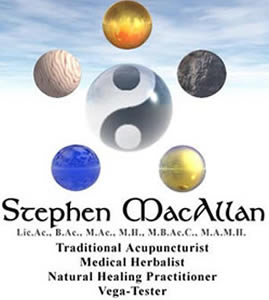 Company

Stephen MacAllan

Address

303 Nantwich Road, Crewe, Cheshire, CW2 6PF

Telephone Number

01270 650336 Mob: 07985 585718

Email

Website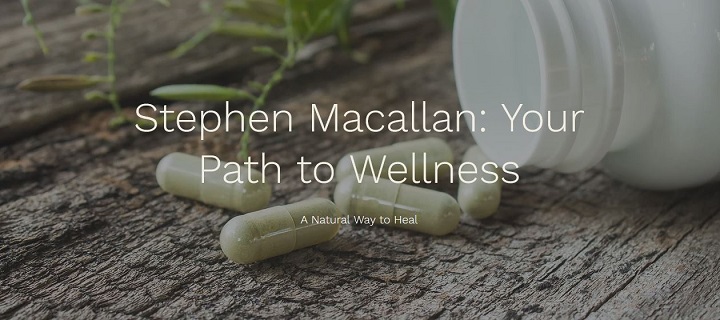 I have been practising various types of holistic medicine and natural healing remedies for over 30 years. I have a vast experience of treating ill health conditions such as: digestive disorders, prostate probems (allergies, IBS), headaches and aches and pains generally, as well as chronic conditions such as, fatigue, insomnia, arthritis, anxiety and womens troubles.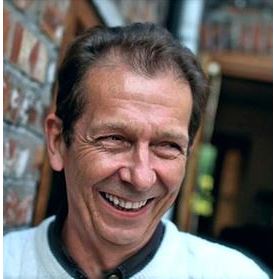 I have been working in Alternative Medicine since 1977 – I began training in humanistic Psychotherapy in 1975 but in 1978 I experienced a minor epiphany about the power of Traditional Acupuncture to transform people's lives during a few months of treatment for an injured knee. I damaged my knee cartilage playing football when I was 16 and it had given me a lot of pain for 10 years or more. I was sick of taking pain-killers and didn't want the surgery so I sought out alternatives – I tried homoeopathy and osteopathy and experienced some benefits but not much help for my knee. Finally I tried Traditional Acupuncture, it was brilliant – my knee became much more mobile and pain-free and my life changed – my sleep improved, my volatile temper calmed down, my skin cleared up (acne), my vitality improved and I changed course. I abandoned my plans to become a psychotherapist and in 1979 I began training in Traditional Acupuncture at The College of Traditional Acupuncture UK, which I completed in 1982 with a Licentiate of Acupuncture.
Over the next 20 years I completed my Bachelor of Acupuncture. Master of Acupuncture, Master Herbalist and 5 trainings in Bio-Energetic Regulatory Medicine. In my practice now, by way of B.E.R.M., I use a Vega-Expert machine (excellent diagnostic and treatment aid), Kosmed Treatment machine and a Rife machine.
As we entered the 21st century I re-visited my earlier interest in meditation and spiritual matters and completed trainings in Angelic Reiki to Master/Teacher level. I am still exploring Law of Attraction-style philosophies and the power of the mind to transform both itself and the health of the body.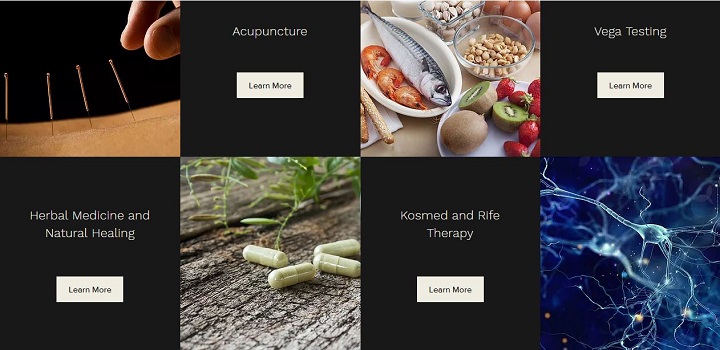 The first time that you visit me, I will listen, with great care, to the details of your current health situation and how it developed, because poor health, just as good health, is not an accident. Your health is a consequence of 5 factors:


INTAKE - that which has or has not gone into your body........
OUTPUT - that which has or has not come out of your body......
MOVEMENT - the movement of your body and of substances around your body......
MIND - the thoughts and feelings that occupy your mind......
GENES/DNA - any genetic pre-dispositions, but bear in mind that the sience of Epigentics shows that our Genes and our DNA are not fixed and immutable......

Once I have listened to the story of your health I will then use what I deem the most appropriate of my holistic treatments and alternative medicines such as; Acupuncture, Herbal Medicine, Naturopathic Protocols, Rife Treatment, Kosmed Treatment, Vega Testing/Bio-Resonance Testing as needed to help you heal yourself.
I am qualified and insured in the therapies that I offer and I can apply a number of skills to almost any health complaint(s) and I am still surprised sometimes at a body's ability to throw off disease and illness when the body is given the right assistance. And if I can't assist you then I probably know someone who can.