Your Country

African Spiritual Healer Professor Sheik Imam
Int'l Clairvoyant, Spiritual Healer and Advisor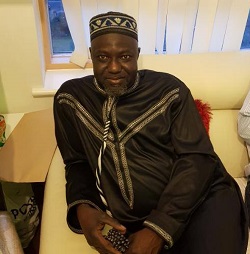 Address

161 King Street London E13 8DX

Telephone Number

+44 (0)207 078 4010 / 07985 691335

Email

Website
NO LIFE WITHOUT PROBLEM AND NO PROBLEM WITHOUT A SOLUTION
SHEIK IMAM IS THE BEST GUIDE WITH THE SOLUTIONS TO YOUR PROBLEM.
Sheik Imam is an international clairvoyant spiritual healer and advisor with 24 years experience to help you solve your problems. Imam has dedicated his life to solving problems and advising clients from around the world. Consultations are carried out in a relaxed and friendly atmosphere. Sheik Imam is fluent in English, Spanish, Arabic and French.
Sheik Imam can help you work with:
Relationship problems
Love and Marriage
Business Success
Depression
Negative forces or bad luck
Exam Worries
Gambling Issues
Family and social behaviour problems
Anti-social behaviour
Court cases
His father Imam Basaikou was born into a family with a reputation for helping people, guiding and solving people's problems for relationship, love and guidance. His grandfather is Sheikh Ahmad Bamba; his great grandfather Sheik Abdulqadir Jelani. Sheik Imam's knowledge, skills and expertise were passed on to him by his father - a great international healer, medium and spiritualist. As tradition has it, he was taught by his father and his father was taught from his great father, who was born with this knowledge; from there the power have been spread to all of the family 100 years ago.

Imam Jaiteh Charitable Foundation
The Imam Jaiteh Charitable Foundation Charity Registrations Number 58/2013 is registered in the Capital of The Gambia West Africa. The non-profit making charitable foundation, based in Jarumeh Koto Village, supports an integrated development programme in The Gambia. It helps the village of  Jarumeh and satellite villages in their health care programme, sending doctors, nurses and eyes specialist every two months to provide free health care support. Additionally the charity provides six class rooms to provide help and good care of poor students and helps to provide clean water  for the villages.
The Imam Jaiteh Charitable Foundation have built 4 toilets for the community in the Gambia who are very appreciative about the toilets and hygienic system supporting their good health. The people in the community are confident that they will benefit greatly from these practical additions to their infrastructure. The Foundation has also supported school fees, clothing and extra support to the children in need of and having difficulties in school and living.
He has helped people in all manner of human difficulties in life restore their happiness and has  offered guidance with problems needing to be solved both spiritually and in general life. Sheik Imam is well known throughout Africa for his good work and advice.
Further Information
For more information, please contact Sheik Imam for free telephone consultation on
Tel: +44 (0)207 078 4010;  info@besthealer.co.uk    www.besthealer.co.uk