Your Country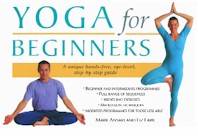 I have been practising yoga for some 30 years, and thus speak as an experienced student, rather than a qualified yoga teacher. I have used many books with a variety of regimes; this delightful book is, in my opinion, excellent for beginners in yoga, or for others, including myself, who have injuries preventing them from performing certain advanced postures.
This is an ingeniously designed "flipchart"-styled book, with a built-in platform which allows the book to stand up so that you can actually look at the detailed instructions and excellent photos while doing the yoga postures. Very original and extremely practical.
The book is divided into several sections, including: Preparation, with relaxation, breathing, stretching and awakening the spine exercises; Beginner's Programme with 15 postures; Intermediate Programme with 20 postures; and The Yoga Way of Life including information about the chakras, energy, concentration and meditation practices, as well as Ayurvedic dietary and lifestyle advice.
As you flip each page the posture is revealed with a photo of the ideal position and comprehensive pictures at each stage of the posture. There is also a "Take Care" box, with tips on how to do the posture if you are suffering from, say a stiff neck or back, or have knee problems, or whether to perform a pose if you are pregnant or have high blood pressure.
The Beginner's Programme contains well-known postures designed to increase flexibility of the whole body, including the Mountain Pose, Standing Forward Bend, Extended Triangle, Side Angle and Foot Poses, Tree Pose, Seated Forward Bend, Kneeling Back Bend, Spinal Twist, Cobra, Dog, Pelvic Lift, Half Shoulderstand and Fish.
The Intermediate Programme, to be attempted only after the Beginner's Programme is mastered, also contains well-known asanas including Salute to the Sun, Advanced versions of the Triangle, Side Angle, Foot, Tree, Dog, Spinal Twist Poses, Half Lotus Seated Forward Bend, Butterfly, Locust, Bow, Fish, Headstand, Shoulderstand to Plough, as well as a variety of Breathing and Pranayama Exercises.
Because Yoga has been widely taught in the West for almost 40 years, it seems to me that authors and publishers sometimes try to commission and publish overly complicated and somewhat gimmicky yoga books and videos, such as "Learn Yoga in a Weekend", or "Yoga for Gymnasts", (imaginary titles) which miss the timeless, simple yet true essence of yoga, the master of disciplines, which if practised safely and correctly, can extend vitality, flexibility and health well into old age. There is also an entirely new generation of potential yoga students who have never been exposed or taught yoga, who need excellent books such as this one. And, finally, there are the "older" and somewhat decrepit yoga students, (such as myself) who need more simple postures to regain their flexibility and overcome their injuries.
The authors are both highly qualified and experienced yoga teachers. I fully look forward to progressing through this regime. Please let us know of your progress. Highly recommended.
Reviewer

Publisher

Newleaf

Year

1999

Format

Spiralbound

Price

0

Isbn

0-7171-2879-2