Your Country

Add as bookmark
Under Cover of Darkness - How I Blogged My Way Through Mantle Cell Lymphoma
by by Margaret Cahill
listed in cancer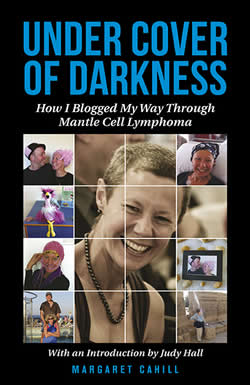 This riveting thriller of a book is the closest thing to a 'fly-on-the-wall' story of the roller coaster ride on which Margaret Cahill embarked following her shocking and wholly unexpected cancer diagnosis upon her return with partner Stephen in 2012 from an Astrology Conference in New Orleans USA.
Margaret was diagnosed with mantle cell lymphoma - a rare and aggressive form of non Hodgkin Lymphoma - sometimes incurable and possibly fatal. Recommended treatment involves aggressive chemotherapy - 5-6 cycles of high-dose chemotherapy followed by a stem-cell transplant. Paraphrasing how the author describes it in her with irony and black humour - the chemotherapy takes you to the point of death - in order to kill off all the cancer cells, whereupon the stem cells are harvested, ideally free of cancer, so that they can be re-infused into your body to reconstitute your immune system. The Consultant virtually apologized for dicing with death by saying he was only carrying this out because there was no other choice.
Margaret and her partner are both publishers - Margaret of Wessex Astrologer - and Stephen of Watkins Books - who intelligently and proactively researched and tracked down the best natural treatments and healing approaches to mitigate against some of the worst side effects of the chemotherapy. In fact prior to commencing chemotherapy, Margaret researched and consulted with Ayurvedic practitioners and considered whether to undergo Ayurvedic treatment in India instead of chemotherapy. Weighing the costs and benefits of both approaches, Margaret opted to combine the best of integrated nutritional, herbal and spiritual approaches with the horrendous toxicity of the chemotherapy she had to endure. Almost at the beginning, following her diagnosis, and upon the suggestion of one of Margaret's authors, she was prevailed upon to start a blog. This was an inspired suggestion, and one which enabled Margaret to provide a blow-by-blow, sometimes day-by-day account of what was happening to her, both at the hospital and in-between treatments.
Here is a partial list of what Margaret took daily, which helped to stave off mouth ulcers and the shredding of the mouth and gastrointestinal lining often caused by intensive chemotherapy:
2 tbsp Aloe Vera Juice;
Slice of ginger in hot water or linseed tea (with preparation instructions) with lemon slice;
Wheatgrass protein capsules;
4 capsules prescribed Ayurvedic powders;
Diet 80% vegetables as much dark green;
Turmeric Capsules, Ayurvedic liquid, Olive Leaf Extract, Echinacea;
Omega Organic Oil with 1 drop Vitamin A, 2 drops Vitamin D3;
Occasionally Hyperbaric Oxygen Therapy.
Margaret also enlisted as one of her team Crystal Healer Judy Hall (PH Online author), who helped to organize an  international healing supportive army. Also, because the blog was interactive - readers and fellow sufferers' comments are included in the book - this provides a unique eye witness narrative to what Margaret's life was for the 2 years. Psychospiritual exercises included mindfulness exercises, breathing, relaxation and visualization. Margaret shares Judy Hall's shamanic / magic accounts of her journey to Egypt with a photo of Margaret and Stephen which she took to all the temples she visited, including dreams and visions such as the Nile god Sobek, depicted as a crocodile. Very moving was the whole weighting of the heart ceremony before Osiris.
In posting what happened to Margaret in her blog, the reader of this book is able to get all the details of the logistical rearrangements of her work and home life, as well as the hospital treatments, including the staff, all the ghastly side effects, neutropenia, anaemia, nausea, hair loss, which plague all cancer patients undergoing chemotherapy. Also the stem cell harvesting experience. Her account of divulging to her oncology team of doctors and nurses how she avoided the pain of mouth ulcers is worthy of an Oscar "I seized the little bottle of Vitamin A drops off the fridge and waved it under her nose saying 'I'm not presuming to tell you your job, but this is all you need to do. You shouldn't be having people going through such pain that they need morphine pumps, when 1 drop of this a day will stop all their problems. Don't do complicated research, you can see it works. Don't even ask them, just do it as part of the daily meds. Easy'."
I found reading the book slowly over a period of weeks a veritable thriller, because I didn't know whether Margaret was going to survive the chemotherapy or have the stem cell transplant. I won't spoil any further details for Positive Health PH Online readers.
Margaret makes known her strong views regarding the absurdity that oncologists and conventional doctors and nurses don't know anything about nutrition or complementary therapies. She states "What became apparent during my stay is that there is a huge gap between what the nursing staff… want to provide for their patients on a more complementary basis and what is available - and there is a massive discrepancy from area to area and even between hospitals with the same country on that level… At Poole Oncology unit, reflexology and aromatherapy massage are offered free as a service to patients, supplied by the MacMillan unit, which is based at Christchurch Hospital, where it is also offered free. But it isn't offered at Bournemouth, which is situated between Christchurch and Poole, and is part of the same trust as Christchurch. How nuts is that?"
There are many book recounting the experiences of people who have had cancer; what makes this book special is the forthright, brutally honest and pragmatic account from Margaret's blog, which enables you to follow her trip as a normal person through her nightmare and out the other end. She is alive and well now. This is a gripping tale which tells the good, the bad and the ugly aspects. If you ever wanted to know what it is really like to be suddenly transported out of your ordinary life into a cancer patient and back to life again, this book won't disappoint.
Further Information
The author's blog continues at www.margaretcahill.wordpress.com
Available from Amazon
www.amazon.co.uk/Under-Cover-Darkness-Blogged-Lymphoma/dp/1782799303/ref=sr_1_fkmr1_1?ie=UTF8&qid=1430312838&sr=8-1-fkmr1&keywords=under+cover+of+darkness+how+I+blogged+my+way+through+mantle+cell+lympoma+margaret+cahill
www.amazon.com/Under-Cover-Darkness-Blogged-Lymphoma/dp/1782799303%3FSubscriptionId%3DAKIAIOJGEB6643FVTU7Q%26tag%3Dwwwobookscom-20%26linkCode%3Dxm2%26camp%3D2025%26creative%3D165953%26creativeASIN%3D1782799303
Reviewer

Publisher

O-Books

Year

2015

Format

Paperback.

Price

£12.99 / $22.95.

Isbn

978-1-78279-930-6.