Your Country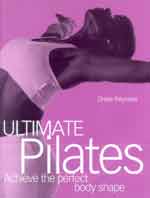 Although always dubious about something which tells us in the title that we can "achieve the perfect body shape", this book is extremely informative, offering Reyneke's individual approach to Pilates. Dreas Reyneke has been teaching Pilates for over 30 years and as the current interest in Pilates continues to sweep through the country it is interesting to see how he has evolved the classic technique he was taught to suit the needs of his clients today.
Reyneke discovered the benefits of Pilates whilst dancing with Ballet Rambert during the 1960s and early 70s. He found it enabled him to work towards all round fitness and a more balanced and symmetrical body structure. After studying at the Place, the first Pilates studio in London, he opened his own studio in Notting Hill in 1973. Now as well as teaching dancers he works with people of all ages, abilities and professions including the famous. Ruby Wax states "It's like you were once a VW bus and then you're a Ferrari. Dreas, my husband thanks you" and Helena Bonham Carter claims Reyneke is "a plastic surgeon for the body – but without the plastic – or indeed the surgery."
Ultimate Pilates is not for someone who wants to find a couple of quick exercises to do at home. The exercises are in Part 5 of 6 Parts, following chapters explaining who Pilates was and why we should chose it, information on the body structure explaining the key muscle groups in relation to movement, followed by preparation and guide lines for postural self assessment. I was particularly pleased to see a section on the pelvic floor with clear reference to the importance of the male pelvic floor, something glossed over in many Pilates books. The section on principles of practice explains the basic principles of the Pilates system which include breathing, concentration, control, centring, precision and flowing movement. Reyneke has also included isolation and integration, balance and relaxation as important factors to be aware of to understand the benefits and effects of Pilates on the body.
Reyneke suggests an exercise programme of 5-10 minutes massage (clearly outlined including massage with a stick and tennis ball) followed by 15-20 minutes of exercises learnt previously, 30 minutes of new exercises and relaxation lasting 5-10 minutes. The exercise section is divided into three levels with key exercises marked so that you can work towards a balanced exercise programme. He also warns you not to always go for exercises that are easy or feel good but to be disciplined to make sure you have a varied programme. It is not completely clear what he thinks a varied programme consists of although the review at the end of section one gives an example of a selection of exercises to follow.
The exercises are described clearly with photographic examples to guide you through each stage of the exercise. The link with breath is one Reyneke emphasises but I didn't always feel there was enough imagery to help people move without excessive tension. Being told to press limbs together or dig heels into the floor can work well to achieve the dynamic required from a movement, but a more varied range of quality of movement in the instructions would be helpful. Being told to press "arms and hands down hard" to raise the spine off the mat to form a bridge could produce excessive tension in the shoulders and neck. Reyneke says the book is suitable for people who have not attended a Pilates session before; I feel there should be more cautionary notes to look out for.
Part 6 on 'Specialisations' discusses the strength of Pilates to adapt to different peoples needs. He emphasizes the value of Pilates to improve the general fitness in any age group and that "properly supervised" it can help during pregnancy and is a gentle form of exercise for the elderly. He succinctly points out the value of exercising as we get old. Also the realisation that the problem that most people will have to overcome is 'image'. The over 50s are rarely presented as sporty by the media. The simple exercises that Reyneke gives for hands, feet and shoulders and his standing work are particularly beneficial to this age group demonstrating that "image restructuring begins with posture".
The fact that Reyneke has continued to study different practices relating to general fitness of the body, as well as his in-depth knowledge of classical and more modern day thinking of Pilates, makes this book of particular interest. People training to teach Pilates and generally working in the fitness/body conditioning business should find it a useful source of information. The technical range of exercises and varying levels of information including history of Pilates in relation to fitness systems in the 20th century and anatomical references relating the key muscles to movement all in one book help to embrace the mind and body connection required to improve your own body.
Reviewer

Publisher

Vermilion, Random House

Year

2002

Format

Softback

Price

0

Isbn

0-091-87671-0