Your Country

Add as bookmark
The Practitioner's Encyclopedia of Flower Remedies - the definitive guide to all Flower Essences, their making and uses
by Clare G Harvey
listed in flower essences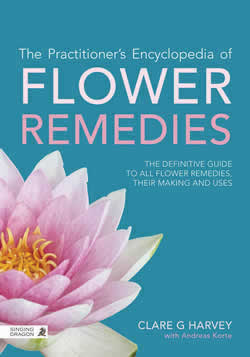 The Practitioner's Encyclopedia of Flower Remedies - the definitive guide to all Flower Essences, their making and uses
My first impression of Clare's book was that of a beautifully presented and serious reference book, and looking inside it did not disappoint! The information is arranged clearly and reads fluently. In fact the first two parts of the book are well worth reading through as I found myself drawn to do, rather than assessing how to use it from a reference point of view.  Clare's heritage, her experience and her beliefs and values shine through every page of this enlightened read.
In Part 1 - from the history of healing with plants to the effects of shock, stress and pollution on our energy and health - Clare gives a thorough overview of all the aspects I would expect to find.  Her writing style is clear and easily understood.
Part 2 examines and guides the reader through using essences, from the different ways we can employ essences, to case studies giving detailed examples of choosing remedies with clients, and an excellent chapter on research in the world of vibrational therapy. This part concluded with a fascinating chapter on the Evolution of Therapy with Essences by Andreas Korte.
In Part 3 the reader gets to a well organized and easily navigated bank of enlightenment! Initially, Essences Producers are arranged by country, making it easy to find what you may wish to research or use. There follows information on Producers and their essences aimed at particular areas of practice including Shamanic practice, Essences for Babies and Children, Essences for Pets, Environmental and Sound essences and Crystal and Gem essences. This part is topped off with an informative and thoughtful look at The Medicine of the future which is both enlightening and inspiring, and full of hope as I believe we all can be, when living in tune with nature and the guidance that is in this extraordinary book.
The two Appendices are clear and detailed: the first by ailment, covering physical and then psychological and emotional issues, followed by a directory of useful addresses.
The crowning glory of this book is the beautiful plates at the centre. Thirty-two colourful pages of flower and energy related photographs all superbly reproduced.
Throughout the book the information is clearly headed and described with obvious knowledge often feeling as if Clare is talking direct to the reader; it has a personal and friendly feel to it. As a study resource this book would be a pleasure to delve into and as a reference book it takes the reader on a wonderful journey.
The information will give any therapist the confidence to stretch their boundaries and broaden their experience with essences. From the moment I began to delve into this wonderful book the style of writing and the organisation of the information drew me in, to find a reference book that is this readable and inviting is unusual.
Is this a book you should own - yes.  Should it be on your book shelf? No -  it should be on your desk or anywhere you can pick it up in a spare moment and find some gem of information and further understanding!
I have loved reviewing this book and am already recommending it to my students as a must have resource for their studies. I am grateful to Clare for her dedication to her craft that has enable her to produce such an epic tool for the world of essence users and practitioners.
Further Information
This book is widely available from the author's website, amazon and publishers websites
www.flowersense.co.uk/proddetail.php?prod=5203
www.nutricentre.com/p-57292-the-practitioners-encyclopedia-of-flower-remedies.aspx
http://jkp.com/uk/the-practitioner-s-encyclopedia-of-flower-remedies.html?SID=ol5d005iqlgjsg11fhk4llhcd0
www.amazon.co.uk/The-Practitioners-Encyclopedia-Flower-Remedies/dp/1848191731  
www.amazon.com/The-Practitioners-Encyclopedia-Flower-Remedies/dp/1848191731/ref=cm_cr_pr_product_top
Reviewer

Publisher

Singing Dragon

Year

2014

Format

Hardcover

Price

£54

Isbn

978-1-84819-173-0